Instead of trying to find your perfect match in a dating app, we bring you the "Author-Reader Match" where we introduce you to authors as a reader you may fall in love with. It's our great pleasure to present Amy Pershing!
Writes:
I write the Cape Cod Foodie Mysteries, which (obviously) revolve around food and Cape Cod. And murder.  And romance. Or, at least in the first book of the series, A SIDE OF MURDER, it was a romance. Now it's, well, complicated. It all begins when Samantha Barnes — once an up-and-coming New York chef until an unfortunate YouTube video went viral — retreats home to Cape Cod.  There Sam finds herself dealing with a falling-down house, a ginormous puppy, and a job writing restaurant reviews. Oh, yeah, and a dead body. And the town's new harbormaster, Jason Captiva.  Who, it turns out, was Sam's high school crush. . .
About:
Like Sam, I am a total foodie.  I've edited cookbooks, reviewed restaurants, and pretty much eaten my way around the world. I'm also a total fool for love.  Especially first loves.  At 16, I thought my guy was the cutest, smartest, funniest, sexiest guy in the room.  I still do.  For more about me (including my love of Cape Cod) and A SIDE OF MURDER, feel free to check out my website, amypershingauthor.com, or follow me on Facebook at @amypershingauthor.
Or just buy the book 😉
What I'm looking for in my ideal reader match:
Must love mysteries. Real mysteries with lots of twists and turns.
Must love romance. See sizzling romance, above.
Must love food. Because, according to Julia Child, "People who love to eat are always the best people."
Must love quirky characters. Because, according to Liz Gilbert of Eat, Pray, Love fame, "Samantha Barnes is the brave, sarcastic, crime-solving, relatable heroine we've all been waiting for."
Must love dogs. Especially ginormous puppies.
What to expect if we're compatible:
A lot of laughs. Sam's friends are a hoot.
A clever amateur detective. Think Miss Marple if she were a six-foot-something, 20-something chef.
Action and suspense. Sam is brave.  And Sam never listens when her friend Helene tells her to be "very, very careful."
A heart-tugging romance with a touch of spice (food pun totally intended).
Long walks on the beach. It's a book about Cape Cod, for Pete's sake.
Wonderful recipes. Including one for Aunt Ida's clam chowder. You're welcome.
Cape Cod Foodie Mystery #1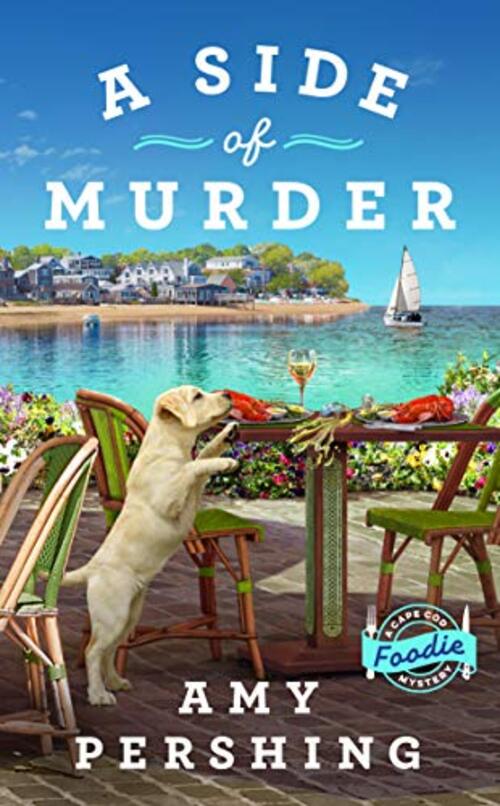 Beautiful Cape Cod, Massachusetts, is known for seafood, sand, surf, and, now…murder.

Samantha Barnes was always a foodie.  So when the CIA (that's the Culinary Institute of America) came calling, she happily traded in Cape Cod for the Big Apple.  Soon the young chef is a rising star in the city's food scene—until a feud with another chef (her ex) boils over and goes viral. So when Sam inherits her Great-Aunt Ida's house on the Cape and lands a job writing restaurant reviews, it seems like the perfect pairing. What could go wrong? Well, as it turns out, a lot.
The dilapidated house comes with an enormous puppy. Her new boss is, well, bossy.  And the town's new harbormaster is none other than her first love.  Nonetheless, Sam's looking forward to testing her inner food critic at the Bayview Grille—and indeed the seafood chowder is divine. But the body floating in the pond outside the eatery was not on the menu. Though the drowning is called an accident, Sam is certain it's murder.  And as she begins to stir the pot, it becomes terrifyingly clear that she may be writing the recipe for her own untimely demise.
Fiction | Mystery Police Procedural [Berkley, On Sale: February 23, 2021, Mass Market Paperback / e-Book, ISBN: 9780593199145 / eISBN: 9780593199145]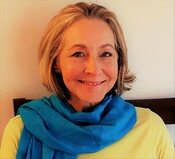 Amy Pershing is a lifelong mystery lover and wordsmith. She was an editor, a restaurant reviewer, and a journalist before heading employee communications at a global bank. A few years ago she waved goodbye to Wall Street to write full time (and spend more time sailing on the Cape!).
A Side of Murder is the first book in the Cape Cod Foodie mystery series featuring Samantha Barnes, a disgraced but resilient ex-chef and the world's most reluctant YouTube star. While Sam tries to balance her new job as the local paper's "Cape Cod Foodie" with her complicated love life, a posse of just-slightly-odd friends, a falling-down house, and a ginormous puppy, she also discovers a new talent: a propensity for falling over dead bodies … and for solving crime.