One of the most common questions writers are faced with is: where do you get your ideas? And we usually answer, from everywhere! That's true, but a little too general.
My ideas do come from everything I read, watch, think about and experience. But each different series I write calls for different kinds of ideas. Take, for example, the Merry Muffin Mysteries I write for Beyond the Page Publishing. It is a given that when you own a castle and need to make money for the upkeep, you are bound to think of ways to make a few bucks that include TV and movies. Merry Wynter (Merry Muffin Mysteries – Beyond the Page Publishing) has that dilemma and has solved it a few times with movie shoots of the exterior and interior of her American castle in Western New York State. She and her friend and business partner Pish Lincoln even hosted a ghost hunting show in one memorable instance!
But an opera-singing reality TV show? When Opera DivaNation is tossed from the hotel where they are shooting, Pish – as a fundraiser for the Lexington Opera Company, a couple of members of which are judges and mentors on the show – volunteers Merry's Wynter Castle for them to finish the final performance segments and judging. Let's just say it doesn't go that well.
So, where did the idea for this book come from? What inspired me to center the plot around a reality TV singing show? Confession time: I watch reality TV, from Survivor to Big Brother to Amazing Race. And I enjoy reality talent competitions like American Idol and The Voice. So I have long considered writing a talent competition into one of my books, and the Merry Muffin Mysteries had the perfect venue! DOUBLE OR MUFFIN, (Merry Muffin Mysteries #7 – February 23rd, 2021) centers around the difficult, diva-ish, temperamental, and talented cast of Opera DivaNation and – yes! – once more a crime occurs at Wynter Castle.
It was so much fun to write, to imagine the big personalities, conflicts, and friendships among the cast, crew, judges, and mentors. But you know, the whole time I wrote the book I had the nagging feeling – a vague memory – that I had seen an opera talent competition on TV once but I couldn't remember the name of it or when it was on! It took until now, when the book is done and due to come out for me to remember… lightbulb moment  – that the TV show was called Bathroom Divas (weird name, right? Meant to suggest those who sing in the bathroom, I suppose) and finally look it up online.
So here's the lowdown… Bathroom Divas was on TV in Canada for two seasons back in 2006/2007 and in 2007 won a Gemini Award; that's the Canadian equivalent of an Emmy. Though I do only have vague memories of it, it must have stuck in there pretty deep, because the idea of plotting a mystery around an opera-singing talent competition seemed like a no-brainer to me.
I hope readers enjoy it. I had a lot of fun writing it.
But it did get me curious about mystery readers and their TV watching habits; tell me… reality TV competition singing shows… do you love them or loathe them?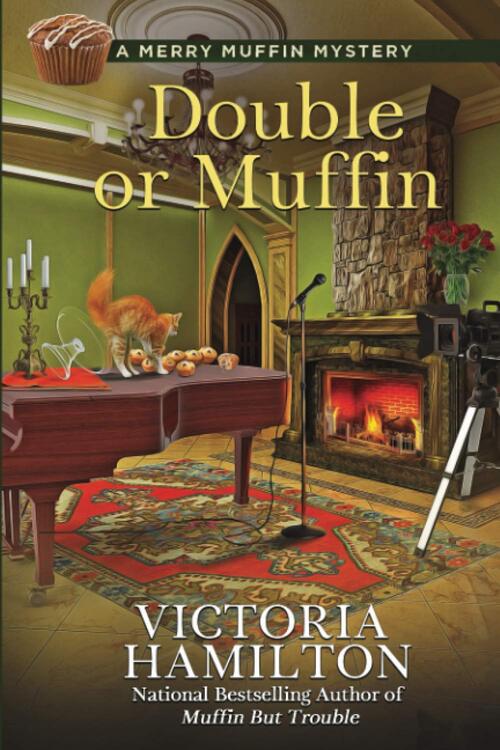 In the new Merry Muffin Mystery, baker Merry Wynter must solve a disturbing crime among opera singers before the culprit decides it's curtains for her . . .
When a reality TV show for aspiring opera singers descends on Wynter Castle, Merry's got her hands full catering to the endless demands of the distinguished judges and ambitious contestants. Then mysterious rumors about the cast and crew begin to surface, suggesting that some of their performances may be filled with false notes. When a dogged reporter with an eye for scandal who's been covering the competition is attacked and left for dead, Merry's determined to discover who orchestrated the heinous deed.
Her long list of suspects is filled with eccentric personalities, including a promiscuous tenor known for making unwanted overtures, a pampered young prodigy and her meddlesome mother, and a quiet up-and-comer whose shadowy uncle may have ties to the underworld. As the musical contest and Merry's investigation near their finale, she'll have to act fast to keep a conniving contestant from plotting out her final act . . .
Mystery Culinary | Mystery Cozy [Beyond the Page, On Sale: February 23, 2021, Paperback / e-Book, ISBN: 9781950461974 / eISBN: 9781950461967]
Welcome back to Wynter Castle!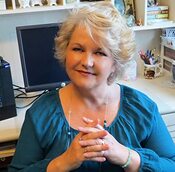 Victoria Hamilton is the bestselling author of several mystery series including the national bestselling Vintage Kitchen Mysteries and Merry Muffin Mysteries. She does, indeed, collect vintage kitchenware and bake muffins. She drinks tea and coffee on writing days, and wine other times. It doesn't do to confuse days. She crochets (a little), paints (a little), and reads (a lot). A solitary being, she can be coaxed out of her writing cave for brownies and cat videos.
She started her writing life as Donna Lea Simpson, bestselling author of Regency Romances, paranormal historicals, and historical mysteries, and still has a soft spot for the Regency period.