Set-Up: Lady Charlotte Hastings and Lord Malverne, along with their aunt, Lady Chelmsford, have taken Sophie Brightwell for a jaunt through Hyde Park during the fashionable hour. . .
Lord Malverne leaned closer, drawing her attention away from the lake. "So was I correct in my assessment that ton­nish activities are tiresome?" he murmured in a conspirato­rial fashion.
"I'm quite content to enjoy the view," remarked Sophie, trying to ignore the scent of Lord Malverne's spicy cologne as it teased her nostrils, or the bump of his pantaloon-clad knee against hers. She didn't think it would be wise to agree with him within earshot of Charlie, Lady Chelms­ford, or their current conversation partners, the Countess of Poole and her decidedly spinsterish sister.
Lord Malverne smiled in such a way that Sophie's heart tripped and her cheeks heated. "So am I. The view is quite spectacular."
"You really shouldn't do that," she said, trying to adopt an expression that would pass as reproving, but wasn't too stern. It wouldn't do to appear waspish.
Infuriatingly, Lord Malverne's chiseled mouth simply tilted into a half-smile that was even more roguish. "Do what?"
"Openly flirt with me," replied Sophie under her breath. She tried to smooth the pleats of a frown from her forehead.
"Why not?"
"Because certain people"–she shot a pointed glance toward Lady Chelmsford and her friends–"might misinterpret the nature of our relationship."
Lord Malverne removed his top hat and raked his hand through his thick chestnut locks as though taunting her. Did he know that simple action always made her chest tighten with longing? "Miss Brightwell, you are about to have your first Season," he said, his dark gaze holding hers. "You need to know how to flirt. And as I've essentially been recruited to help you, I think you should heed my advice."
Sophie knew Lord Malverne spoke perfect sense. But even though she'd privately resolved to add the skill of flirt­ing to her rake-ensnaring arsenal as per the Society of En­lightened Young Ladies' husband-hunting plan, now that the moment was upon her, it seemed her bravado had de­serted her. For heaven's sake, they were in a park in broad daylight, not in a candlelit ballroom. She firmed her gaze and her resolve in the face of such naked masculine charm. "Be that as it may, we–you and I–shouldn't flirt right under the very nose of your aunt. What on earth will she think?"
"She's busy talking with her friends and Charlotte. Besides, what my aunt thinks hardly signifies at the moment. It's the opinion of other gentlemen that matters." Lord Malverne's gaze grew darker and hotter. More intense. "You know I haven't any designs on you, Miss Brightwell, so what harm can it do? Look at it as practice. Men like it when women flirt."
Sophie arched a brow. "You mean, men like you."
Another breath-stealing smile broke across Lord Malverne's face. "You mean, you don't want a man like me?"
"Of course I do." Oh, God, did I really just say that? "I mean, no . . ." Her face flaming, Sophie drew a calming breath. "What I mean to say is, I want a man who wishes to marry me. A man who will care for me, perhaps even fall in love with me. So I don't think we should flirt in public like this. Onlookers might believe you and I are courting."
Lord Malverne cocked a brow and lowered his voice. "So you want to flirt privately then?"
Good heavens the man was vexing. And too damn at­tractive. "I will admit I do need the practice," she replied. "But conducting a lesson in the middle of Hyde Park during the fashionable hour is one of the least private settings in the whole of London. I'm certain it will keep any potential suitors from approaching. It is not a sound strategy."
Lord Malverne leaned back and replaced his hat, tilting it at a rakish angle. "Well, I think you're wrong, Miss Brightwell. I think men will notice you more, if another man–like me–starts flirting with you in public. Men are competitive creatures, and believe me, they'll want to vie for your attention if you become the focus of someone else's. They'll want to see what all the fuss is about. You'll become the latest fashion or craze. The talk of the ton."
Sophie's eyebrows snapped together. "So you're likening me to a hat or mental mania?"
"Nathaniel, Sophie, my dear," interjected Lady Chelmsford. Lady Poole and her sister had moved off and they were alone again. "Do stop bickering. People might notice."
(C) Amy Rose Bennett, Berkley Romance, 2019
***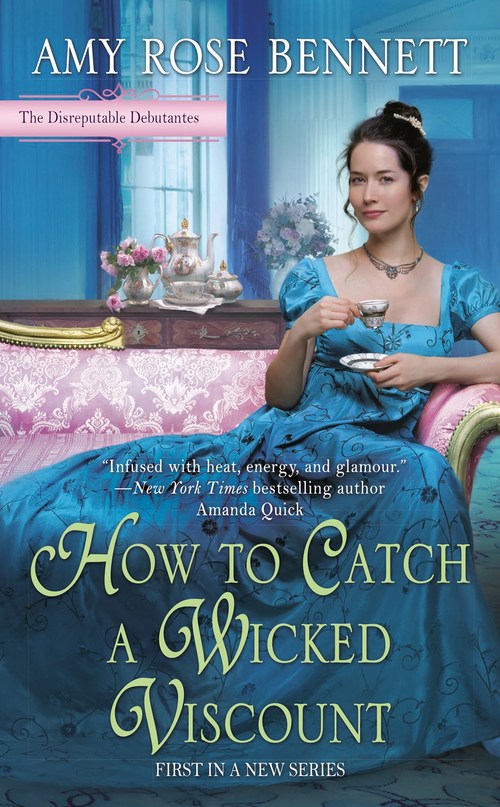 A young lady's tarnished reputation might cost her everything in this first book in the Disreputable Debutantes series.
Shy, bookish Sophie Brightwell is expected to make an advantageous match to improve her family's fortunes. However, Sophie's plans to make a spectacular debut go horribly awry when she and her three closest friends are expelled from a young ladies' academy for unbecoming conduct. Since the ton will be sure to close their doors on these disgraced debutantes, they determine that unconventional means need to be employed in the husband-hunting market. Rakehells–the beau monde's wickedest members–might be the only men willing to overlook a young lady's besmirched reputation.
But how does one catch a rake?
Nate Hastings, the devil-may-care Viscount Malverne, is the older brother of Sophie's best friend, fellow disgraced debutante Lady Charlotte. When a terribly foxed Nate accidentally compromises Sophie, Charlotte strikes a wicked bargain: in order to avoid a scandal and the parson's mousetrap, Nate must help Sophie snare a husband. But as Nate fulfills his obligation and begins to instruct the lovely Sophie in the art of luring rakes, he soon finds himself battling his own fierce attraction to her.
Romance Historical [Berkley, On Sale: August 27, 2019, Mass Market Paperback / e-Book, ISBN: 9781984803924 / eISBN: 9781984803931]

Great start to an intriguing new historical romance series!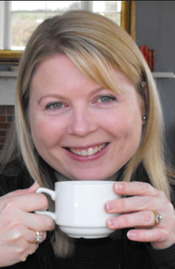 Amy Rose Bennett has always wanted to be a writer for as long as she can remember. An avid reader with a particular love for historical romance, it seemed only natural to write stories in her favorite genre. She has a passion for creating emotion-packed–and sometimes a little racy–stories set in the Georgian and Regency periods. Of course, her strong-willed heroines and rakish heroes always find their happily ever after.