"Drink it," he said again, more sternly.

Lily still did not move. As if understanding the reason for her resistance, he lifted the glass and took a drink before offering the water to her again. This time she took it in a tenuous grip.

Something about knowing his mouth had touched the rim of the same glass made her belly tremble, but the clean water was heavenly on her parched tongue and slipped gracefully down her throat. She took a long drink and then another before lowering the glass.

She thought she heard him give a sound of approval before he turned and claimed a seat in one of the chairs. Her courage strengthened, Lily lifted her chin to look at him only a few feet away and swallowed hard past the knot of doubt lodged in her throat.

Dressed in elegant evening wear, he sat with his back stiff and straight despite the plush cushion of the chair. His knees were spread and his feet braced squarely on the floor. His hands, with his long masculine fingers, splayed on the surface of strong thighs. He was the epitome of masculine sophistication and mystery.

Dark, enigmatic, handsome, and intense.

Her heart raced as he stared back at her, and she fell headlong into the deep draw of his gaze.

She could not crumble with weakness again. Her pride, if nothing else, would not allow it. Drawing her uncertainty inward, she straightened the muscles along her spine.

"Why am I here?"

"What do you remember?" His voice rolled through her, smooth and penetrating.

Lily sifted through the vague images swirling in her brain. Some of the fog had lifted, and various impressions were becoming clearer. She remembered again the lady in black…what was her name? There had been a glass of heady wine…the sense of grow­ing numbness through her limbs…a strange softness invading her mind…

There were so many shadows. She closed her eyes, and more images floated past. More women, talking in soft voices but holding her arms with relentless grips. The lady in black again. A room of men with wicked grins and blatant lust.

And then him. The Earl of Harte. Standing beyond the farthest reaches of the light, staring at her as though she belonged to him.

She remembered surrendering to his gaze. Falling into it as though it were a dark and secret corner where she could hide.

Opening her eyes, she drew in long, deep breaths. A chaotic whirl of unsettling emotions and physical sensations fought for purchase. She gathered enough strength to meet his penetrating focus.

"Tell me," she said.

His expression seemed to harden even more, and his eyes darkened. When he spoke, it was in a low, even tone.

"You were auctioned off in a pleasure house. Your virtue, a prize for the highest bidder."

Though his words rang true and fit with every­thing she was slowly coming to remember, she still rejected the statement. Such things simply did not happen. It was too fantastic. Too horrible.

More than that, she wanted to believe the earl's role in the night's events were that of savior, but it was difficult to hold on to that hope when he stared at her like he did now, with that deep, unfathom­able focus.

"Were you the highest bidder?" she asked in a whisper.

He gave a shallow nod. "I was."

Heat spread out to her fingertips. A strange breath­lessness claimed her. It was a sensation completely unlike her earlier fear.

"Why?"

His frown was fierce as he stared at her. She saw the small tick in his jaw as he clenched his teeth. Then he tipped his head just the slightest amount to the side as he asked, "Do you think me a beast, Miss Chadwick, to leave an innocent girl at the mercy of lustful men?"

Lily met his gaze, doing her best to show him she was not afraid of him.

"You were one of those men."

"I was," he agreed darkly without elaborating further.

He implied that his purpose in claiming her had been to save her from a ruinous fate, but something in his manner had her wondering if there was some other motivation behind his actions.

From the moment Lord Harte had entered the bedroom, she had begun to experience everything differently. Her thoughts, feelings, and reactions origi­nated from a deeper source. Her fear and confusion had made way for other, more urgent sensations. The longer she sat under the earl's harsh and heady regard, the further she slipped into a state of expectancy.

She felt on the verge of something, but she had no idea what.

As the weakness in her mind and limbs continued to dissipate, she acknowledged that she could not blame her odd reactions on the aftereffects of the drug.

He was the cause of her heightened responses.

It was more than the wealth of secrets and mystery contained behind his midnight eyes. It was how he made her feel. Intrinsically. Viscerally. When he looked at her with his hooded gaze, she experienced some­thing in the marrow of her bones, in the blood flow­ing through her veins, in the ether of her mind.
Giveaway
Win a copy of THE UNTOUCHABLE EARL just be leaving a comment below.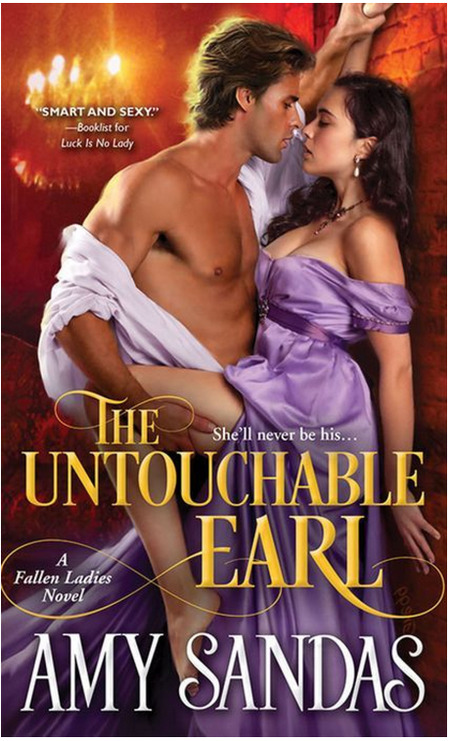 "Are you afraid?"
"Yes," she replied in a soft voice. "But I love the way you frighten me."
Lily Chadwick has spent her life playing by society's rules. But when an unscrupulous moneylender snatches her off the street and puts her up for auction at a pleasure house, she finds herself in the possession of a man who makes her breathless with terror and impossible yearning…
Though the reclusive Earl of Harte claimed Lily with the highest bid, he hides a painful secret—one that has kept him from knowing the pleasure of a lover's touch. Even the barest brush of skin brings him physical pain, and he's spent his life keeping the world at arms' length. But there's something about Lily that maddens him, bewitches him, compels him…and drives him toward the one woman brave and kind enough to seek to heal his troubled heart.
Romance Historical [Sourcebooks Casablanca, On Sale: November 1, 2016, Paperback / e-Book, ISBN: 9781492618751 / eISBN: 9781492618768]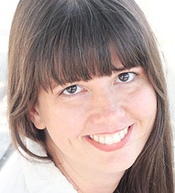 Amy Sandas' love of romance began one summer when she stumbled across one of her mother's Barbara Cartland books. Her affinity for writing began with sappy pre-teen poems and led to a Bachelor's degree with an emphasis on Creative Writing from the University of Minnesota-Twin Cities. She lives with her husband and children in Wisconsin.