I'm so thrilled to be here. Thank you for inviting me!
I've just seen my 51st book for Harlequin Presents hit the shelves, and have been answering a lot of questions. What's the best thing about writing romance, for example? The readers, of course! Meeting people across the world is a bonus I never imagined when I signed my first contract and the Internet has brought us all closer together.
When I attended RWA San Diego this year the first person to ask me to sign a book said it was about time I wrote more polo books like my Acosta series. I just love her for that. I love my polo players and I love my readers, so I came home and started writing straight away.
A new series is born!
My brand new Blood and Thunder series is a collection of stand-alone, no-holds-barred romance stories, set in the tough, unforgiving world of top-class polo—billionaire cowboys, as I always think of them. There's plenty of passion and steamy action, as well as fiery, stand-up heroines to deal with those arrogant men.
Here's the first novel in the series—available for purchase November 8th. Up for pre-order now! Isn't the cover great—the guy's so hot! This is my Russian billionaire hero, Alexei Riga.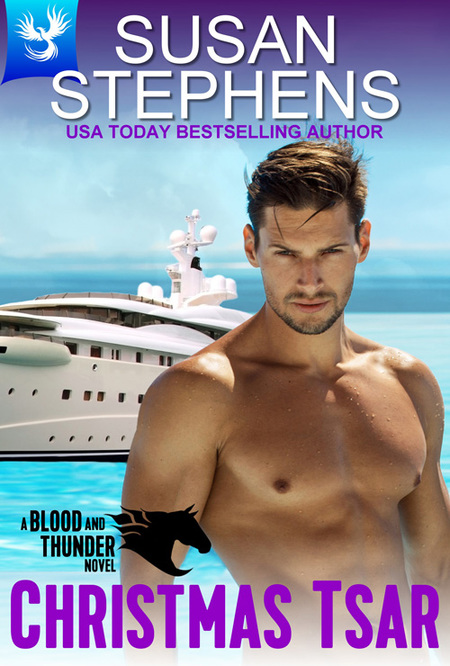 POLO UNLEASHED!
When investigative journalist Amber Smith is tasked with discovering the truth behind the Blood and Thunder polo team, she doesn't expect to fall in love with an undercover billionaire…
Landing a job as crew on the superyacht Russian Thunder brings Amber to the attention of the superyacht's owner and founder of the Blood and Thunder polo team, Alexei Riga.
During a night on shore Amber is captured by a gang of slavers. Held in a cellar prior to being auctioned off on the dark web, Amber escapes thanks to the intervention of Alexei and his team.
Now she knows the truth about Alexei's work as a vigilante, Amber has a choice to make. Will she write a candid article about him and risk putting Alexei's life in danger? Or will she work with him to save more lives?
Amber's respect for the enigmatic Russian soars. Christmas draw closer, and the line between working with Alexei and falling in love with him start to blur. Amber wants it all, but the more Alexei comes to care for her, the more determined he is not to draw Amber into his dangerous life.
When the superyacht docks on the glamorous subtropical island of Isla Celeste, Amber is determined that Alexei will yield to the powerful attraction between them. But Alexei is quickly swallowed up in his other life as a polo player and pushes Amber away.
Their affair might be over, but Amber is still staff, and when the Blood and Thunder team starts to take her for granted, she comes up with her own novel way of bringing them into line. When good food doesn't work, maybe a grenade
will…
Only one thing is certain: Christmas is sure to be explosive!
Romance Contemporary [On Sale: November 8, 2016, e-Book, eISBN: 9781910604250]
Here are the links for you…
And if that cover isn't hot enough, here's Book 2 in the series…
My Romani Chieftain, Dante Formosa, is the billionaire hero of ARGENTINIAN BILLIONAIRE, and he is hot, hot, hot!!
Pre-order now. Release date January 17th 2017.
Coming soon in the same series…
Book 3 Spanish Gold
Book 4 Cold Cache
to be continued…
I've had the best fun writing these red-hot stories, and I hope you enjoy them as much as I do.
Please don't be shy. Join those I chat with on a regular basis on my Facebook page and on Twitter. The romance world is such a happy community, that whatever else is going on in our lives, we can all reach out and escape for just a while, either by reading a new book, or by chatting with other fans of the genre.
Having the opportunity to chat with you has been great. Let this be just the start!
Susan xx
Susan Stephens was a professional singer before meeting her husband on the tiny Mediterranean island of Malta. In true 'Modern' style they met on Monday, became engaged on Friday and were married three months after that. Almost thirty years and three children later, they are still in love. (Susan does not advise her children to return home one day with a similar story, as she may not take the news with the same fortitude as her own mother!)
Susan had written several non-fiction books when fate took a hand. At a charily costume ball there was an after-dinner auction. One of the lots, 'Spend a Day with an Author', had been donated by Mills & Boon author, Penny Jordan. Susan's husband bought this lot, and Penny was to become not just a great friend but a wonderful mentor, who encouraged Susan to write romance.
Susan loves her family, her pets, her friends and her writing. she enjoys entertaining, travel and going to the theatre. She reads, cooks and plays the piano to relax, and can occasionally be found throwing herself off mountains on a pair of skis or galloping through the countryside.
Giveaway… a signed copy of my latest Presents novel, A DIAMOND FOR DEL RIO'S HOUSEKEEPER, together with Susan Stephens swag, and a special little gift just for you.
This giveaway is available globally so that no one is excluded.