So many wonderful books to read and not nearly enough time!
My TBR pile continues to grow exponentially. Amazing books are releasing every week. Some by long-time favorite authors and some by new-to-me authors I've been dying to check out. But every now and then, when I get an opportunity to grab a book to read, I veer away from the TBR and head toward my collection of old favorites.
Consisting mostly of Old School Romance from the 90s, my favorites are currently residing in large Tupperware bins in my basement. My Johanna Lindsey's fill one bin all on their own. There is just something about going back over and over to reread these stories that initiated my love of Romance and Historical Romance specifically. Over the years, these books have inspired me, thrilled me, comforted me, and even surprised me when on occasion, a reread will unexpectedly provide a whole new perspective on a story I thought I knew so well.
Today, I'm going to share some of my all-time favorite rereads. Maybe some are your favorites, too!
Since I already mentioned Johanna Lindsey, I'll start there. Like so many other Historical Romance readers, I adore the Malory family series. All the books are awesome, but there are a few that top my list of rereads. Gentle Rogue is the book I have reread more than any other. It introduced me to this wonderful world of Romance and will always claim a solid spot among my all-time favorites (because James!). I also love to revisit Tender Rebel, Love Only Once, and The Magic of You.
Other favorite Johanna Lindsey rereads are Once A Princess (about a lost royal raised in Mississippi), Warrior's Woman (futuristic awesomeness), The Fires of Winter (super old school Viking romance), and these two wonderful Western Historicals, Savage Thunder and Angel.
Another author who is well-represented in my keeper collection is Lisa Kleypas. There is one title in particular that I go back to over and over. The book is so worn, I should probably look into getting another copy. Dreaming of You is a beautiful story about a novelist doing research for her next book with the help of gambling hell owner who has a dark and sordid past. It's everything that is amazing about Romance; two people from totally different worlds finding in each other a love that conquers all.
Kleypas's Wallflowers series contains another of my frequent rereads, Devil in Winter. No one can resist Sebastian St. Vincent. Seriously one of the best romance heroes ever written.
When I'm in the mood for something dark and angsty, I go to Meagan McKinney. Till Dawn Tames the Night is a story of revenge and abduction in full Old School fashion where a dangerous, obsessive pirate is eventually tamed by the innocent woman he intended to ruin. Lions and Lace is another abduction story, but this one takes place in Gilded Age New York City. There is just something about seeing these tortured, ruthless heroes brought to their knees by love.
After Innocence by Brenda Joyce is also set in America, though our artist heroine eventually ends up in Paris, and of course, our hero follows. It is one of my favorite rereads because it seems to have a sort of whimsical quality that contrasts and compliments the deep emotion and sensuality. I don't think I've ever read another book with quite that same feeling.
I cannot forget to mention One Good Earl Deserves a Lover by Sarah MacLean. This is my favorite from the Rules of Scoundrels series. I just love the way the sexual tension and emotional entanglement develops between Pippa and Cross. I honestly think this book has the best first kiss I've ever read. It's so long in coming and when it happens, it's totally out of the blue and explosive. I just love it!
With all this reminiscing, I think I have to go pull out one of these favorites for another reread. The hard part will be figuring out which one. Happy reading, everyone…or maybe I should say Happy Rereading!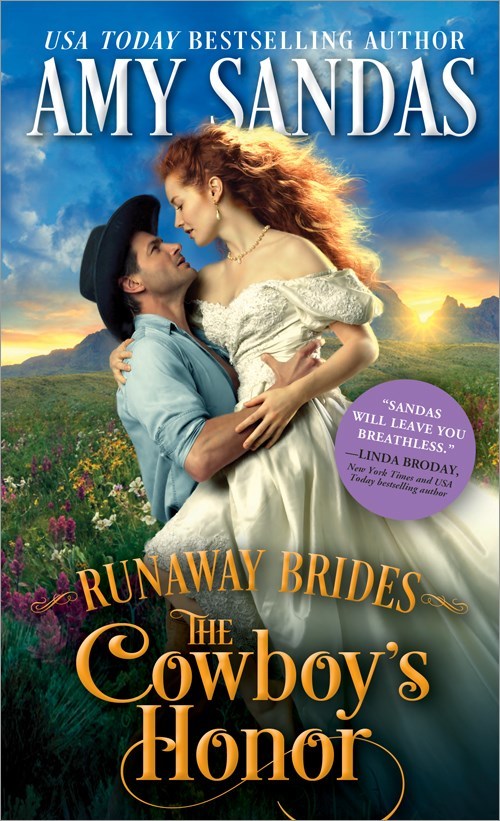 Three runaway brides
Determined to escape their fates
Flee West to find freedom that can only be had in a cowboy's
arms…
Courtney Adams never questioned the future her parents laid
out for her…until the day she was to marry one of Boston's
elite. Desperate, she flees the church in a flurry of bridal
finery and trades her pearls for a train ticket to
Montana—only to be mistaken for a surly cowboy's mail order
bride!
Dean Lawton doesn't want a wife—especially not some fancy
Eastern lady he believes his brother "ordered" behind his
back. Yet one mistake leads to another, and before the dust
can settle, he finds himself married to a woman who
challenges him at every step…and sets his wounded heart
ablaze. But the clock is ticking on this marriage of
inconvenience, and soon Dean must decide: convince Courtney
to remain in his arms, or lose her light forever…
Romance Historical | Romance Western [Sourcebooks Casablanca, On Sale: February 26, 2019, Mass Market Paperback / e-Book, ISBN: 9781492652007 / eISBN: 9781492652014]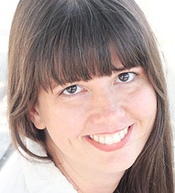 Amy writes historical romance about dashing, and sometimes dangerous, men who know just how to get what they want and women who at times may be reckless, bold, and unconventional, but who always have the courage to embrace all that life and love have to offer.
Amy grew up in a small dairy town in northern Wisconsin and after earning a Liberal Arts degree from the University of Minnesota – Twin Cities, she eventually made her way back to Wisconsin (though to a slightly larger town) and lives there with her husband, three children and a black lab. She spends her early mornings writing then heads to her "other" job, dreaming of the day she can write full-time. The rest of her time is spent trying to keep up with the kids and squeeze in some stolen moments with her husband.