Verity Sinclair looked around the opulent drawing room, drinking in every detail of the decor and the fashionable crowd. She had to resist an urge to pinch herself to prove she was actually here, and not dreaming. It had taken her five endless years to convince her parents that she should have a London season. They hadn't been able to see the point of it, no matter what advantages she brought forward. Papa and Mama were quietly happy living in a cathedral close and being held up as models of decorum for the whole bishopric. Verity, on the other hand, often thought she'd go mad within those staid confines.

She sighed. She loved her parents dearly, but for most of her life she'd felt like a grasshopper reared by ants. Indeed, at age eight, she'd shocked her parents by asking if she was adopted. She hadn't meant to hurt their feelings or to imply any lack of affection. Their differences had just seemed so marked. Mama and Papa relished routine; Verity yearned for adventure. They read scholarly tomes; she pored over Robinson Crusoe and accounts of the voyages of Captain Cook. They preferred solitude or the company of a few friends; she liked a large, lively company. They took sedate strolls; she tried to teach herself knife throwing, which would come in handy if and when she required food in the wilderness.

Her mother was watching her with an expression that gently suggested skepticism. Verity smiled at her and turned toward the chattering crowd. She was in the capital at last, in position to carry out her plan. Surely this room was full of men who were not clergymen and who were, or were acquainted with, far more intrepid types. Indeed, from some news she'd picked up recently, 1819 might be the perfect year for her purposes, even if she was twenty-four and seen by some as practically on the shelf.

She would succeed, despite the misfortune of possessing hair the color of a beetroot and milky skin that freckled at the least touch of sun. Despite the fact that nature had chosen to endow her with a bosom that seemed to positively drag men's eyes from her face and her arguments. Which was not her fault, as her father sometimes seemed to think. It was a reasonably pretty face, she thought. Her features were regular, and she'd been told her blue-green eyes were striking.

"Miss Sinclair."

Verity turned to find her hostess beside her, along with a tall, exceedingly handsome man. He had wonderful shoulders and intense blue eyes. Compared to the fellows she knew, he looked polished and sophisticated. More than that, he met her gaze, with only the briefest straying to other regions of her anatomy. Verity smiled. This was promising.

"May I present Lord Randolph Gresham," the woman continued. "Lord Randolph, Miss Verity Sinclair."

A lord, Verity thought. Not a requirement from her list, but nothing to sneeze at either.

"I think you will have much in common," their hostess added. Addressing each of them in turn, she said, "Lord Randolph is vicar of a parish in Northumberland. Miss Sinclair is the daughter of the dean of Chester Cathedral."

When the woman left them together, Verity's budding elation collapsed. It could not be that the first man she met in London—and such an attractive man—was a clergyman. Were there so many in the world that she couldn't be spared another? Possessed by an oddly urgent sense of danger, Verity blurted, "I could never abide life in a country parish."

He blinked, clearly startled.

"I would find the limited society unendurable." Her comment came out sounding like an accusation. Verity bit her lower lip. There was no reason to be this keenly disappointed. What was the matter with her?

"I don't recall asking for your opinion," he said.

"The isolation makes people narrow-minded."

"I beg your pardon?"

He looked offended. Verity couldn't blame him. She was right, of course; she'd observed the tendency often enough, but there was no need to say it aloud. Or to continue this conversation. She should move away, find a more promising prospect. Instead, she said, "And quite behind the times. Antiquated, even."

"Indeed?"

His blue eyes had gone cool. What had come over her? She was never rude. She ought to apologize.

"If you will excuse me, I see that some friends have arrived," he said.

Lord Randolph gave her a small bow and walked away. Which didn't matter, Verity thought. She'd meant to stop talking to him. And yet a pang of regret shook her. Stop it at once, she told herself. That was not the sort of man who searched for the wellspring of the Blue Nile, or discovered unknown species or peoples. Silently, she repeated her talisman phrase— Twelve Waterloo Place—and turned to find other town dwellers to meet.
They're wrong for each other, for all the right reasons…
Lord Randolph Gresham has come to London for one reason only-to find a suitable wife. Verity Sinclair may be intelligent, beautiful, and full of spirit, but her father knows a secret about Randolph that makes her entirely unsuitable as his bride. Not right for him at all, never, not a chance.
Verity knows that Lord Randolph lives in a country parish, and she wants nothing more than to escape to town. He may be fascinating, attractive, rich, and the son of a duke, but she'll never marry him, nor will she talk to him, flirt with him, walk with him, or dine with him. She'll sing a duet with him, but only this one time, and only because everyone insists.
But one duet invariably leads to another.
Romance Historical [Sourcebooks Casablanca, On Sale: December 5, 2017, Mass Market Paperback / e-Book, ISBN: 9781492621683 / eISBN: 9781492621690]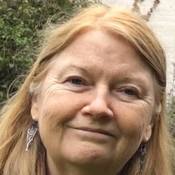 Jane Ashford discovered Georgette Heyer in junior high school and was entranced by the glittering world and witty language of Regency England. That delight was part of what led her to study English literature and travel widely in Britain and Europe. Born in Ohio, she has lived in New York, Boston and LA, her writing life punctuated by breaks where the fates intervened and swept her off in different directions.
Jane has written historical and contemporary romances. Her books have been published in Sweden, Italy, England, Denmark, France, Russia, Latvia and Spain, as well as the U.S. She has been nominated for a Career Achievement Award by Romantic Times Magazine.