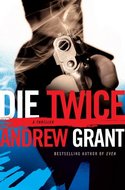 Chicago has an incredible choice of outstanding places to eat, but where better to celebrate the launch of your new book than the restaurant your hero first visits after arriving in the city? Accordingly, last Monday Tasha (Alexander) and I jumped in a cab and headed for Brasserie Jo. TashaI set out to replicate David Trevellyan's dinner from the book – Mussels, and blue Steak with Mustard Butter.
Like David, we enjoyed fabulous food, cooked to perfection in relaxed, elegant surroundings. Unlike him, however, we didn't have to fight off any unchivalrous thugs in the (fictitious) courtyard at the back of the building, or evade the consequent attentions of the Chicago Police Department. And more importantly, unlike David, we'll have the pleasure of visiting the restaurant again…
DIE TWICE is thriller author Andrew Grant's second book in the David Trevellyan series. He resides in Chicago and the United Kingdom. Grant is engaged to historic fiction author Tasha Alexander.