Today, we have a great interview between Fresh Fiction reviewer Teresa Cross and thriller author Andrew Grant, about his latest release, INVISIBLE! You can read Teresa's review of INVISIBLE here. Enjoy!
Teresa: Your latest book is about a character, Paul McGrath, an Army Intelligence who comes home to find his father had passed away which was a big surprise for him. Then he goes undercover as a janitor at the courthouse. Where did you get the idea or concept for the storyline for INVISIBLE?
Andrew: It came about as the combination of two strands of thought: one new, and one old. Over the last couple of years, I've felt a change in the mood of the country, a growing sense of unease as inequality has grown more pronounced and injustice more rife, so it seemed like it was time for a different kind of hero: One who would stand up for the 99%. Added to that I've been fascinated since I was a little kid by characters like the Scarlet Pimpernel – heroes who are driven by what's right, not by the desire for fame or reward, and consequently work in the shadows where their true identities are never revealed.

Teresa: Most authors use something that they know and/or do research in order to make their novel realistic. What kind of research did you have to do in order to make this novel possible?
Andrew: I go more with the doctrine that you should write what you feel, rather than what you know. So I took my sense of outrage at the way the weasels of Wall Street and their ilk can rob the rest of us blind and never spend a day behind bars, and molded that into Paul McGrath's character. In terms of specific research, there were lots of things I had to learn. Some I did in person, such as rooting around the New York County Courthouse to find out how it felt to be inside. Others information I was able to glean from books, such as how rent control works and the limits to the principle of Double Jeopardy.

Teresa: I notice that your wife, Tasha Alexander,  is also an author. Do you throw ideas off each other and if so how much feedback does she give you in your writing?
Andrew: I always think that in its very earliest stages, the idea for a book is like one of those old fashioned instant photographs. The paper pops out of the camera, but at first, the image is blurred and unfocused. You know something's there, but it's very hard to articulate exactly what, so having someone to talk to who understands the process is enormously helpful. As is having someone to encourage you when you're ready to tear your hair out because you're struggling to fix a plot hole or to get a character to come to life.

Teresa: On your site, it is noted that this is book one of the Janitor's Thrillers. So I guess that means you plan for more. Anything that you can tell us about that?
Andrew: I would love for there to be more! Lots more! I'm hoping that the idea of Paul McGrath working at the courthouse with access to the whole building, seeing everything but not being noticed by anyone, will provide a platform for all kinds of gripping stories. I'm also planning to reveal some shocking details about Paul's family background, starting with the second Janitor thriller – TOO CLOSE TO HOME – which hits the shelves in January 2020…

Teresa: I love thrillers, and this was the first that I have read of yours, but it will not be the last. I see that you have two other short series. (Which I plan to read.) And as a reader, I tend to love the characters in the novels that I read that are a series. Paul McGrath could easily be one of those. Have you ever thought about taking a series through more than just three books?
Andrew: Thank you! And yes! I'd love to see Paul McGrath become a long-running series character, and I'm going to do my best to make that happen.
Teresa: Have you always wanted to be a writer? Are there any authors that have inspired you in the past or even now for that matter?
Andrew: I've always loved telling stories, but came to writing novels relatively late. I started out behind the scenes in theater, and it was only when I moved into a 'real' job which took me on the road, and I started to read more, that the idea of writing my own books hit me. And once an itch like that strikes, you just have to scratch it.

Teresa: What type of books do you like to read yourself?
Andrew: All kinds. I love nothing more than spending hours in a bookshop and coming out with an armful of diverse titles. The last book I read was THE SIXTH EXTINCTION by Elizabeth Kolbert which I bought at my local indie – Second Story Books in Laramie, WY – and I thoroughly recommend it.

Teresa: In your spare time, what is your favorite thing to do? Other than writing.
Andrew: Reading! And getting outdoors. In the summer, Tasha and I love to hike and camp. In the winter, we snowshoe whenever we can and – at the risk of becoming an old dog trying to learn new tricks – I just took up cross country skiing.

Teresa: What is a typical day like for you?
Andrew: When I'm writing – as I am at the moment – I like to stick to a routine. This starts with breakfast – I have a golden rule never to skip it – then I allow half an hour to answer email. I have to impose a limit; otherwise, it's too easy to spend all day online. Then I exercise, shower, and start work.
Teresa: My full-time job is a teacher. For fun, is there any teacher that has inspired you and how?
Andrew: If I had three wishes, one would be for teachers to get the credit they deserve. Teaching is a vital job, and it's one I couldn't do in a million years. When I look back I was fortunate to have learned from many excellent teachers, but one, in particular, does stand out. His name was Mr. Bevan, and ostensibly his subject was French. However, aside from introducing his classes to the delights of Camus, he also taught us that it was OK to find your own path in life and that having weird geeky interests was something to celebrate, not hide.
An Army veteran and intelligence agent goes undercover as
a janitor at a federal courthouse to pursue his own brand of justice in a thriller that's part John Grisham, part Robert Crais.
When Paul McGrath was a young man, he rebelled against his pacifist father by becoming a stand-out Army recruit, the star of his military intelligence unit. But lingering regrets about their relationship made him return home, only to find his father dead, seemingly murdered. And when the murder trial ended in a hung jury—with just one hold-out among the jurors—something didn't smell right to McGrath. So he put his arsenal of skills to work to find out just how corrupt the legal system was. And to keep digging, he got himself a job at the courthouse. But not as a lawyer or a clerk.
Now McGrath is a janitor. The perfect cover, it gives him security clearance and access to the entire building. No one notices him, but he notices everyone. He notices when witnesses suddenly change their stories. When jury members reverse their votes during deliberation. When armies of corporate attorneys grind down their small-time adversaries with endless tactical shenanigans. And while McGrath knows that nothing he discovers can undo his past wrongs or save his father, he finds his new position brings him something else: the chance to right current wrongs and save others. And by doing so—just maybe—to find redemption for himself.
Thriller [Ballantine Books, On Sale: January 8, 2019, Hardcover / e-Book, ISBN: 9780525619598 / eISBN: 9780525619604]

A thriller with Army Intelligence that keeps you engrossed…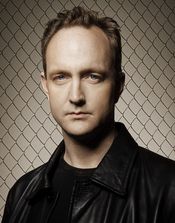 Andrew Grant was born in Birmingham, England. He went to school in St Albans, Hertfordshire and later attended the University of Sheffield where he studied English Literature and Drama. After graduation, Andrew set up and ran a small independent theatre company which showcased a range of original material to local, regional and national audiences. Following a critically successful but financially challenging appearance at the Edinburgh Fringe Festival, Andrew moved into the telecommunications industry as a 'temporary' solution to a short-term cash crisis. Fifteen years later, after carrying out a variety of roles including several which were covered by the UK's Official Secrets Act, Andrew became the victim/beneficiary of a widespread redundancy programme. Freed once again from the straightjacket of corporate life, he took the opportunity to answer the question, what if?
Andrew is married to novelist Tasha Alexander, and the couple live on a nature preserve near Laramie, Wyoming.