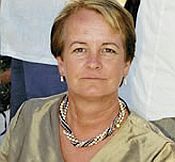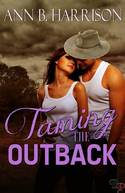 I love a feisty women, one who isn't afraid to stand up for herself and take what she wants. One who starts off a slightly timid and grows into a character with backbone makes me go all warm and fuzzy inside too.
That is how I see Libby Holland, my heroine, in TAMING THE OUTBACK.
Libby is a widow raising two kids with a mortgage that is getting too much and a job that is going nowhere. Out of the blue comes a letter from the solicitor. She has been left two country farms and the requirements of the will are that she live there and turn a profit within two years.
Not too difficult you might think? But when you take into account the Australian outback and the harsh conditions you could be forgiven for jumping the gun. Throw into the mix Nathan Miller, her arrogant and lust worthy neighbor and you see just how much Libby has to contend with.
But not one to sit and simper over what can't be done, Libby gets her hands dirty and learns to run her farm.  The city barmaid who was used to pouring a beer now has to learn how to fix a fence, castrate a lamb and contend with a bunch of hungry shearers.
Unfortunately for Libby, the lack of sex and well built neighbor has her lusty genes working overtime and it isn't long before he is something she needs to overcome.
Libby sets out to seduce Nathan with the help of the elderly farm foreman as her conspirator. Sex with Nathan is wonderful, his attitude is something else and she walks away convinced that she is over him now she has had him.
But the laws of nature make that more a thorn in her side. When the wild weather threatens her farm and her family, we find out what makes both her and Nathan tick.
Do you like a feisty heroine? One commenter will win a copy of TAMING THE OUTBACK.
Visit Ann Facebook | Twitter | website
To comment on Ann B. Harrison's blog please click here.