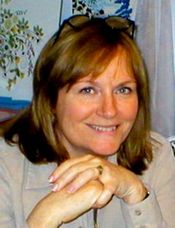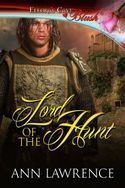 Don't you just love sequel characters? I know I do. I love returning to a series, discovering the new romance, but also learning more about the lives of the characters from an earlier book.
LORD OF THE HUNT, being reissued this month in ebook form, is all about sequel characters. When I finished my historical romance, LORD OF THE MIST, I really missed the characters. The emails I received told me fans wanted to know more about the characters as well. I aim to please, so LORD OF THE HUNT, crafted around a character from LORD OF THE MIST, was born.
Along with sequel characters, I also love SECRETS! LORD OF THE HUNT has lots of secrets. The hero, Adam Quintin, has two. First, he's really the son of the banished lord of Ravenswood Castle. This isn't a spoiler, you know this right away. His second secret could have two results…fabulous rewards or death! Adam must hunt down a traitor who is conspiring with the French king against England. Adam is willing to risk death for the reward of catching this traitor, but Adam doesn't care about gold or silver. Instead, he wants to win back Ravenswood for his family.
Adam's secrets get tied into complicated knots when his hunt leads him to Ravenswood Castle where he must join the suitors for the hand of Lady Mathilda, England's most desirable heiress. Adam's pretty confident about his chances with not only his mission, but also the heiress, until a seductive huntress, Joan Swan, saves his life, throwing all his plans into disarray.
Joan Swan has her own secrets and her own secret mission. She must protect her ailing father's position at Ravenswood as Master of the Hunt. Her mission becomes almost impossible as Lady Mathilda's suitors arrive. And how does Joan protect her heart when she falls in love with Adam Quintin, a man destined for her lady?
So . . . do you love sequel characters as much as I do? Do you love a good secret?
Two lucky people who comment today will receive an ebook edition of LORD OF THE MIST (winner's choice of digital format).
Learn how Durand de Marle rode out of the mist and forever changed the lives of not only his son, but also that of Cristina le Gros who crafts soaps, perfumes, and love potions for the ladies of Ravenswood. I hope you'll read both books and follow the sequel characters and be there at the end when all the secrets are finally revealed!
To comment on Ann Lawrence's blog please click here.