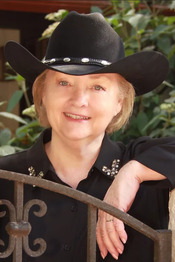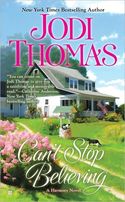 Once in a while I write a story that touches my heart. When I finish the book, I feel like I've been abducted in the middle of the night away from my home and friends. How could I be stuck in a snow storm in the Texas Panhandle when I should be in Harmony, Texas, dancing in the rain? Where are Martha Q and Tyler Wright? Where's my ranch? Where are my chili-cheese fries from the diner?
That's kind of how it felt when I wrote the end to CAN'T STOP BELIEVING. I lived there, found and lost love there, and the day I mailed the book in, they all left me.
Cord McMillan looked like he'd be a hard man for anyone to love. He's an ex-con thanks to a mistake he made when he was 17. He hates everyone almost as much as he hates himself. All he has is a rundown farm and even working all week in town then farming till dark, he finds he's about to lose the place.
Nevada Britain, Cord's neighbor, has always had the best of everything only now alone, she fears for her life. Using her last chance, she makes Cord an offer he can't refuse. An offer that will either destroy them both or save all they value, including a love born of need and fired in trust.
So, now it's your chance to step into my Harmony, Texas. You'll find love and lose love while you laugh and cry at the turns in life for the people of Harmony. And, it is my hope that you'll care about them all as dearly as I have.
Welcome, step on in and meet the folks,
Jodi Thomas | www.jodithomas.com | Facebook | @jodithomas
To comment on Jodi Thomas's blog please click here.