Hi! I am so thrilled to be here on one of my favorite blogs with an exclusive excerpt of HIGH HEAT, my new release. This is book two in my Hotshots series about smoke jumper wildfire fighters in Central Oregon, but each book is designed to stand alone as well.  HIGH HEAT centers around an injured smoke jumper, Garrick, trying to recover from serious injuries and his sexy new neighbor, Rain who barrels his way into Garrick's life, complete with a lost dog who needs them both.  In the exclusive scene that I've brought Fresh Fiction today, Garrick has agreed to help Rain get in shape to meet the wildfire fighter fitness standards. They're out for exercise in the park and just starting to dance around a mutual attraction. . . Read on to see the sparks starting to fly!
***
Needing to change the subject, Garrick pointed at the paved trail that wove through the park. "If we follow this, we'll hit various obstacles, including pull-up bars. I plan to make you do most of them."
"At your command." Rain's dark eyes sparkled, almost like he knew precisely the effect his flirty tone would have on Garrick.
"Sit-ups." Stopping at the first station, which had a low bench in front of a sign, Garrick tried for a stern no-more-flirting tone, but he wasn't sure he succeeded. "Focus on form rather than quantity. Start with ten good ones, but five with good form is better than ten where you risk a core muscle injury. And I know you're not sure about skydiving, but even on an engine crew, core strength is vital for being able to hold a position."
It had been years, but Garrick's muscles still burned with the memory of hours and hours digging fireline, working tirelessly to build barriers against the spread of the fire. Not that they didn't do plenty of digging as smoke jumpers too, but it wasn't quite the same as working on a crew with that sole focus for days on end.
"Okay." After giving Garrick the leash, Rain plopped down on the bench and proceeded to give a first effort that had Garrick fearing for his lower back and neck.
"Plant your feet. Use the core, not momentum, and definitely not your arms pulling on your neck. Slow and steady."
"This better?" Rain tried again, two more that were more in line with what Garrick expected.
"That's it. Very good. Nice and easy." Garrick coached through his next few until Rain paused. "That's the way."
"Garrick?"
Something about his tone immediately made Garrick's back tense like he was the one doing crunches. "Yeah?"
"Are you trying to turn me on?" Rain looked him up and down, like that might be an actual possibility and not absurd.
"Uhhhh." Garrick made a strangled sound.
"I'll take that as a no. Maybe try being meaner?" Rain's grin was positively devilish. "I'm just saying, I'm trying to avoid an embarrassing situation here."
"Point taken." Damn. On the one hand, Garrick liked Rain's directness. A lot. On the other…he could have lived a much more comfortable existence without knowing that apparently Rain liked orders or praise or maybe both. "Try and do another few with good form. I'll stay quiet."
"Oh, I didn't mean you had to be silent." Laughing, Rain rattled off another few sit-ups, form much better now, to the point that Garrick wondered if he'd deliberately been terrible just to get Garrick's corrections. And wasn't that exactly the kind of intriguing development he didn't need.
"Okay, okay. Next obstacle." Garrick got them moving again before Rain could flirt further.
"Good! Lunges. Those I can do." And somehow, someway, Rain made an exercise Garrick had done himself a thousand times ridiculously sexy. "No form corrections?"
"No." Garrick's voice came out too gruff. Rain knew exactly what he was doing and had too much fun doing it, especially when they made their way to the push-up station. Either Rain had avoided all push-ups in high school or he was deliberately torturing Garrick with bad form. "Ass in line with the rest of your body."
"It is." Rain waggled his eyebrows, a nifty trick while prone. "Trust me, if I was sticking my ass out on purpose, you'd know."
"Is this how you are with all your friends?" Garrick was still trying to sort out what Rain was after with the flirting, whether he was simply getting more comfortable around Garrick or what.
"How? Goofy?"
"Yeah. Goofy." Garrick rolled his eyes. If Rain didn't want to own up to the flirting, he sure as hell wasn't going to be the one to force the issue. And quite probably Rain was right—this was how he was with the world at large and not Garrick specifically. "Now to the pull-ups."
"If I can't do any. . ." Rain showed his first moment of true hesitation in front of the bars. "I haven't tried this in months, since I was trying for the fire academy stuff, and last time I tried I think I got like two out, maybe three. When I was a kid, I could do monkey bars all day long, but a pull-up from a static hang is harder."
"So try for two. For smoke jumpers the minimum is seven, but people don't start out being able to crank out a dozen." Then, not liking the serious expression on Rain's face, he added, "I'm not going to laugh if you can't get over the bar, promise."
"Okay. Here it goes." Rain leaped up to the bar, then dangled. But he made an admirable effort at three pull-ups, and Garrick forgot he was supposed to tone down the praise, cheering him on.
"Way to go. That's how to do it!"
"You know, if you were cheering for me, I probably could jump out of an airplane." Rain dropped down, but not before his shirt rode up and shorts drooped, exposing a fuzzy happy trail and some creamy skin. And the hint of a black underwear waistband that was most certainly far from boring white briefs and was going to worm its way into Garrick's brain all day, making him try to imagine what Rain had on under his clothes.
"That's awesome. Thanks." Garrick had no business feeling as pleased as he did at the compliment or as befuddled as he was at the flash of skin.
"Just facts." Grinning, Rain took the dog back, racing ahead to the next obstacle. He was trouble all right. Trouble Garrick certainly didn't need, but hell if he didn't want. And hell if he didn't feel more alive than he had in months, out here, sunny morning, arm muscles pleasantly burning, prospect of feeding Rain later, anticipation over what flirty bit of banter Rain might toss his way next. Bring it on, Trouble.
(C) Annabeth Albert, Carina Press, 2020. Reprinted with permission from the publisher. 
***
Hotshots #2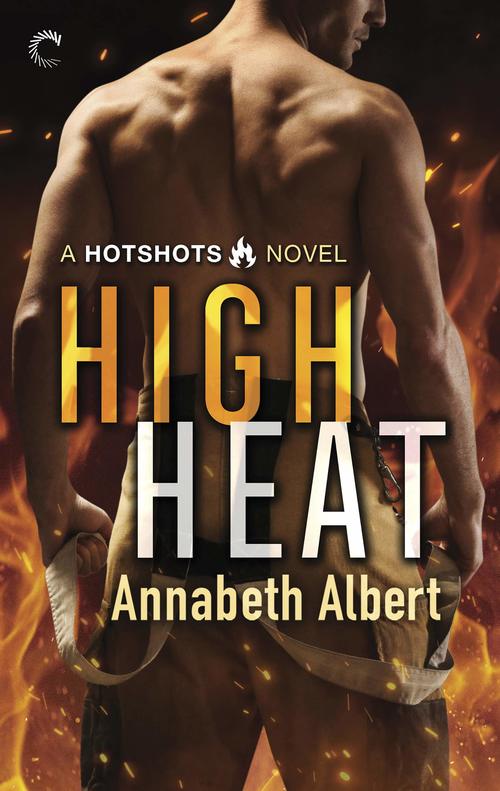 Annabeth Albert's Hotshots series continues—the emotions and intensity of Chicago Fire with the raw, natural elements of Man vs. Wild.
Smoke jumping is Garrick Nelson's life. Nothing, not severe injuries nor the brutal physical therapy that follows, is going to stop him from getting back with his crew. But when a lost dog shows up on his front porch, he can't turn her away, and he can't take care of her on his own. Thankfully, help comes in the form of his new sexy, dog-loving neighbor. As they work together, trying to re-home their little princess, Garrick can't resist his growing attraction for the other man, even though he knows this guy isn't the staying type.
Rain Fisher doesn't take anything too seriously. He dances through life, one adventure at a time, never settling in one place for too long. When his hot, conveniently buff, neighbor shows up on his doorstep, dog in tow, Rain's determined to not just save the adorable puppy, but her reluctant owner as well. He never expects their flirtation might tempt him into stay put once and for all…
Danger lurks everywhere for Central Oregon's fire crews, but the biggest risk of all might be losing their hearts. Don't miss the Hotshots series from Annabeth Albert: Burn Zone, High Heat, and Feel the Fire.
Romance LGBTQ | Romance Suspense [Carina Press, On Sale: July 27, 2020, Paperback / e-Book, ISBN: 9781335459510 / ]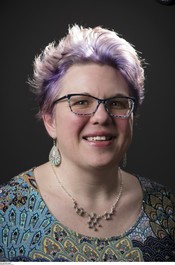 Annabeth Albert grew up sneaking romance novels under the bed covers. Now, she devours all subgenres of romance out in the open—no flashlights required! When she's not adding to her keeper shelf, she's a multi-published Pacific Northwest romance writer.  She has penned many critically acclaimed and fan-favorite LGBTQ  romance series.
Emotionally complex, sexy, and funny stories are her favorites both to read and to write. Annabeth loves finding happy endings for a variety of pairings and particularly loves uncovering unique main characters. In her personal life, she works a rewarding day job and wrangles two active children. She's a compulsive knitter, late night reader, obsessive gamer, and happy bi-pride flag waver.