SHELTER FOR ELIZABETH came about in an interesting way. At the end of book 4 in my SEAL of Protection Series, PROTECTING SUMMER, the heroine was kidnapped by a serial killer who wanted to torture the Hero SEAL. In order to accomplish this, he kidnapped another random woman from the parking lot of the local Walmart. He tortured THAT woman, telling the heroine everything that was happening to her was going to happen to the heroine next. Enter the SEAL team to save the day…but not before the poor random woman was traumatized and brutalized.
I kept getting reader notes asking if the poor random woman was going to get a SEAL of her own. At first I had no idea who they were talking about, as that woman was a "throw away" character. But I thought about it…it was the perfect set-up for a book. So….
Poor Elizabeth moves to Texas to try to get away from what happened to her at the hands of the serial killer. She has agoraphobia…meaning she's scared to go outside and is in therapy. When she nearly sets her apartment on fire, she meets a hunky firefighter who takes a liking to her…and off the story goes.
I probably never would've thought to give Elizabeth her HEA if it hadn't been for readers having sympathy for her and wanting to see her again.
It was fun to have Summer and Mozart (the characters from PROTECTING SUMMER) make a re-appearance and readers get to catch up with how she is doing after the ordeal.
It was a tough book to write, though, because of all that Beth went through and was still going through. But at the same time, it was fun to make her strong and able to overcome.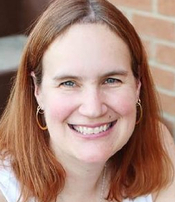 New York Times, USA Today, and Wall Street Journal Bestselling Author, Susan Stoker has a heart as big as the state of Texas where she lives, but this all American girl has also spent the last fourteen years living in Missouri, California, Colorado, and Indiana. She's married to a retired Army man who now gets to follow her around the country.
She debuted her first series in 2014 and quickly followed that up with the SEAL of Protection Series, which solidified her love of writing and creating stories readers can get lost in.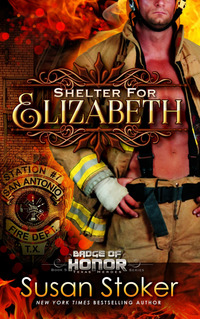 Elizabeth Parkins lived through a nightmare come true—getting kidnapped by a serial killer. Seeking a fresh start, she moves to Texas, but escaping her demons proves impossible when she's too terrified to leave her own apartment. A small, accidental fire sparks a coping method she'd never expected, and brings an amazing man to her door.
Firefighter Cade "Sledge" Turner's idyllic life ended the day his sister was kidnapped. Now he knows firsthand that tragedy can befall anyone, at any time. Meeting Elizabeth on the job was a gift. Cade can envision spending his life with this woman. He understands what she's been through, is willing to help her heal…though even Cade is unaware of Beth's new secret obsession.
As Beth takes steps to help herself heal, and Cade attempts to earn her trust and prove his own, they're both about to be tested—in a way that could see everything they've worked for go up in flames.
* Shelter for Elizabeth is the 5th book in the Badge of Honor: Texas Heroes series. Each book is a stand-alone, with no cliffhanger endings.