If you've done those questionnaires on Facebook you know the drill, so here goes!
Meet Kait Gamble
Guilty pleasure? Reading in the tub
What's in your coffee/tea? I have my coffee black with one sugar usually. When I drink tea it's jasmine green tea more often than not which I have as is.
Last picture you took? I'm always taking pictures! As of right now, the last pic I took was of the sunset a couple of days ago. You can see it on my Instagram (@kaitgamble)
Biggest fear? Something happening to my family.
If you could have a superpower, what would it be? I would love to be able to fly!
Least favorite food? Tofu
Favorite junk food? Crisps
Favorite meal? Sushi. I could literally eat sushi all day every day.
Favorite pizza? Meat Feast
Biggest pet peeve? People who get to the counter BEFORE making up their minds what to get.
First author hero? Tamora Pierce and Piers Anthony
Last book you read? THE MILLIONAIRE'S SNOWBOUND SEDUCTION by Sandra Marton – a lovely Christmas read.
Favorite '80s song or artist? I love 80s music but I don't think I could pick just one song or artist as my fave.
Last movie you saw in a movie theater? Rogue One. My quick review: A good film that ties up loose threads in the original films, though dragged on in the beginning. If you love Star Wars you probably won't care about any of that and love it anyway.
Favorite cookie? Chewy chocolate chip
Favorite dessert? Tiramisu or Black Forest Cake or New York Vanilla Cheesecake. I really can't decide between the three.
What did you want to be when you grew up? So many things! It's a good thing I became one of them as I can live vicariously through my characters to be the others!
What TV show do you miss that's been canceled? Firefly
Last TV show you binge-watched? 3% – a Brazilian sci-fi series on Netflix. I recommend it for anyone who loves stories about dystopian futures.
Favorite TV show when you were a kid? She-ra and Gummy Bears
If you were a Disney princess, which one would you be? Mulan or Belle
What movie made you cry the most? Titanic made me ugly cry the first five times I watched it.
Is that your real hair color? Blue Black
I'm really good at …picking up languages.
I'm really bad at …math.
My best friends tease me incessantly about …my absentmindedness
I fear I'd act like a total idiot if I ever met …Stephen Hawking, Neil deGrasse Tyson, Brian Cox or Elon Musk. I would absolutely fangirl myself into eternal embarrassment.
For the heroes in my books, I often picture … Henry Cavill
My favorite thing about CHRiSTMAS is … Christmas is pretty much everything about the holiday. I love the decorations, carols, even the movies repeated year after year. I love that people are generally nicer this time of year though nothing is better than staying in, snuggling up with loved ones by a roaring fire with a cup of hot chocolate watching a holiday classic.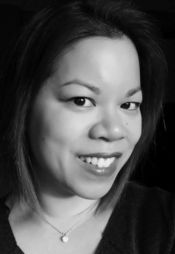 Read. Escape. Fall in love.
An inveterate traveler, Kait has set foot on three continents and has the other four on her bucket list (yes, even Antarctica). Until she can see them all, she writes romances that take readers to far flung locales, often to places she's been or hopes to one day go. For now, she's settled in England where she spends most of her time plotting, scribbling ideas on every available scrap of paper and trying out dialogue on her cat.
Throw together a couple of secret identities, a priceless diamond, a killer, a secret baby and luxurious location and you get my latest Totally Five Star book, Faking it. A second chance romantic suspense story about two people who have come together again only to find that everything they once held true wasn't quite as it seems.
Totally Five Star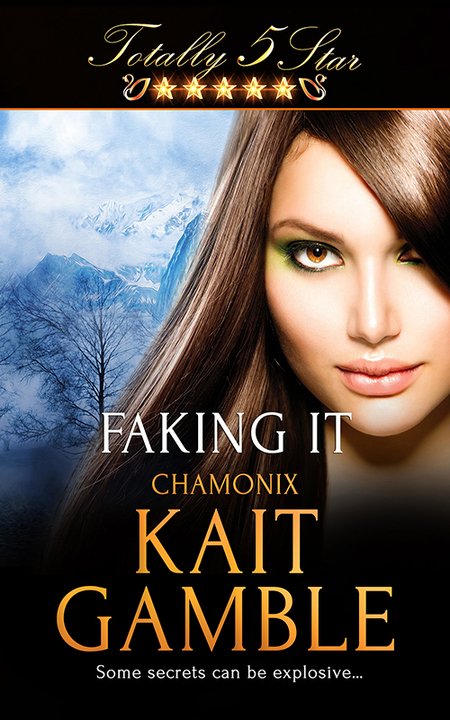 Some secrets can be explosive…
One last job…
The patrons of Totally Five Star Chamonix would be stunned to find out that beautiful, sophisticated and elegant Ana Meier is not there for the social event of the year. Once a thief, she has been forced back into the life for one final mission.
Unexpected…
When Rhys Stone lays eyes on Ana again, there's no doubt in his mind that the fire between them still smoulders. He's willing to do just about everything to convince her that they're good together…except tell her the truth about what he's been doing during their time apart..
Inevitable…
Seeing the love of her life alive and being faced with all the lies between them aren't complications she anticipated, but Ana isn't going to let him get in her way. Not when the success of this job means saving the son Rhys knows nothing about.
Even loving Rhys isn't going to stop her from going through him if she must.
Romance Contemporary [Totally Bound Publishing, On Sale: December 27, 2016, e-Book, ISBN: 9781786515018 / eISBN: 9781786515018]