At the end of August, I headed to Austin for ArmadilloCon. One of the must-see panels for book lovers was the annual "What You Should Have Read" panel, which included reviewers, a bookseller and an editor talking about the year's must-read books.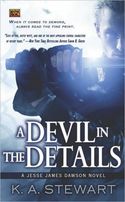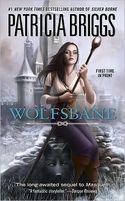 Editor Anne Sowards of Ace and Roc books mentioned some recent or upcoming books from her list. There's a new series that Anne said is like the work of Jim Butcher. K.A. Stewart's A DEVIL IN THE DETAILS is a fun, quick read about a champion who helps people win their souls back after selling them. The publisher is also re-releasing Patricia Briggs's first book, MASQUES, which has been out of print for a while. Then in November, the sequel, WOLFSBANE, will be released. This marks a return to traditional fantasy for Briggs, who is currently known for her urban fantasy. One release that really excited Anne was the recent re-release of one of her childhood favorites, ARIEL, by Steven R. Boyett. Its long-awaited sequel, ELEGY BEACH will be released in paperback in October. She called these "gritty and realistic" apocalyptic fantasies.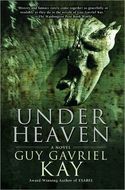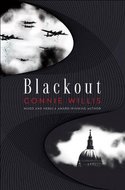 Martin Wagner of SFReviews.net said there were two essential books this year. One was UNDER HEAVEN by Guy Gavriel Kay, an early medieval-set fantasy in a world based on China. Martin called this book an "epic historical fantasy full of pageantry." The second essential is actually two books, the BLACKOUT, ALL CLEAR duology by award-winning author Connie Willis. These are time travel novels about a team of historians who travel to London during the Blitz — and then can't get back. BLACKOUT was released earlier this year, and ALL CLEAR will be coming soon. I've read BLACKOUT and I can't wait for the conclusion. The honorable mention "must" book was KRAKEN by China Mieville. Martin said this author hasn't always been to everyone's taste, but this book is more accessible, almost a "popcorn read."
Bookseller Willie Siros listed Jasper Fforde's SHADES OF GREY as a "must" book. This one is less whimsical and more science fictional than his previous series, but is still funny. He also mentioned THE FULLER MEMORANDUM by Charles Stross, which he described as "a spy thriller, British bureaucracy comedy involving the Cthulu mythos that hits a lot of geek sweet spots." Another notable author is Daniel Pinkwater, who he said writes some of the best picture books for very young readers, but who also writes young adult novels. His recent book is ADVENTURES OF A CAT-WHISKERED GIRL, the latest book in a series retelling the Odyssey and the Iliad in a contemporary setting.
Next up is FenCon in Dallas, where I'm looking forward to meeting special guest Robert J. Sawyer. His books were staples of a science fiction book group I used to be in.
---
Shanna Swendson writes "Fairy Tales for Modern Times" and is the author of the Enchanted, Inc. series about a Texan in New York City, a magical NYC. Visit her website or blog for more information.