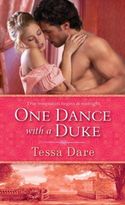 Stud Club #1
June 2010
On Sale: May 25, 2010
Featuring:
Spencer Dumarque; Amelia d'Orsay
400 pages
ISBN: 0345518853
EAN: 9780345518859
Mass Market Paperback
$7.99
Romance Historical
Buy at Amazon.com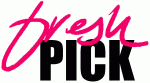 One Dance with a Duke
by Tessa Dare
True temptation begins at midnight…
True temptation begins at midnight…
A handsome and reclusive horse breeder, Spencer Dumarque, the fourth Duke of Morland, is a member of the exclusive Stud Club, an organization so select it has only ten members — yet membership is attainable to anyone with luck. And Spencer has plenty of it, along with an obsession with a prize horse, a dark secret, and, now, a reputation as the dashing "Duke of Midnight." Each evening he selects one lady for a breathtaking midnight waltz. But none of the women catch his interest, and nobody ever bests the duke — until Lady Amelia d'Orsay tries her luck.
In a moment of desperation, the unconventional beauty claims the duke's dance and unwittingly steals his heart. When Amelia demands that Spencer forgive her scapegrace brother's debts, she never imagines that her game of wits and words will lead to breathless passion and a steamy proposal. Still, Spencer is a man of mystery, perhaps connected to the shocking murder of the Stud Club's founder. Will Amelia lose her heart in this reckless wager or win everlasting love?

Will true love be able to change the fate of these two lovers?
Excerpt
London, June 1817
Blackberry glaze.
Biting the inside of her cheek, Amelia d'Orsay suppressed a small cry of jubilation. Even at a rout like this one, a well-bred lady's abrupt shout of joy was likely to draw notice, and Amelia did not care to explain herself to the crush of young ladies surrounding her. Especially when the reason for her delight was not a triumph at the card table or a proposal of marriage, but rather the completion of a dinner menu.
She could imagine it now. "Oh, Lady Amelia," one of these young misses would say, "only you could think of food at a time like this."
Well, it wasn't as though Amelia had planned to stand in a ballroom, dreaming of menus for their family summer holiday. But she Read More…