It's a cliché that artistic people feel more intensely than non-artist types, are more driven by their passionate vision—and frequently live tragic lives. But in the process, they create work that enlightens and enthralls millions of viewers, listeners and readers.
The novels we'll look at here fully support the cliché. Whether the artist be painter, composer, or writer, the passion that consumes them often also brings heartache and disaster. While exploring the inner lives of these artists, the authors telling their stories also give us a vivid portrait of the age and the milieu that shaped them. What more can a reader ask of historical fiction?
We begin with music in Janice Galloway's CLARA, a novelization of the relationship between Robert and Clara Wieck Schumann. Clara's demanding father, a piano teacher, set out to turn his talented daughter into a celebrated concert pianist—and succeeded. But his control over her began to weaken when pianist Robert Schumann became his student—and Clara fell in love with this man ten years her senior. Wieck vehemently opposed the love affair, refusing to permit them to wed after they became engaged when Clara turned 18. A court battle ensued, and two years later the couple finally married.
Initially more acclaimed as a pianist and composer than her melancholy, manipulative, hypochondriac husband, Clara struggled to maintain her own career while caring for their many children and for the man who seemed to depend on her for everything, who resented her attending events alone or going on tour without him. During his long descent into madness—he spent his final years in an institution after attempting suicide—Clara nursed, protected and supported him. Full of vivid portraits of the time and the other composers who were their friends and peers—Mendelssohn, Liszt, Chopin, Wagner, and Brahms among others—Galloway's novel paints a meticulous picture of what a talented woman of the nineteenth century was prepared to endure for love.
With I ALWAYS LOVED YOU by Robin Oliveira we turn to the world of art. Determined to pursue her art, Mary Cassatt moves with her family to Paris. After a decade of rejections by the Paris Salon, she is on the point of giving up and returning to Philadelphia when she meets the mentor who will change her life and catapult her work into the pantheon of Impressionist masters–Edgar Degas.
Though Degas recognized her brilliance, he could be difficult and stubborn, making their interactions rocky. Paralleling their relationship is the one between Berte Morisot and Eduard Manet, who had a passionate illicit affair. While detailing these stories, Oliveira presents a compelling portrait of Belle Epoque Paris, when new movements in art, science, technology and literature were ushering in the modern world.
In WITH VIOLETS by Elizabeth Robards, the secondary relationship in Oliveira's book takes center stage. Berthe Morisot, daughter of a prominent family, stubbornly persists in pursuing her passion for painting, defying her family's expectations that she take the conventional path of marriage and motherhood. Determined to gain recognition for her work, Morisot is copying Old Master paintings at the Louvre when she meets celebrated artist Edouard Manet.
The two are instantly attracted. Manet becomes Morisot's mentor, teacher—and finally lover. Though her affair strains her relationship with her family and almost certainly means heartbreak—Manet, an unrepentant rake, continues to have liaisons with his models and to maintain a curious devotion to his legal wife—Morisot is as captivated by her mentor as she is by her art. Not only does the author interweave the tragic love story with vivid descriptions of the politics, society and art world of the Impressionists, she also takes us behind the scenes to vicariously watch Morisot as she creates her own celebrated paintings—making WITH VIOLETS the perfect story for readers who love both historical fiction and Impressionist art.
We complete our glimpse into artistic lives with Edith Wharton in AGE OF DESIRE by Jennie Fields. Aided by Anna Bahlmann, her former governess turned literary secretary, when the book opens, Edith Wharton is already a celebrated novelist, married to the indulgent Teddy, a man twelve years her senior who suffers increasingly debilitating depression. On one of her yearly trips to Paris, Wharton meets—and falls passionately in love—with a roguish younger journalist, Morton Fullerman. The promiscuous Fullerman, who had affairs with both men and women, introduces Wharton to a world of sensuality she has never known. Despite her obsession with Fullerman, Wharton knows from the beginning that this affair cannot end well, even as it strains her marriage to the breaking point and almost destroys her friendship with the woman who has been her support and confident since she was a girl.
Taking the reader on a journey through upper-class literary Society—Wharton's wealthy parents, the Joneses, were the inspiration for the phrase "keeping up with the Joneses"—we travel from the salons of Gilded Age Paris, to the home of Henry James in Rye, England, to the Wharton's stately manor house in Lenox, Massachusetts. Weaving into her story excerpts from Wharton's own letters and journals, Fields creates a vivid portrait of the complex, flawed woman who became one of the best-known and successful female writers of the nineteenth century.
So, prop open your book of Impressionist paintings to your favorite work, select a Schumann piece from iTunes, set aside an Edith Wharton novel, and prepare to delve into the inner lives of the geniuses who created these timeless works.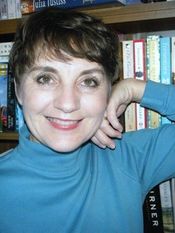 Real, intense, passionate historical romance
After twelve years as a vagabond Navy wife, an adventure that took her from Virginia Beach, VA, to Monterrey, CA, to Tunis, Tunisia to Oslo, Norway and back, Julia Justiss followed her husband to his family's East Texas homeland. On a hill above a pond with a view of pasture land, they built an English Georgian-style home. Sitting at her desk there, if she ignores the summer heat, she can almost imagine herself in Jane Austen's Regency England.
In between teaching high school French and making jaunts to visit her three children (a Seabee in Gulfport, MS, a clothing buyer in Houston and a mechanical engineer in Austin, TX) she pursues her first love—writing historical fiction.
Series: Regency Silk & Scandal | Hadley's Hellions | Ransleigh Rogues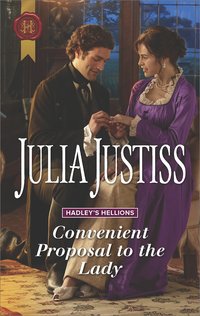 "Duty can also be pleasure, Lady Alyssa…"
When politician Benedict Tawny set out to save Lady Alyssa from a nefarious plot, he never expected to find himself trapped in a compromising situation with the alluring lady! Now duty demands he propose…and claim her as his bride!
Tainted by his illegitimacy, Ben knows he can't give Alyssa the life of luxury she deserves. But if he can convince her to succumb to the undeniable heat between them, their convenient marriage might just lead to the love of a lifetime!
Romance Historical [Harlequin Historical Romance, On Sale: February 21, 2017, Paperback / e-Book, ISBN: 9780373299218 / eISBN: 9781488021190]
Save
Save
Save