Here's how it happened: I'd just submitted Splinter in the Blood to my agent (Felicity Blunt), expecting it to go out with more of a whimper than a bang—and it confounded my wildest expectations, receiving keen interest from publishers worldwide. This was 2017, the genre du jour was domestic noir, and Splinter was a serial killer thriller—my first, after publishing 12 crime and mystery novels, and the fulfillment of a twenty-year ambition. A self-indulgent treat that might be seen as self-destructive, given that it seemed the publishing world was focused elsewhere, but at that point, I wasn't thinking beyond Splinter: you see, I'd convinced myself that novel #13 would be my last, so I thought, What the heck…
The London Book Fair was just days away, interest was hotting up, and multiple bids were on the horizon. But one of the foreign rights scouts wanted to know about the next book. Did I have any ideas, Felicity wondered, "Even a para you could put together?" As a rule, I start jotting down notes and ideas about the next book two-thirds the way through the one I'm currently writing. This time, I had nothing—why would I, when book thirteen was sure to be the last? 'When do you need it?' I asked, feeling a little shaky. 'By the weekend,' she said. This was Thursday morning.
I said I'd get back to her as soon as possible and tried not to panic. Splinter in the Blood centres around the investigation into a killer who tattoos his victims using thorns and poisoned ink. The story reflected my own ambivalence toward tattoos and the haunting after-effects of a disturbing exhibition on human skin which I'd attended several years earlier. I just needed to think of something equally unsettling and work it into a story idea—in under thirty-six hours.
In book #1, detective Greg Carver survived an attack which left him with a serious brain injury; he was in a coma for days, and now, as he recovers, he has occasional hallucinations and sees auras that seem to correspond to the mood of people around him. Not to bore you with the details, some of his symptoms come from my own experience, and MRI scans loomed large in my life, for a time. There's something simultaneously beautiful and troubling about the detailed cross-sections of the brain produced by an MRI: imagine the Rorschach inkblots, famously used in psychological assessments—the ones that look like butterflies—symmetrical, ethereal, and strangely compelling. Like a piece of art, I thought. That was the starting point of the novel; from there it was a short step to the Ferryman's "artworks" in The Cutting Room.
A short twenty-two hours later, I had a one-page synopsis. To summarize: urban myths spring up when young men vanish from the streets of Liverpool. But as Carver and Lake investigate, they realise that the disappeared have fallen victim to a serial killer, a narcissist with artistic pretensions who literally incorporates his victims into his artworks. He leads the crime duo to his first exhibit: a series of brain sections set in plexiglass discs. But I wasn't sure if I could fully convey the beauty and freakiness of the visual in a short synopsis, so I went on the hunt for images of brain tissue in plexiglass, expecting to find them on biological suppliers' websites—and they were—plenty of them. But I was astonished to find a striking artwork, too. Jo Berry's "Brain Container", used brain cross-sections, embedded in acrylic discs, hung on wires in a shipping container, and lit by LED spotlights in constantly changing colours. I emailed images of "Brain Container" with the synopsis, adding a note: "Apparently, weird is the new normal." (Although it must be said that Jo Berry didn't use actual slices of brain…) Felicity was encouragingly disconcerted, the scout loved it, publishers bought it, and against the odds, I learned that the novel I thought would be my last, instead it became my first as Ashley Dyer.
Read on for an Exclusive Excerpt from THE CUTTING ROOM: 
PROLOGUE
A man strides down a moonlit alley, his heels echoing like stones dropped on cobbles. He is twenty-two or twenty-three, young enough to take his invulnerability for granted, perhaps. He is yet to learn that a lone male walking the backstreets of Liverpool is never as safe as he imagines. The cocksure swagger that shields him from hard cases and shadow-creepers this side of night cannot protect him from the hooded figure who waits, unseen, in a doorway.
He senses the presence and in a practiced glance that would serve as warning in the bars of better lit, more populous streets, he sees the figure, and a tremor of uncertainty passes quickly over his face.
Is it the stillness of the strange apparition that makes him miss his stride, or perhaps the facelessness of the threat? Darkness seems to fold in on itself in this quarter, at this hour, and neither eyes, nor a face, are visible under the hood.
The figure steps out into a thin slice of moonlight, and the young man's shoulders twitch as if a finger has traced the length of his spine. He takes his hands from his pockets and readies himself to fight or flee. He is not afraid of face-to-face confrontation, but this threat is sly, insinuating. It matches his footfalls, echoes the echoes of every step he takes. Fear seeps into his heart.
He quickens his pace, but the hooded figure casts a long shadow. Darkness seems to ooze from it like evil intent. The shadow creeps closer and closer, flowing like poured smoke.
He half turns as the shadow catches his heel and his eyes flash with fear.
The shadow engulfs him; darkness falls.
The lights go up. A man stands on a semicircular stage. The camera pulls back to reveal a studio audience. It switches to an overhead view. A second camera swoops in on a wire, focusing on the man, as the screen behind him becomes awash with binary code, running down the screen like water.
"I am Professor Mick Tennent, and this is Fact or Fable? "
The presenter is tall and lean, his gray hair at odds with the youthful energy that seems to crackle off him. A ticker tape crawls along the bottom of the screen, revealing the episode title: "Statistical Uncertainty—Learn to Think Outside the Box."
"Liverpool is a city in fear," he says over the audience's applause. "In just six months, twelve men aged between twenty-two and twenty-eight have vanished without a trace."
The backscreen lights up and images of the missing appear in succession, their faces expanding on the screen for a brief, bright moment before vanishing again into the darkness.
"Theories abound," Tennent says. "A 'time slip,' which transports the missing back in time . . ."
As if the audience couldn't possibly imagine this preposterous scenario, the screen runs a clip of a male actor, his back to the audience, walking toward a busy street corner in the Liverpool city center. As he reaches the intersection, his image fractures in lines of interference, and he vanishes.
"Criminal gangs who prey on the vulnerable, stealing their valuables and disposing of the bodies."
As this second reconstruction fades, Tennent pauses.
"Now, a new contender: a sinister figure locals call 'The Ferryman.'"
An image of the faceless, hooded figure looms like a threat on the screen behind him.
"Is a serial killer really stalking the streets of Liverpool?" He gestures over his shoulder to the dark, hooded male. "Is Liverpool's 'Ferryman'
Fact . . . or Fable?"
Staring straight into the camera, he says, "You decide."
(C) Ashley Dyer, 2019
***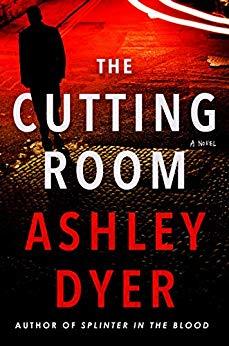 Detectives Ruth Lake and Greg Carver, introduced in the electrifying Splinter in the Blood, must stop a serial killer whose victims are the centerpiece of his macabre works of art.
While Britain is obsessed with the newest hit true-crime television show, Fact, or Fable? detectives Ruth Lake and Greg Carver are tormented by a fiendish flesh-and-blood killer on the loose.
Lured to a "crime scene" by a mysterious digital invitation, Ruth Lake is horrified by what she finds: a bizarre and gruesome tableau surrounded by a crowd of gawkers. The deadly work is the latest "art installation" designed by a diabolical criminal dubbed the Ferryman. Not only is this criminal cold-blooded; he's a narcissistic exhibitionist desperate for an audience. He's also clever at promoting his deadly handiwork. Exploiting England's current true-crime craze, he uses social media to titillate and terrorize the public.
Ruth is joined in the investigation by her partner Greg Carver, who is slowly regaining his strength after a run-in with another sadistic criminal. But Greg can't seem to shake the bewildering effects of the head wound that nearly ended him. Are the strange auras blurring his vision an annoying side effect of his injury, or could they be something more . . . a tool to help him see a person's true nature?
In this utterly engrossing and thrilling tale of suspense, a pair of seasoned detectives face off against a wickedly smart and inventive psychopath in a tense, bloody game that leads to a shocking end.
Mystery Police Procedural [William Morrow, On Sale: June 18, 2019, Hardcover, ISBN: 9780062797704 / ]
Ashley Dyer is the pen-name of novelist, Margaret Murphy, working in consultation with forensics expert and Vera and Shetland adviser, Helen Pepper. Splinter in the Blood is their debut novel as a writing duo. The sequel, The Cutting Room, will be published by William Morrow in June 2019.
Margaret Murphy is a former Writing Fellow and reading Round Lector for the Royal Literary Fund, a past Chair of the UK Crime Writers Association, and the founder of Murder Squad. Under her own name she has published nine psychological suspense and police procedural novels. A Short Story Dagger winner, she has also been shortlisted for the First Blood critics' award for crime fiction and the CWA Dagger in the Library. Helen Pepper is a Senior University Lecturer in Policing. She has been an analyst, Forensic Scientist, CSI, Crime Scene Manager and police trainer, and has co-authored, as well as contributed to, professional policing texts. She was a long-serving CWA Non-Fiction Dagger judge and has worked as forensic consultant on several hit television series, including Vera, Shetland, and Bancroft.