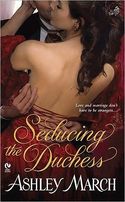 I began reading romance novels when I was young.  Hot, steamy Jude Deveraux historical novels from the hardcover section of my local library.  My mother had no idea they were romances; if she had, she wouldn't have approved.  When I tried buying romance novels with my allowance from Wal-Mart, she would judge the cover as to whether or not it could be deemed acceptable reading material for me (not realizing the excerpt inside would have been a much better clue).  Years passed by, and friends would tease me about reading romances.  Store clerks would give me "the look" when the book I wanted to buy featured a half-naked man and woman locked in a torrid embrace on the cover.  I learned from all these experiences to only buy historical romance novels with pretty covers on them—you know, the ones with flowers or necklaces, or a picture of a manor house.  Or, if I really wanted one that had a sexy cover, I would turn it upside down in public, trying my best to hide everything with my hand.
It took me a while to get over this.  But the older I got, the more I realized that I really didn't care what other people thought about my reading habits.  I had no need to be ashamed.  I love romance novels, just like I love romantic comedies, Frank Sinatra, and Alexandra Ripley's sequel to Gone with the Wind, Scarlett.  Not everyone shares my tastes, but that's okay.  I can live with it.  When my day has been difficult and I need a break, one of my favorite things to do is to dive into a romance novel with a hero I can fall in love with and a heroine I'd like to be.  I want the love story—even if that includes sex that moves the story forward and develops the relationship—and I want the happy endings that romance novels promise.
When I became a contracted romance author, the people who no longer cared that I read romance novels were suddenly interested in why I decided to write romance.  One family member wanted to know if there was sex in it (Answer: yes); another one wanted to know if I used certain clichéd anatomical references to the male reproductive organ (Answer: cliché, no; references, yes).  The truth is, when I first started writing romance a few years ago, I thought about people asking me these questions, about the possibility of my family reading my books, and I got nervous.  Letting my critique partners read my work was a whole lot different than having my friends and family read it.  I'm usually the reserved, introverted type, the good girl.  Would they look at me differently?  Would they make snide jokes behind my back?  But then the unexpected happened: my dream came true.  I signed a publishing contract.  I suggested ideas for titles; I went through edits; I sighed over the gorgeous cover of my debut.  And now, nothing else matters.  I smile at such questions, and offer to highlight the pages where the answers can be found.  I'm as equally proud of my romance writing as I am of any other great accomplishment I've ever achieved. 
My debut, SEDUCING THE DUCHESS, released yesterday on October 5th.  And when I go into my local bookstore this week and see the sexy cover of my romance book sitting on the shelves, the end-result of a long, arduous journey, I'm going to pick it up, buy it, and tell the clerk at the counter that it's mine—because I'm still not ashamed.
I hope you'll join me this week in buying a romance novel with a fantastically hot cover.  And for a chance to win my own sexy debut, SEDUCING THE DUCHESS, I'd love to hear your reason for why you're not ashamed to read romances.
Click here to leave a comment and enter blog contest.