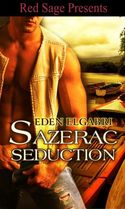 October 2010
On Sale: October 1, 2010
Featuring:
Cynthia LeBlanc; Remy Allemande
ISBN: 1603105379
EAN: 9781603105378
e-Book
$5.50
Romance Erotica Sensual
Buy at Amazon.com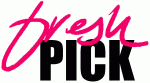 Sazerac Seduction
by Eden Elgabri
Remy Allemande has one task – keep Cynthia LeBlanc from snooping around Crawdaddy's and keep her the hell out of the courthouse. One look at the luscious opposing counsel makes him decide to acheive that task by seducing her. The best way to do that is to get her liquored up on New Orleans favorite, Sazerac.
Cynthia Leblanc is not who she seems to be and has a secret of her own. But how far will she be willing to go to keep it? Will this straight-laced attorney pose as a prostitute to gain the knowledge she needs?
Will Remy seduce her? And what will happen when the two finally have their day in court?
Excerpt
Remy Allemande stood by the side of his pirogue and tried to look busy. He'd been sweating his balls off for the past hour waiting for his prey to show. Bingo. The hot little wheat blonde ambled down the dock now. In a dress. She'd been sweating too and the light material clung to her body in ways the designer hadn't anticipated. It had been meant to look all business, not seductive, but sticking to her skin it was impossible not to notice the dangerous curves underneath.
Yeah, that type of body could bring a man to his knees. But by the end of the night she'd be the one on her knees and sucking on him like a lollipop.
The lady scanned the dock for the water taxi that should have been there. Sending a fake client Read More…