Danielle: Welcome to Fresh Fiction, Auralee! Please tell us a little about yourself and your new book, IN THE COMPANY OF WITCHES.  
Auralee: Thank you so much for having me!! So, what can I tell you about myself? I'm a happily married mom of three who plays way too much soccer for her age, and I absolutely love autumn. The more pumpkin spice, the better!
As for my new book, IN THE COMPANY OF WITCHES tells the story of a grieving young witch trying to solve the murder of a guest at her family's B&B without the help of her powers. The story has lots of quirky relatives, spells gone wrong, and a crow named Dog.
Witches are having a bit of a pop culture moment right now. What drew you to having a witch as your main character? Do you think her supernatural abilities help or hinder her amateur sleuthing?  
Ever since I was little, I wanted to be a witch. I blame the Brothers Grimm, and the fact that I grew up in a stone cottage that backed onto a forest. I can't tell you how many days I spent playing by the creek in my backyard stirring up potions in the mud. On a side note, my first playmate was a neighborhood boy whose house also backed onto the forest. He had a wooden sword and was always pretending to be a pirate, so we had some genre clashes. All this to say, when I was coming up with ideas for a new cozy mystery series, I jumped at the chance to write a main character with magical powers.
As for whether Brynn's abilities help or hinder her amateur sleuthing, I would have to say it's both. Brynn's abilities are deeply connected to her emotions, and, as a result, can be a touch unpredictable at times.
The small town of Evenfall, CT, has been aided by Brynn Warren and her family of witches for generations. They try to keep their magic a secret, but some of the townspeople have their suspicions… What do you love most about this magical town you created?  
Truthfully, I love everything about Evenfall, and I hope readers feel the same way. I wanted to create a picturesque small town with a deep sense of tradition. Oh! And architecture spanning the centuries. Who doesn't love old houses? Beyond that, I hoped to generate a sense of community where the citizens really care about each other – even if they can't resist peeking around their curtains to see what everyone else is up to.
Brynn is a witch of the dead, and can speak to ghosts, though she hasn't spoken to any in some time at the start of your book. We must ask—do you believe in ghosts? Why or why not?  
That's tough one. I have never personally had any run-ins with ghosts, but I LOVE hearing about other people's experiences. My father once told me that he saw my maternal grandfather's ghost.  It was in the early morning hours after he passed away. The encounter only lasted long enough for my grandfather to tell my dad that everything would be okay.
Halloween is almost upon us! If you had the chance to go to a costume party, what would you dress up as and why?  
Argh! This question tortures me! I am always on the hunt for the perfect Halloween costume, and I always fall short. I'd have to say that if I was invited to a costume party this year I would go as witch just because I've been spending so much time in the witchy world – which is a really lame answer given how obvious it is!
What can readers expect from you next? 
The next book in the Evenfall Witches B&B Mystery series is WHEN THE CROW'S AWAY. In this next installment, readers can expect more murder, rogue spells, and animal sidekicks as Brynn returns to her calling helping ghosts.
Rapid Fire Random Questions
Favorite candy: Sour keys!! Even though they stick to my teeth.
Favorite way to be kind to yourself: Definitely a cozy blanket, a good book, and a cup of Earl Grey tea.
Best compliment you recently gave to someone: "Your corner kicks are fire!" Again, I play a lot of soccer. I have to do some sort of exercise. I have my butt in a chair a lot of the time.
Favorite flower: I adore, big fluffy roses with rich, dreamy aromas.
Random interesting fact you like to tell people: Dryers are responsible for over 3000 house fires every year in the United States, so don't go to bed with your dryer on. Auralee Wallace: plotting murders AND saving lives.
Best vacation you've ever taken: My honeymoon in England and Scotland. Every day was an adventure. My husband and I rented a car and stopped at random tourist attractions listed in our paper guidebook. We also used paper maps to get around. The internet wasn't so ubiquitous back then.
Earliest celebrity crush: Sean Astin. I was obsessed with THE GOONIES. I was pretty sad about how things turned out for him in STRANGER THINGS.
Cake or pie: Tough one, but I'm going to go with pie. My mom made the best pies. She always managed to get that perfect balance between sweet and tart berry fillings.
Last book you read that you really LOVED:  I have only just started it, but I'm going to say THE SEVEN 1/2 DEATHS OF EVELYN HARDCASTLE by Stuart Turton. I'm digging the Agatha Christie vibe, especially given the time of year.
You have a totally free afternoon – no deadlines, no obligations, no Twitter notifications!  What do you do?: Again, snuggle up in a cozy blanket and read a good book. It never gets old!
An Evenfall Witches B&B Mystery #1
When a guest dies in the B&B she helps her aunts run, a young witch must rely on some good old-fashioned investigating to clear her aunt's name in this magical and charming new cozy mystery.
For four hundred years, the Warren witches have used their magic to quietly help the citizens of the sleepy New England town of Evenfall thrive. There's never been a problem they couldn't handle. But then Constance Graves—a local known for being argumentative and demanding—dies while staying at the bed and breakfast Brynn Warren maintains with her aunts. At first, it seems like an accident…but it soon becomes clear that there's something more sinister at work, and Aunt Nora is shaping up to be the prime suspect.
There's nothing Brynn wants more than to prove Nora's innocence, and it hurts her to know that even two years ago that might have been easier. Brynn, after all, is a witch of the dead—a witch who can commune with ghosts. Ghosts never remember much about their deaths, but Constance might remember something about her life that would help crack the case. But Brynn hasn't used her powers since her husband died, and isn't even sure she still can. Brynn will just have to hope that her aunts' magic and her own investigative skills will lead her to answers—and maybe back to the gift she once thought herself ready to give up forever.
Mystery Private Eye | Mystery Police Procedural [Berkley, On Sale: October 5, 2021, Mass Market Paperback / e-Book, ISBN: 9780593335833 / eISBN: 9780593335840]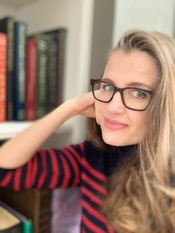 Auralee Wallace is the author of multiple novels, including the Otter Lake mystery series. She has an undergraduate degree in psychology and a Master's degree in English literature, and she worked in the publishing industry for a number of years before teaching at the college level. She lives in Ottawa with her family.
***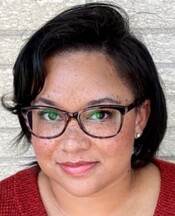 Danielle Jackson is a contemporary romance author (her debut novel with Berkley will be out in 2022!), avid reader, lackluster-yet-mighty crafter, and accomplished TV binge-watcher.
Once upon a time, she was a publisher publicist and continues to cultivate her love of books and reading by chatting with the best authors in the business as the Editorial Manager of Fresh Fiction and co-host of the Fresh Fiction podcast. Danielle is one of the Boozy Book Broads, a monthly author chat show streamed live on YouTube. She also moderates panels, interviews authors, and hosts a book club at Love's Sweet Arrow, the romance-focused independent bookstore.
Danielle lives in Chicagoland with her very own romance hero husband, darling daughter, and two tempestuous cats. Follow her on Twitter and Instagram, @DJacksonBooks.