I check out my reflection in the mirror while turning from side to side. My black mock turtleneck dress hits me just above the knees and fits me like a second skin. The long lace sleeves make the simple dress sexy, but the black leather high-heeled booties slouched around my ankles give the outfit a somewhat casual look. My long brown hair is pulled back away from my face with a clip, and my makeup is light, just some mascara, blush, bronzer, and lip gloss. 
After getting home from working on my feet all day, I'm not in the mood to go out, but Charles sent a text this afternoon confirming he would be at my house tonight to pick me up, and I stupidly didn't take that opportunity to back out of the date. When the bell rings, I take one last look at myself and grab my clutch off the bed. I make my way across the living room, and as soon as I open the door, I start to tell Charles I'll just be a minute after I change out my bag, but it's not Charles. It's Tyler—Tyler wearing a pair of workman boots, dark jeans, and a long-sleeve black shirt that's plastered over every ridge and valley of his torso. 
His eyes roam over me from my hair to my heels, and his look feels like a physical caress. When his blue eyes meet mine from under the brim of his black baseball cap, I shift uncomfortably from his gaze. 
"Is everything okay?" I prompt when he says nothing. 
"Are you going out?" 
I want to tell him no for some reason, but then Charles pulls into my driveway in his BMW. "Yes. Did you need something?" 
His attention comes back to me at my question. 
"I didn't know you had a boyfriend." His statement whips out like an accusation, and my hand tightens on the door. 
"I don't," I say; then my eyes move to where Bruce is standing on my porch near the steps, growling at Charles, who is now coming up my walk. 
"Leah," Charles calls with fear in his voice, his eyes locked on Bruce. 
"Hey, Charles, he's not going to hurt you," I tell him; then I look at Tyler. "Call Bruce off." 
His jaw jumps as he orders, "Bruce, heel," without taking his eyes off mine. 
"I think I'll wait in my car. Just come down when you're ready, and we can go," Charles says, backing away from Bruce, who sits down in the middle of the porch. 
"I'll be right there," I agree, giving him a reassuring smile. 
"Okay, sweetheart." He looks between Tyler and me before turning around and getting back in his car. 
"Sweetheart?" Tyler shakes his head. 
"If you don't need anything . . . ," I start, but I stop when he forces me back into my house, using his big body to do it. When he has me inside, he closes the door and crosses his arms over his chest. 
"What kind of guy just gets in his car when the woman he's going on a date with is talking to another man he doesn't know?" 
That's a good question, but since I don't have an answer, I keep my mouth closed. 
"Why are you going out with a tool like him, Leah?" 
"First," I hiss, getting pissed that he's asking me the same questions I've been asking myself all day, "you have no right to barge into my house. And second, who I date or why I'm dating them is not your business." I turn away from him and pick up my purse. I quickly and angrily transfer my wallet and cell phone into my clutch, then grab my coat and put it on, tying the waist. "If you don't mind, I need to leave, so please get out of my way." 
His jaw clenches, and I can see he wants to say more, but he smartly keeps his mouth shut before heading outside. With my heart pounding and frustration twisting my gut, I walk out behind him and lock up my house. Tyler is halfway between his house and mine when I turn around, but Bruce is still sitting on my porch at the top of the stairs. 
"Be a good boy and go home with your dad." I rub the top of his head, and he stands. "Go on," I order as I head down the stairs. I walk to the passenger-side door of Charles's car and grit my teeth when he doesn't even get out to open it for me. When I slide into the seat and slam the door, he starts to back out of the driveway before I even have my seat belt on. 
"Who's that guy?" 
I glance at him. Now he wants to know? 
"My neighbor," I answer as he stops at a red light. 
He smiles tightly; then his eyes roam my face. "You look good, Leah." 
"Thank you." He looks good, too, and he's the kind of guy who knows he does. With his blond hair, golden tan, and eyes the color of the ocean, he is the definition of the all-American guy. He couldn't be more opposite of Tyler if he tried. 
When my cell phone buzzes in my purse tucked on my lap, I pull it out. My eyes get squinty when I read the message on the screen. 
Tyler: Do not kiss him. 
Who does he think he is? 
"Everything okay?" Charles asks as I type back quickly. 
Me: You have no say in that. 
"Yep, everything is good." I turn the ringer off so I'm not tempted to look at it again if he messages back, and I tuck my cell away.
(C) Aurora Rose Reynolds, Montlake Romance, 2019
***
How to Catch and Alpha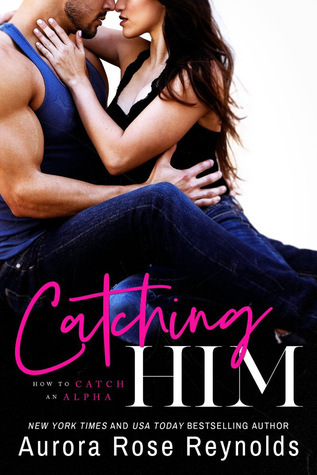 From New York Times and USA Today bestselling author Aurora Rose Reynolds comes the first novel in the fun, sexy, and thrilling How to Catch an Alpha series.
Leah Emerson isn't looking for a man–she's looking for the right man. But her mother's idea of a great catch leaves her cold, and she's pretty sure her cocky, arrogant, and way too good-looking new neighbor isn't the one either. If only her wayward cat would stop jumping through his window, she could get on with her life.
Tyler Duncan moved into town for a new job, not to fall in love. But he always goes after the things he wants in life with steadfast determination. . . and he wants Leah Emerson. He wants her smiles, he wants her touch, and he definitely wants her in bed.
Unfortunately, someone else wants Leah–in the worst way. Now Tyler's on a mission to protect the woman he's falling in love with while proving he's worth falling for, and Leah must decide whether Tyler is a catch worth catching. . .
Romance Contemporary [Montlake Romance, On Sale: August 27, 2019, Trade Size / e-Book, ISBN: 9781542005371 / eISBN: 9781542005371]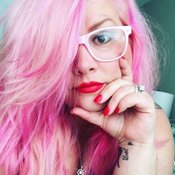 Aurora Rose Reynolds is a New York Times and USA Today bestselling author whose wildly popular series include Until, Until Him, Until Her, and Underground Kings. Her writing career started in an attempt to get the outrageously alpha men who resided in her head to leave her alone and has blossomed into an opportunity to share her stories with readers all over the world.