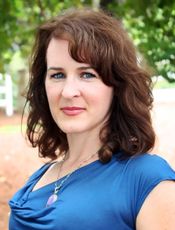 So, hi there! I'm Ava Miles, the new contemporary romance writer who burst onto the scene with her book NORA ROBERTS LAND, which kicked off my acclaimed Dare Valley series. Now, I'm delighted to announce the first book in a connected series called Dare River, set in the deep South, titled COUNTRY HEAVEN.
This book isn't called COUNTRY HEAVEN because it's set out in the rural areas dotted with hay bales and cows (and hey, I'm originally from Nebraska so I love that scene.). No, this book is about country MUSIC, one of my favorite types, and writing a steamy country music singer as my hero was just the most fun ever. Rye Crenshaw is larger than life, a total bad boy. But he's hiding a deeper pain, having been disowned by his blueblood conservative Southern family. He thinks his life is complete until he meets the heroine, Tory Simmons, whom he hires to be his cook on his tour bus. When he's called home when his father has a heart attack, he leans how to forgive and reconnect with his family who needs him…and how to love a woman like she's his last breath. Here's my top ten reasons Rye Crenshaw, my country singer, makes the best hero:
10. He likes cowboy boots almost as much as I do.
9. He wears tight jeans, and boy, does his backsides look good.
8. He looks good enough to eat with a guitar in their hands. My hero calls his Old Faithful.
7. He looks so darn handsome in a cowboy hat.
6. He's kind to his sisters.
5. He's the best kisser, kissing like he eats, which is all intense and savor-like, and it's the prize for winning the bull riding contest he has in Dallas, Texas.
4. The way he says darlin' makes my toes curl.
3. He tends to be soulful, an artist at heart, which is just so steamy.
2. His deep voice gives me the tingles, and in all the right places.
1. He writes the heroine a love song and just pours his heart out, not caring that it's broadcast all over the airwaves.
Okay, are you persuaded? Rye Crenshaw is the hottest hero out there. And of course, Tory is just the woman for him. Check out COUNTRY HEAVEN for yourself.
And in the meantime, tell me what you love about a country music singer. Come on, I want to hear!
About Ava
USA Today Bestselling Author Ava Miles burst onto the contemporary romance scene after receiving Nora Roberts' blessing for her use of Ms. Roberts' name in her debut novel, NORA ROBERTS LAND, which kicked off The Dare Valley Series and brought praise from reviewers and readers alike. Much to Ava's delight, USA Today Contributor Becky Lower selected it as one of the Best Books of the Year. Ava continued The Dare Valley Series in FRENCH ROAST, which Tome Tender says "raised the entertainment bar again" and then THE GRAND OPENING, which reviewer Mary J. Gramlich says "is a continuation of love, family, and relationships." The next books in the series, THE HOLIDAY SERENADE, was met with high praise and her ode to the early 1960s, THE TOWN SQUARE, what she calls Mad Men in a small town with a happy ending, melted reader's hearts. Ava based her original series on a family newspaper, modeled after her own. Her great-great grandfather won it in a poker game in 1892, so Ava is no stranger to adventurous men and models her heroes after men like that—or like Tim McGraw, her favorite country music singer. Now Ava shares the Dare River series, set in the deep South, telling the story of a country singer and a beautiful cook. A former chef herself, Ava used her culinary background to infuse the story with family and personal recipes, but she also used her love for music to write country music songs to set the stage in the novel, creating a unique book experience. Ava—a writer since childhood—now lives in her own porch-swinging-friendly community with an old-fashioned Main Street lined with small businesses.
Buy COUNTRY HEAVEN: Amazon | BN.com | iTunes | Kobo | Smashwords
To comment on Ava Miles's blog please click here.