What? You don't know about the Cheese Shop Mysteries? How is that possible? The first won the Agatha Award for best first novel, plus it's a nationally bestselling cozy mystery series, and the 7th in the series is coming out February 2016.
Let my protagonist Charlotte Bessette tell you a bit about the series.
Welcome to my town! Providence, Ohio, located in Holmes County, is one of Amanda Weaver the most gorgeous places on earth, with rolling hills and miles of open land. Due to our proximity to Amish country, tourism is a major part of our economy. The main town, built in a series of concentric squares, surrounds a darling area called the Village Green. An age-old clock tower stands in the middle. Shops line the main streets—shops with adorable names like Sew Inspired Quilt Shoppe, The Country Kitchen, La Chic Boutique, and more.

As for me, I am in my thirties. I grew up at Fromagerie Bessette, or as the locals in Providence like to call it, The Cheese Shop. My grandfather owned it and taught me all things cheese. Now in his seventies, he decided to give the shop to my cousin and me. The two of us decided we needed to expand and get with the times, so we gave the shop a facelift. Boy, did that increase business!

I have lived in Providence my whole life, taking only a few years off to attend college. Some call me perky. Most would say I'm a fixer by nature. I adore my family and friends, and I would do anything to help them. As I said, I love all things cheese. I have never married, but that doesn't mean I didn't want to. I was engaged once to Creep Chef—a nickname my friends gave the guy who ditched me at two a.m. in the morning to make his fortune as a crepe chef. I thank my lucky stars he left, because otherwise I might not have met the man I love.

My grandmother, Bernadette Bessette (I call her Grandmère) and my grandfather, Etienne Bessette, (whom I call Pepérè) are the most delightful, giving, genuine people in the world. They raised me after my parents died. They are transplants from France and occasionally lapse into their native tongue, but they love Americanisms and all things America. My energetic grandmother is not only the mayor of Providence but also the theater manager for Providence Playhouse.

Our chief of police Umberto Urso, aka U-ey, is an old friend. He's not very happy when I try to assist him in solving a crime. My darling assistant Rebecca comes from an Amish family, but she wants to spread her wings. I also have a rescue Ragdoll cat named Rags.

If you'd like to know more about other folks in Providence, check out my author's (Avery aka Daryl) website! I hope you'll come for a visit and stay for a while. Say cheese!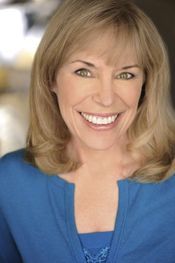 Daryl Wood Gerber is the author of The Cookbook Nook Mysteries, featuring an avid reader, admitted foodie, and owner of a cookbook store in picturesque coastal California. The series debuted in 2013. In addition, under the pen name Avery Aames, Daryl writes the Agatha Award winning, nationally bestselling The Cheese Shop Mysteries set in fictional Providence, Ohio.
Prior to her career as a novelist, Daryl wrote screenplays and created the format for the popular TV sitcom Out of this World. A fun tidbit for mystery buffs, Daryl was also an actress and co-starred on Murder, She Wrote, as well as other TV shows. Daryl is originally from the Bay Area and graduated from Stanford University. She loves to cook, read, golf, swim, and garden. She also likes adventure and has been known to jump out of perfectly good airplanes. She has been happily married for over twenty-five years, and Daryl and her husband have a grown son who has flown the coop.
In the new Cheese Shop Mystery from the Agatha Award- winning author of AS GOUDA AS DEAD, an extra-sharp tongued cheese critic is cut down during a summer cheese festival.
It's time for the annual Cheese Festival in Providence, Ohio, and Charlotte Bessette's cheese shop is packed with homemade specialties. Meanwhile, her friend Erin is prepping her dairy farm and inn for cheese makers, marketers, journalists, and one surprise guest—Lara Berry, pretentious cheese whiz, pompous bestselling author, and pungent critic whose extra sharp tongue can crumble a reputation.
Even though any love for Lara by her friends curdled long ago, Charlotte is surprised when the foodie is smothered to death in her room at Erin's inn. Accusations start flying, but the one laying blame on Erin strikes Charlotte as a crock. Now, to clear her friend's name, Charlotte has to sift through Lara's ex-lovers, former business partners, and unforgiving enemies to find a killer before Lara's past casts a tainted pall on the festival's future.
RECIPES INCLUDED