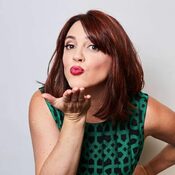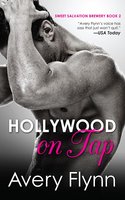 I am a talker. I know that shocks you. 🙂 But in my latest steamy romance, HOLLYWOOD ON TAP, the hero, Sean is the strong and silent type. It's so much easier to keep his secret that way. But when the nosey efficiency expert Natalie Sweet shows up at the Sweet Salvation Brewery, well it's just about all over for him. Who knew that one of the things he was hiding was a penchant for the hot librarian type? To show you what I mean, I brought along an excerpt from HOLLYWOOD ON TAP.
***
All Sean wanted to do was get lost in Natalie. He'd carry her upstairs to his king–size bed, lay her down in the middle of his sheets, and lick every inch of her until she broke apart in his arms and cried out for mercy. Then he'd make her do it again.
He sucked the juicy fullness of her bottom lip into his mouth, lightly raking his teeth across the
tender flesh. The woman he'd too often thought of as a thorn in his side shivered in his arms. The need to touch her everywhere steamrolled over any objections. He brought his hands around front to the tiny buttons on her sweater.
Deepening the kiss, he slid his tongue into her welcoming mouth just as his fingers closed on the
button at the bottom of her cardigan and slipped it free. He followed the soft material north to the next fastened button, but she'd beat him to it.
"No," he whispered against her mouth.
Her hands stilled, but her chest heaved. "Why?"
Removing the button from her grasp, he slipped it through the hole. "I have spent way too much time thinking about what it would be like to unbutton each one of these."
Not satisfied to remain a passive partner, she snuck her hands under his T–shirt. "You think about
that, huh?"
"Every damn day." The woman had taken up residence in his thoughts the first day she arrived at
the brewery with her clipboard. He was beyond fighting the attraction.
Her touch against his abs was the best kind of torture, and the bulge pushing against his zipper
grew. How many times had he stroked himself while fantasizing about this exact moment? How many times had his balls tightened in anticipation? How many times had he finished alone but remained hungry for more—for the real thing? For only Natalie?
Three buttons down, two more to go. Torn between the release of going faster and the anticipation of taking it slow, he bought time by trailing his lips down the creamy column of her neck.
"And does thinking about it make you hard?" Her thumb, and only her thumb, rubbed up and
down the length of his zipper.
The contact destroyed and rebuilt him with every stroke. "Like concrete."
Her lips rested against his earlobe, close enough that moisture from her breath evaporated against his overheated skin. "Just because of a row of buttons?"
"No, because of what you keep hidden away from the world behind this conservative facade." The last button was all that remained.
"What makes you think it's an act?"
"Right now?" He slipped the last button free. The small amount of blood not concentrated in his
dick pounded against his eardrums. "A whole lotta hope."
***
Whew! You see why I love that Sean? He may not be a lot for talking but oh man is he excellent when it comes to action. 🙂 Check out HOLLYWOOD ON TAP for yourself at Amazon, iBooks, Kobo and Barnes and Noble. It's on sale for 99¢ through Sunday Nov. 9 only, then the price goes up to $2.99 so get a deal while you can! And don't forget to enter the HOLLYWOOD ON TAP giveaway. There's tons of good stuff in it including a $50 Amazon gift card – right in time for the holidays. Check out the giveaway here.
Have a great rest of your week and I hope to see a bunch of you at the
Readers & 'Ritas
this weekend!
xoxoxoxo,
Avery