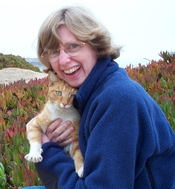 I love it when readers tell me their bags are packed and they're ready to move to Blue Plum, Tennessee. "When are you leaving?" I ask. "I'll go with you." Too bad Blue Plum, as a whole, exists only in my Haunted Yarn Shop Mysteries. Note the "as a whole" in that sentence, though. Parts of Blue Plum really do exist, and you can go visit. A real road trip will involve some hopping around, because everything isn't one place. But for now we can take an armchair tour, catch the highlights, and you can make plans for a great vacation. Come on, then, let's go visiting.
First stop is Jonesborough, Tennessee's oldest town. Jonesborough is up in the northeastern corner of the state, and it's as cute as a bug's ear. The town's historic district is on the National Register of Historic Places and includes wonderful examples of Queen Anne, Federal, and Victorian architecture. My family and I lived outside Jonesborough for almost twenty years.
Next stop is the Weaver's Cat, the shop owned by Kath Rutledge and haunted by Geneva the ghost. I put the Weaver's Cat in the oldest brick building in Jonesborough—Sisters' Row, a Philadelphia-style row house built in the 1820s by Samuel D. Jackson for his daughters Susan, Eliza, Caroline, and Harriett. The shop's name comes from a small odds and ends shop my parents had for a few years and from the fact my mother was a weaver. The shop is also a nod to a knitting shop—The Little Wool Shop—that my grandmother owned, until the early 1950s, in Lake Forest, Illinois.
Hungry? Let's grab a bite at Mel's on Main. Mel's, as it appears in the books, is inspired by the Main Street Café, which you'll find on Main Street (where else?) in Jonesborough. Mel's menu includes dishes I cook at home, but the Popeye Salad that shows up in the books is straight from the MSC. When you go, try a Popeye with the house dressing (and have dessert!)
The next stop is really three. I pieced the Holston Homeplace Living History Farm together like a quilt from scraps of two Tennessee historic sites and a museum that I'm especially fond of: Tipton-Haynes in Johnson City, Rocky Mount in Piney Flats, and the Jonesborough-Washington County History Museum in Jonesborough. I volunteered at the sites and was director of the museum. You'll enjoy visiting each of them.
We have time for one more stop, and this time we have a ways to travel. Dr. Carlin's Incredible Tent of Wonders, which readers encounter in Spinning in Her Grave, does exist and it is incredible! It's real name is Dr. John Alexander MacRae's Incredible Tent of Wonders, and you'll find it every Labor Day weekend in West Chicago, Illinois. It's my brother Jack's bit of theater and flimflam and part of the annual fundraiser for Kline Creek Farm, a historic site belonging to the Forest Preserve District of DuPage County.
That wraps up our whirlwind tour of the "real" Blue Plum. There are more places and names I've borrowed from Jonesborough, and Tennessee, and beyond, but they'll have to wait for another trip. In the meantime, if you'd like to see pictures of the places we visited, drop by my Pinterest page. Or go to Jonesborough. It's one of the best little towns I know, second only to Blue Plum.
About PLAGUED BY QUILT
Yarn shop owner Kath Rutledge is at a historic farm in Blue Plum, Tennessee, volunteering for the high school program Hands on History. But when a long-buried murder is uncovered on the property, Kath needs help from Geneva the ghost to solve a crime that time forgot….
Kath and her needlework group TGIF (Thank Goodness It's Fiber) are preparing to teach a workshop at the Holston Homeplace Living History Farm, but their lesson in crazy quilts is no match for the crazy antics of the assistant director, Phillip Bell.
Hamming it up with equal parts history and histrionics, Phillip leads an archaeological dig of the farm's original dump site—until one student stops the show by uncovering some human bones.
When a full skeleton is later excavated, Kath can't help but wonder if it's somehow connected to Geneva, the ghost who haunts her shop, and whom she met at this very site. After Phillip is found dead, it's up to Kath to thread the clues together before someone else becomes history.
About Molly MacRae
Molly MacRae spent twenty years in the foothills of the Blue Ridge Mountains of Upper East Tennessee, where she managed The Book Place, an independent bookstore; may it rest in peace.
Before the lure of books hooked her, she was curator of the history museum in Jonesborough, Tennessee's oldest town.
MacRae lives with her family in Champaign, Illinois, where she connects children with books at the public library.
Website | Facebook | Pinterest