Everyone needs a break, including authors. I've been on a personal hiatus for several months from everything but family, and I have to say it was nice. Like all good things, however, my recess had an end date. Now I'm back with fresh a perspective, and a whole bunch of books to talk about! (No reader actually takes a break from cracking open a new book, do they?) While away I found several new authors that made me wonder what rock I've been under the past few years. (No, it wasn't Dwayne.) I mean seriously, these are good books, how did I miss them?
One series in particular just rocked my world, the Veronica Speedwell Mystery series by Deanna Rayburn.  And this series has the added bonus of audiobooks performed brilliantly by Angele Masters. I was hooked with the first book A Curious Beginning and lucky for me, book six, An Unexpected Peril, was released March 10, 2021—Yay! So yes, since December I have listened to books 1-5 and have thoroughly loved the characters and the mysteries and I'm totally thrilled to have this latest release in cue for this weekend!
An Unexpected Peril 
A Veronica Speedwell Mystery
by Deanna Rayburn
3/10/2021
A princess is missing and a peace treaty is on the verge of collapse in this new Veronica Speedwell adventure from the New York Times bestselling and Edgar Award-nominated author Deanna Raybourn.
January 1889. As the newest member of the Curiosity Club–an elite society of brilliant, intrepid women–Veronica Speedwell is excited to put her many skills to good use. As she assembles a memorial exhibition for pioneering mountain climber Alice Baker-Greene, Veronica discovers evidence that the recent death was not a tragic climbing accident but murder. Veronica and her natural historian beau, Stoker, tell the patron of the exhibit, Princess Gisela of Alpenwald, of their findings. With Europe on the verge of war, Gisela's chancellor, Count von Rechstein, does not want to make waves–and before Veronica and Stoker can figure out their next move, the princess disappears.
Having noted Veronica's resemblance to the princess, von Rechstein begs her to pose as Gisela for the sake of the peace treaty that brought the princess to England. Veronica reluctantly agrees to the scheme. She and Stoker must work together to keep the treaty intact while navigating unwelcome advances, assassination attempts, and Veronica's own family–the royalty who has never claimed her…
***
Behind the Lens by Jeanne Sacken is more women's fiction and suspense than mystery but I felt it important to push the boundaries for this debut book in the new Annie Hawkins Greene series. The author admittedly has never been to Afghanistan, but she knows how to do research and build a world, and Annie's world is worthy of any reader's full investigation. The story is breathtakingly real with emotion—serenity that can be broken with the report of a bullet that's already found its target and Annie's promise to a dead little girl in the middle of nowhere who knew how to write a warning Annie couldn't read.
Behind the Lens
An Annie Hawkins Greene Novel
by Jeannee Sacken
February 25th, 2021
Eight years ago, seasoned photojournalist Annie Hawkins Green barely survived a Taliban ambush that left her military escort dead and a young Afghan girl dying in her arms. Since then, she has managed to suppress her memories of that brutal day-until she returns to Afghanistan to teach a photography workshop at the secondary school for girls run by her expat best friend Darya Faludi. As the Taliban gain prominence in the once peaceful region, Annie's nightmares from her last time in-country come roaring back with a vengeance. But are they just dreams? The unshakeable feeling of a grim, watchful presence makes Annie think otherwise.
As Annie struggles with her nightmares, more trouble brews with the suspicion that Darya's teenage daughter is sneaking away at night to meet her shadowy boyfriend. Meanwhile, Annie's own daughter wages war with her father and stepmother back home, feeding Annie's all-consuming mom-guilt. Her only comfort, a poetry-writing U.S. Naval officer who saved her life all those years ago, is now at the other end of a satellite phone 7,000 miles away. How can he possibly keep her safe?
How can anyone?
***
I know my third recommendation comes from that horrible year of 2020, but we have to celebrate the good, and the really good that fought to rise from the ashes. The Bartender's Guide to Murder series is one of those phoenixes to be born of that disastrous year. Sharon Linnea deserves a big virtual hug for releasing not one but two books in the series in 2020—plus, Death By Gravity includes 30 drink recipes! (Sounds like book club will have more than just wine next month!) Add a feisty bartender to the mix and you'll want to solve this Olympic-sized murder with her just in time for the summer games!
Death By Gravity
The Bartender's Guide to Murder series
by Sharon Linnea
December 2, 2020
Nobody talks to the cops. Everybody talks to the bartender.
And Avalon Nash is a hell of a bartender.
On a cool June night at the Battened Hatch, Avalon is the last to see an Olympic medalist before his mysterious demise. Her superpower is collecting people's stories, and she soon discovers that the medalist's death connects to an unsolved kidnap/murder of a teenager 20 years before—and the perp is looking to silence anyone getting close to the truth.
As Avalon settles into her new home in the Olympic village of Tranquility, New York, can she solve the devastating murders, figure out who is worth trusting, and start to be vulnerable again—while tracking and outwitting a murderer?
The second book in the Bartender's Guide to Murder series offers scares, humor, and 30 more of the best drink recipes ever imbibed.
***
Thanks to all authors who continue to work hard to give us all a break from the monotony, Netgalley, and publishers for offering so many books for review. As always, get cozy and read on!
***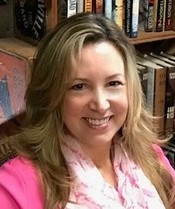 Kym Roberts is a retired detective sergeant who looks for passion, mystery, and suspense in every book she reads and writes. She can be found on the web at kymroberts.com, on Facebook @KymRobertsAuthor911, and on Twitter @kymroberts911. Her Amazon bestselling Book Barn Mystery #5, Killer Classics was a finalist for the Fresh Fiction Awards for Best Cozy Mystery & Best Book! She's currently elbow-deep in a new adventure that will be coming soon!