Hi, Bea! Welcome to Fresh Fiction. Please introduce yourself and tell us about your new book, MAD AND BAD: REAL HEROINES OF THE REGENCY.  
Hi! I'm one of the co-owners of The Ripped Bodice (the one not allowed on a ladder). I'm a romance fan and a historian. Those two things have always been tied together for me. I've been reading Regency romance novels since I can remember. This book is a love letter to the Regency time period and the fascinating, rule-breaking women who lived and loved then.  
The Regency is an interesting time in England's history. What made you focus on it?
I grew up with the Regency. All those early 19th-century romance novels showed me that this was a time period worthy of study because it had inspired this enormous fictional response. Jane Austen is perennially popular. Byron is always a good time. The Regency is full of so many characters we're familiar with, and then there is also this world of just as exciting characters (many of them women) who haven't enjoyed as much recognition from historians and pop culture. I wanted to spend time with those women. 
 There are so many different women represented in your book! Who was a new discovery during your research and what was so fascinating about her? 
I was vaguely familiar with Anne Damer because of her connection to Horace Walpole and Strawberry Hill but I loved learning more about her and the circle of women she surrounded herself with and how hard she worked to support her friends in their artistic endeavors.
What are some of your favorite regency romances that you feel reflect the reality of Regency England? 
I'm so excited for Vanessa Riley's newest A Duke, the Lady, and a Baby because we get to see a West Indian heiress heroine get her happy ending. I also love the work of Cat Sebastian and KJ Charles for bringing queer characters to the forefront. Nita Abrams has a classic, amazing series about a Jewish family called the Courier series, and Rose Lerner is writing beautiful Regencies with Jewish characters.
Did you discover anything truly surprising while researching Mad and Bad?
I don't know if I was surprised but as I kept researching I found almost endless women who could be included. One of the most difficult parts of writing the book was deciding who to include and how to organize the chapters.
 As many people know, you are the co-owner of The Ripped Bodice, a romance-only bookstore in CA. What do you love about the romance genre? 
I love happy endings. And I love a genre that celebrates and prioritizes love. Romance novels make me happy and that's how I want to feel when I read.       
I love asking authors for book recommendations and am even more excited because you're also a bookseller! What have you recently read that you adored? 
I have been on an extended cozy mystery kick! I can't stop reading them. I especially love them if they're about food in some way. I loved A Deadly Inside Scoop by Abby Collette, Apple Cider Slaying by Julie Anne Lindsey, and Hummus and Homicide by Tina Kashian. Now I'm exploring the world of animal-related cozy mysteries thanks to Mimi Lee Gets a Clue by Jennifer J. Chow. In terms of romance, I recently read Spellbound by Allie Therin and loved the mix of history, paranormal elements, mystery, and romance.    
What's next for you-any other historical retrospectives planned? And I'd love to hear what's next for The Ripped Bodice, too! 
I'm working on a bunch of things, but annoyingly nothing I can talk about quite yet. At the Ripped Bodice, we're trying to adapt every day as the pandemic changes things. But we have some very exciting news coming with Sony soon…
Rapid Fire Random Questions
Cats or dogs: Dogs
Book you recommend the most: A Study in Scarlet Women by Sherry Thomas
Favorite smell: Roses or fresh baked bread
Ketchup or mustard: Both!
You've been invited to a costume party – what do you dress up as?: Wednesday Addams
What fictional city/location would you visit? Tortall
Favorite childhood movie: The Parent Trap with Lindsay Lohan
How do you practice self-care?: Baking, reading, spending time with my dogs and boyfriend.
Breakfast or dinner? Breakfast always and forever
You have a totally free afternoon – no deadlines, no obligations, no Twitter notifications!  What do you do?: Wander around the desert with my boyfriend and my dogs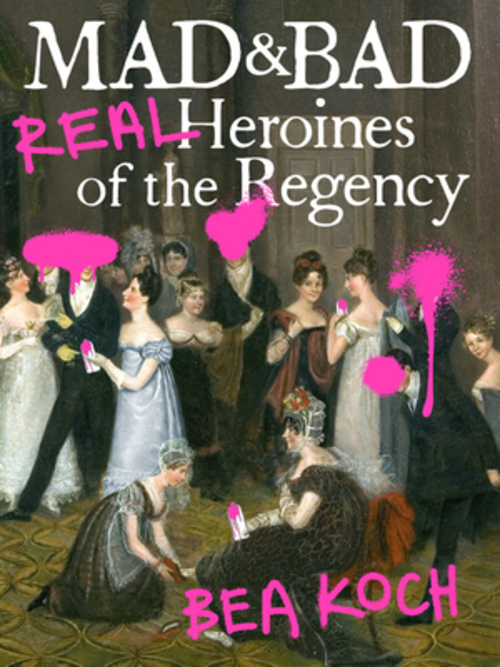 Discover a feminist pop history that looks beyond the Ton and Jane Austen to highlight the Regency women who succeeded on their own terms and were largely lost to history — until now.

Regency England is a world immortalized by Jane Austen and Lord Byron in their beloved novels and poems. The popular image of the Regency continues to be mythologized by the hundreds of romance novels set in the period, which focus almost exclusively on wealthy, white, Christian members of the upper classes.
But there are hundreds of fascinating women who don't fit history books limited perception of what was historically accurate for early 19th century England. Women like Dido Elizabeth Belle, whose mother was a slave but was raised by her white father's family in England, Caroline Herschel, who acted as her brother's assistant as he hunted the heavens for comets, and ended up discovering eight on her own, Anne Lister, who lived on her own terms with her common-law wife at Shibden Hall, and Judith Montefiore, a Jewish woman who wrote the first English language Kosher cookbook.
As one of the owners of the successful romance-only bookstore The Ripped Bodice, Bea Koch has had a front row seat to controversies surrounding what is accepted as "historically accurate" for the wildly popular Regency period. Following in the popular footsteps of books like Ann Shen's Bad Girls Throughout History, Koch takes the Regency, one of the most loved and idealized historical time periods and a huge inspiration for American pop culture, and reveals the independent-minded, standard-breaking real historical women who lived life on their terms. She also examines broader questions of culture in chapters that focus on the LGBTQ and Jewish communities, the lives of women of color in the Regency, and women who broke barriers in fields like astronomy and paleontology. In Mad and Bad, we look beyond popular perception of the Regency into the even more vibrant, diverse, and fascinating historical truth.
Non-Fiction History [Grand Central Publishing, On Sale: September 1, 2020, Paperback / e-Book, ISBN: 9781538701010 / eISBN: 9781538701027]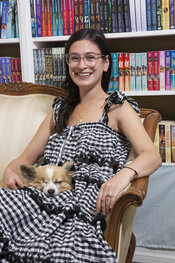 Bea Koch is a writer and historian living in Los Angeles, California. She co-owns The Ripped Bodice, the west coast's only exclusively romance bookstore.
Bea received a BA from Yale in Renaissance Studies and an MA from NYU in Costume History. Her areas of expertise include early modern embroidery and material cultures and the intersection of history and fantasy in Regency romance novels.
Bea is represented by Holly Root at Root Literary.