1–What's the name of your latest release? 
2–What is it about? 
Her Aussie Holiday is about a house-swap that gives an American woman more than she bargained for! Wanting to escape a failed relationship, her parents public divorce and career dissatisfaction, Cora Cabot decides to swap houses with her Aussie BFF. Only, when she arrives in Patterson's Bluff, her friend's older brother is camped out in the house and . . . well, hilarity and trouble ensue.
At the heart of it, this story is about following your dreams, taking risks and learning to believe in yourself. It's emotional, has loads of comic relief (including a potty-mouthed cockatoo named Joe) and definitely delivers a feel-good happily ever after.
3–What word best describes your heroine? 
Resilient! Cora is the kind of woman who gets knocked down but keeps getting back up again.
4–What makes your hero irresistible? 
Everything! Seriously, Trent is one of those heroes who has it all. Hot, blue-collar body, charming smile, sense of humour and a big golden heart that he wears on display at all times. Oh, and a delicious Aussie accent. Who says you can't have it all?
5–Who are the people your main characters turn to when they need help? 
Trent Walters is from a big Aussie family (if you read The Aussie Next Door then you've met this loud, lovable family already.) He works closely with his older brother, Nick, and there's always some advice to be dished out there, regardless of whether Trent wants it or not! But, like most older siblings, Nick might be a pain in the butt. . . but he's usually right.
Cora has lived an isolated life in Manhattan, but she quickly finds friends in Patterson's Bluff including Maddy, a bookstore owner, and Skye, a blunt but good-hearted police officer. Cora also finds a little confidence and advice between the pages of a romance novel. . . which she very much enjoys sharing with Trent.
6–What do you love about the setting of your book? 
It's an homage to a seaside town I visited often as a child. Now that I live in Canada, Patterson's Bluff is also a bit of a love letter to Australia, because I do get homesick sometimes. I get to include all my favourite Aussie things and share some of my culture with readers around the world. The town is warm, welcoming and full of hilarious, furry sidekicks.
7–Are you a plotter (follow an outline) or a pantster (write by the seat of your pants)?
A bit of both, to be honest. Working with a publisher means I have to write a synopsis (which is a high-level outline of the story) prior to writing the book. So I need to have a good idea of what the key events in the story are. But I'm also the kind of writer who needs to learn the characters as I write. Often this means I deviate from the synopsis in some way, as I get further into the book and understand my characters and their wants and needs a little better. Some people call this "discovery writing" and I think that perfectly describes how I write.
8–What is an ideal writing day for you? 
An ideal writing day is any day where the words flow! I write from home, so I usually get up in the morning and make a nice cup of coffee. I try to get my words done early while my brain is at its freshest, and then I spent the afternoon doing all the other tasks an author job requires–making graphics, emails, writing newsletters, social media etc.
At the moment, I'm in the process of moving to a new apartment! Which means my days (and my office) look a little different than normal.
9–Do you listen to music while you write, need total silence, or do you have the TV on?
I need things to be as quiet as possible. If I listen to music, it's usually to block another noise out (such as construction noise or if my husband is working from home and taking conference calls) and then it's only instrumental. I find the words of songs interfere with the words in my head.
10– How do you approach research? 
That totally depends on the topic I'm researching and how much base knowledge I have to begin with. Usually I like to consume videos such as documentaries because I find hearing people talk about the topic helps it stick better and makes me think of what my character might be like talking about such a topic. YouTube is also a great resource and I often try to find someone with a channel dedicated to the topic. I also read non-fiction books, articles and talk with people in that field.
11–What is your publishing journey story? 
I've wanted to be a writer my whole life, but I officially started writing in 2012 after joining a writers group. On Day 1 of NaNoWriMo (National Novel Writing Month, which runs every November) I jumped in with both feet and started work on my very first manuscript. In early 2013, after a few months writing and polishing, I submitted my idea into a Harlequin competition and was thrilled to receive a request for the full manuscript. Eight months and three rounds of revisions later, I got a two-book contract for the first book I had ever written. It came out in 2014 and is called Only the Brave Try Ballet. It's been a rollercoaster ever since and it has totally changed my life.
12–Do you have critique partners/writing groups you want to give a shout-out to? 
I owe so much to my original writers group, the Melbourne Romance Writers Guild. When I started writing I had no idea if I had what it took to get published, and these writers were incredibly supportive and encouraging. I learned so much from them. These days, I don't use a critique partner, but I do have one very dear friend who is my go-to brainstorming, plot-wrangling buddy. We spend many hours on Skype talking about writing and books. Plus, she writes amaaaaazing sexy romances as Taryn Leigh Taylor. You should absolutely check her out!
13–What're the most frustrating things about being an author? 
Admin things like doing my taxes. Although, to be fair, that would be my most hated part of any job.
14–What's your favorite scent?
A freshly poured espresso shot. Or if we're talking about scents I would wear, I'm a total perfume lover. My favourites include the scent I wore on my wedding day (Frederic Malle En Passant), a nostalgic scent from my university days (Dior Hypnotic Poison) and my most recent purchase (Serge Lutens Un Bois Vanille).
15–What movie will you watch no matter what if it's on TV? 
Snatch. . . or anything directed by Guy Ritchie.
16–Do you like breakfast, lunch, or dinner best?
Probably dinner, because I feel like I put the most love into preparing that meal.
17–What's one thing you wish you knew more about? 
Language. My father's side of the family is Italian, and I really wished I had learned to speak it more when my grandfather was still alive.
18–What's the silliest thing you've recently done?
Tried to make my husband laugh while he was on a conference call by doing the "silly walk" across out lounge room.
19–What can readers expect from you next? 
I have quite a few books coming out in the next few months! All of them are smalltown romcoms featuring delicious heroes, animal sidekicks, and my signature blend of sexy and sweet writing. I'm kicking off a brand NEW smalltown series, which is super fun. Kissing Creek is a town where love is the town's hallmark, everything is pink and red, and there's a mean muffin-eating llama who likes to cause trouble. Kissing Lessons is out in October.
There are also some Patterson's Bluff holiday books coming out as well! A Merry Aussie Christmas is out in the Christmas, Actually anthology, releasing in December. My story features a relationship so fake it comes with costumes, a Bassett Hound wearing reindeer antlers, and a whole lot of second chance goodness.
20–How can readers reach you?
The first port of call is my website www.stefanie-london.com which has all the information you could need about where to find my books, plus extra content for aspiring authors. My newsletter is where you'll get all the updates about books and my life and other exciting bits like sales, exclusive scenes, and new releases. Plus you get a free book when you sign up! Check it out here: https://www.subscribepage.com/e3b9g7
Patterson's Bluff #2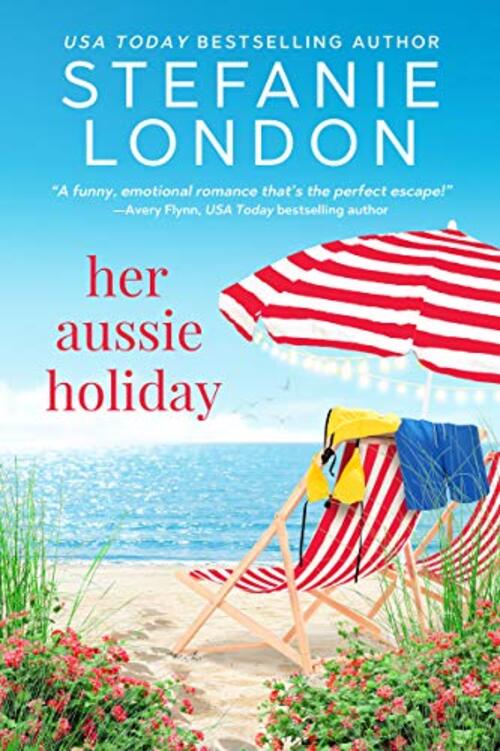 Cora Cabot's life is falling apart. So when her Australian friend announces she's secured an internship in the States, Cora has a brilliant idea: house swap! Small-town Australia sounds like the perfect getaway. Only, when she gets there, the house isn't empty. Turns out her friend's hot Australian brother is staying there, too—and he doesn't look happy to see her.
The last thing Trent Walters needs is a roommate for the summer. Especially an American who immediately floods the house and single-handedly destroys the family project his sister created for their parents' anniversary. Now, not only does Cora insist on helping fix the house, he needs her help re-creating the family scrapbook. And glitter is not his forte.
But between late nights cooking, pints at the local pub, and competitive matches of cricket on the beach, Cora starts to break through Trent's defenses. Too bad Cora made a promise to return to working with her father at the end of the summer—a promise she can't break—because this holiday is starting to feel like one she never wants to end.
Romance Contemporary | Romance [Entangled: Amara, On Sale: August 25, 2020, Mass Market Paperback / e-Book, ISBN: 9781640639089 / eISBN: 9781640639096]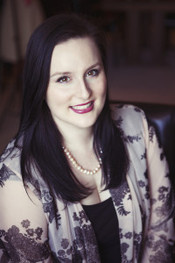 Books that make you laugh a little, and love a lot.
Stefanie London is the USA Today bestselling author of over fifteen contemporary romances and romantic comedies.
Stefanie's books have been called "genuinely entertaining and memorable" by Booklist, and her writing praised as "Elegant, descriptive and delectable" by RT magazine. Her stories have earned prestigious awards such as the RT Top Pick and have achieved bestseller status with USA Today and iBooks.
Growing up, Stefanie came from a family of women who loved to read. After sneaking several literature subjects into her 'very practical' Business degree, she got a job in Communications. But writing emails for CIOs didn't fulfil her creative urges, so she turned to fiction and was finally able to write the stories that kept her mind busy at night.
Originally from Australia, she now lives in Toronto with her very own hero and is currently in the process of doing her best to travel the world. She frequently indulges in her passions for good coffee, lipstick, romance novels and anything zombie-related.