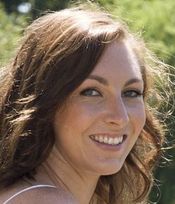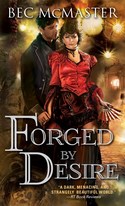 Author: Bec McMaster
Writes: The London Steampunk series, with my latest release FORGED BY DESIRE hitting shelves September 2nd, 2014
About: Thirty-something romance author seeks readers for kick-bustle steampunk/paranormal romance, with a friends-to-lovers theme, a hero who knows women through-and-through, some steamy sex-in-the-rain action, and a heroine who doesn't need a man to save her… Looking for more than just a one-book fling, though I don't require monogamy with my heroes – feel free to love them all
What I'm looking for in my ideal reader match:
▪ Their idea of the perfect date includes a Saturday night in with their e-reader/or paperback, a block of chocolate and perhaps a glass of wine…
▪  Dreams of a sexy HEA
▪ Falls easily in love with some devilish heroes who know what they want and aren't afraid to go after it
▪ Likes dark, sensual stories with touches of saucy humor
▪ Doesn't mind the odd bad-boy with a rakish sense of charm
▪ Enjoys a fast-paced, swash-buckling plot – think chases across rooftops, duels, explosions…
▪ Wants to BE that heroine who takes names, fights her own battles, and isn't above signing up to a challenge of wits with their hero
▪ Prefers their vampires dark and delicious, and their verwulfen to be sexy, muscled brutes with a Scottish accent
▪ Thinks chess can be sexy (seriously, when you're betting buttons, chess can be sexy)
▪ Wants to add some extra names to their book boyfriends list (it's not cheating if they're not real)
▪ Believes foreplay/sexual tension involves more than just skin-on-skin contact between the hero and heroine
▪ Loves movies and shows like Sherlock Holmes (the Downey Jr. version), Penny Dreadful, Jonathan Rhys-Meyers' Dracula, and Van Helsing
▪ 18+ or Parental Guidance Recommended (will also accept a curious teen who found her mother's romance stash, because that's how I got started)
What to expect if we're compatible:
▪                The occasional freebie novella, written just for the fans – check out my current offering, The Curious Case of The Clockwork Menace
▪                Frequent books and novellas
▪                Excerpts posted to my blog, newsletter and Facebook
▪                International giveaways – I'm Australian, so I know what it's like not to be able to enter 90% of book giveaways. Those posted on my blog or newsletter are always international
▪                I will totally bribe you with my Pinterest boards, especially my Potential Heroes board
So are you my ideal match? For a chance to win a copy of KISS OF STEEL, let me know in the comments what your ideal date is…
Or, if you really want to know which of my heroes is your perfect match, check out my fun quiz
FORGED BY DESIRE BY BEC MCMASTER – IN STORES SEPTEMBER 2014
"You're my breath when I feel like I can't catch my own."
Captain Garrett Reed of the Nighthawk guard has a deadly mission: capture a steel-jawed monster preying on women. He hates to put his partner, Perry, in jeopardy, but she's the best bait he has. Little does he realize, he's about to be caught in his own trap.
Perry has been half in love with Garrett for years, but this is not exactly the best time to start a relationship—especially when their investigation leads them directly into the clutches of the madman she thought she'd escaped…
ABOUT THE AUTHOR
Award-winning author Bec McMaster lives in a small town in Australia and grew up with her nose in a book. A member of RWA, she writes sexy, dark paranormals and steampunk romance. When not writing, reading, or poring over travel brochures, she loves spending time with her very own hero or daydreaming about new worlds. Read more about her at her website or follow her on Twitter, @BecMcMaster.
To comment on Bec McMaster's blog please click here.