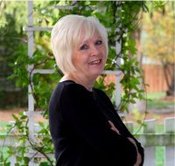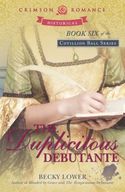 Good afternoon, everyone. I'm so happy to be here with my first guest post for Fresh Fiction.
My latest novel, THE DUPLICITOUS DEBUTANTE, was released on September 1. This is the sixth book in a nine-book series about a large New York family. Each book can be read as a stand-alone, but by reading all of the books, readers can become familiar with each of the nine siblings in the family. And they can catch a glimpse of the other siblings, as they pop in and out of the earlier books while awaiting their moment.
THE DUPLICITOUS DEBUTANTE focuses on 19-year-old Rosemary Fitzpatrick, who has been writing over-the-top dime novels under the guise of a male pen name for the past four years. She bases some of her story lines on events that are happening within her own family, several of whom live in St. Louis, at the edge of civilized America in 1859.
While the thought of having a story about the wild west–usually with a damsel in distress and a larger than life hero, with guns, wild animals, cowboys and Indians thrown in for good measure–being written by a woman is strange enough, the concept of the dime novel was indeed created by a woman, and appeared in the magazine, The Ladies Companion, in 1839. Probably with a few less wild bison and muskets, however.
The reason the dime novel did not find immediate favor is because a few things needed to happen first.
The precursor to the paperback book began because of three primary reasons–more people were educated and able to read; due to the advances in machinery, they had more idle time to do something as frivolous as read for pleasure; and the same advances in machinery made printing of the books cost effective. They cost ten cents, which was an affordable sum, and the books were devoured quickly as the public eagerly awaited the next installment.
The dime novel became an overwhelming success in the late 1850s and the 1860s, reaching the pinnacle of its success in the 1880s before falling out of favor in the early 1900s.
Since my heroine wrote these lurid pot-boilers, I thought it only fair to pen one of the stories myself and include it as part of the book. It was a really fun exercise.
So, if you're a reader of paperbacks or e-books, you can thank the lowly dime novel, or the penny dreadful, as they were referred to in England. I'm certain novels for the masses would have evolved regardless. It just may have taken a whole lot longer.