Welcome to Fresh Fiction! Congrats on the release of your new novel, THE VANISHED BRIDE, the first book in your new Bronte Mystery series. Please tell us a little bit about where you came up with the idea for this book, and about yourself! 
I have been a fan of the Bronte sisters since I was around the age of 10. The idea for The Vanished Bride came as I was writing another novel set in Haworth. I had the idea of the Brontë sisters appearing in this novel as cameo characters, involved in uncovering a literary mystery. However, as soon as I had that idea I realized what a great novel it could be in its own right, and so The Vanished Bride was born.
One of my favorite things about this novel was your clear appreciation and admiration for each of the Bronte sisters. What was your favorite thing about bringing each of them to life in this book? 
I love Charlotte, Emily and Anne so much that it was really important to me to take a great deal of care in bringing my fictional versions of them to life. They are such iconic women, and mean so much to so many that I had to be very clear in staying true to my vision of the kind of women they were, which involved getting to know as much about them through research as possible. I think my favorite thing was including the tiny authentic details that said something about each of them, Emily's fondness for German novels, Anne's much hated nickname of 'Baby Anne,' Charlotte's famous clear and direct gaze.
Even though the Brontes are renowned for writing very emotional and atmospheric novels, the tone of THE VANISHED BRIDE is relatively lighthearted. . . as lighthearted as you can be when sleuthing murders! Did you do this on purpose, or did it just happen this way as you were writing?
Whatever I'm writing, I like to balance light against dark. It just so happened that the version of the sisters that I wrote were witty and fierce, teasing and clever. I wanted The Vanished Bride to have that wry sense of fun and sibling rivalry that I often found in their letters, especially when referring to each other. Above all my mission is to entertain, surprise and maybe bring a few new readers to the works of the Brontes.
I'm sure all of the research you did for this novel was fascinating! Do you have an especially interesting tidbit you learned about the Brontes while working on THE VANISHED BRIDE? 
This family is so interesting, and even as a dedicated reader of their fiction I wasn't aware of all the complications and scandals surrounding their lives prior to writing this novel. There are so many stories that you wouldn't expect from the children of a Victorian parson! For me, learning the extent of Charlotte's unrequited love for her tutor Monsieur Héger while she studied in Brussels was really affecting. Although there is no evidence that he ever reciprocated, Charlotte continued to write impassioned, heartfelt and ever more desperate love letters to Constantine for two years after leaving Brussels. We only know about the letters, because Madame Héger took the torn remnants out of her husband's waste bin and carefully stitched them back together, before hiding them away–although we can only speculate on the reason why. They eventually came to light when her descendants gave them to the British Library in 1913.
It's one thing to handle incorporating historical facts into a novel, it's another to also add an intriguing mystery to the plot, too! What did you find more challenging – keeping things historically accurate or creating a captivating mystery for the sisters to investigate?
Definitely the mystery! I really wanted the mystery element of the story to be intriguing and satisfying, with as many twists and turns as possible. Although there is always an element of discovery in every novel I've written, this is my first attempt at a mystery plot, and so I was very worried about giving too much away, or leaving loose ends, and all the things that annoy me when I'm reading a mystery novel!
The Brontes' brother, Branwell, is a prominent side character in THE VANISHED BRIDE. What was it like adding a brother (who is rather down on his luck and turning to drink to cope) among these strong women? 
It wasn't really a matter of having to make an effort to add him, he was just there, a lesser but important part of the gang. We know that the family was desperately worried and ashamed of Branwell's troubles, and they really hoped that he would be able to find his way back to the path of straight and narrow, so it made sense to me that the sister's would do their best to include him in their adventures, as they always had as children. If Branwell hadn't been so consumed by heartbreak and addiction he could have had such a different life, so it was nice to be able to create this witty and mischievous version of him.
What can readers expect from you next? 
I'm working on the next Bronte Sisters Mystery right now, and it will be a wintery tale of dark and desolate moors, missing children and dashing and dangerous gentlemen!
Rapid Fire Random Questions
Favorite animal: Dogs, specifically my Polish Lowland Sheepdogs, Blossom and Bluebell.
Coffee or tea: Both! All the coffee in the morning, and then all the (decaf) tea after lunch.
Favorite book to re-read: Jane Eyre, never, ever, ever get tired of it.
Beach or mountains: Mountains! Or moor tops, I'm happiest freezing cold and soaking wet channeling Emily on the Yorkshire Moors.
When you were younger, what did you want to be when you grew up?: An Oscar-winning actress. There's still time.
Dream vacation: I would like to see Sea Otters, Dolphins and Whales in Monterey.
Aside from reading and writing, what are your hobbies?: I love to paint landscapes, and going to the movies – nothing more exciting than taking myself off to a matinee.
Five people you'd invite to your book club (dead, alive, fictional, etc.!): Well Charlotte, Emily, Anne, Branwell, Patrick and. . . Tabby Ackroyd. I mean it had to be, didn't it?
Favorite movie:  Brief Encounter.
You have a totally free afternoon – no deadlines, no obligations, no Twitter notifications!  What do you do?: Watch Brief Encounter if it's raining, walk up to Top Withens if it's not.
A Brontë Sisters Mystery #1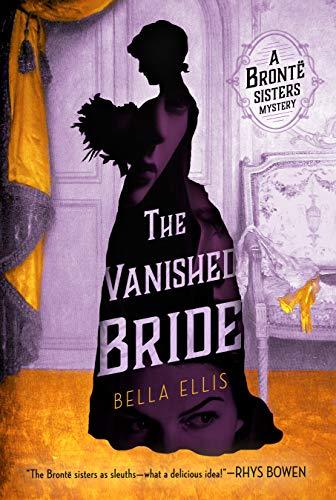 Before they became legendary writers, Charlotte Brontë, Emily Brontë, and Anne Brontë were detectors in this charming historical mystery…
Yorkshire, 1845. A young wife and mother has gone missing from her home, leaving behind two small children and a large pool of blood. Just a few miles away, a humble parson's daughters—the Brontë sisters—learn of the crime. Charlotte, Emily, and Anne Brontë are horrified and intrigued by the mysterious disappearance.
These three creative, energetic, and resourceful women quickly realize that they have all the skills required to make for excellent "lady detectors." Not yet published novelists, they have well-honed imaginations and are expert readers. And, as Charlotte remarks, "detecting is reading between the lines–it's seeing what is not there."
As they investigate, Charlotte, Emily, and Anne are confronted with a society that believes a woman's place is in the home, not scouring the countryside looking for clues. But nothing will stop the sisters from discovering what happened to the vanished bride, even as they find their own lives are in great peril. . .
Mystery Historical [Berkley, On Sale: September 10, 2019, Hardcover / e-Book, ISBN: 9780593099056 / eISBN: 9780593099063]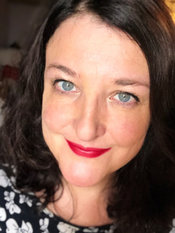 Bella Ellis is the Brontë-esque pseudonym of Rowan Coleman, an acclaimed author of numerous novels for adults and children. She first visited the former home of the Brontë sisters when she was ten years old. From the moment she stepped over the threshold she was hooked, and embarked on a lifelong love affair with Charlotte, Emily, and Anne; their life; their literature; and their remarkable legacy.
***
Fresh Fiction Editorial Manager Danielle Dresser is an avid reader, lackluster-yet-mighty crafter, and accomplished TV binge-watcher. Once upon a time, she was a publisher publicist and continues to cultivate her love of books and reading by chatting with the best authors in the business. She lives in Chicagoland with her very own romance hero husband, darling daughter, and two tempestuous cats. Follow her on Twitter and Instagram, @dj_dresser.