I've been fortunate enough to do a lot of traveling, and my travels have heavily influenced my writing. My first book, INTO THE SCOTTISH MIST, was a time-travel romance that was inspired by a road trip in Scotland in 2005. Okay, I didn't time travel, but when I looked upon the sapphire-blue expanse of Loch Ness with the ruins of Urquhart Castle standing sentinel over it, the mist-enshrouded hills of Glencoe, and the numerous standing stones on Orkney, I thought that if magic was possible anywhere, it would be in Scotland.
My second book, A STAR TO STEER HER BY, is a romance set on a schooner during a semester at sea program. It was inspired by my own experiences in a similar program in my sophomore year of college.
My new book, UNDER A STORM-SWEPT SKY, came about after I hiked Scotland's West Highland Way, a ninety-six-mile trail that runs from Milngavie, just outside of Glasgow, to Fort William. I'd been to Scotland a few times since that road trip over a decade ago, and in 2015 I decided I wanted to see that incredible landscape on foot.
Research led me to a company that does guided treks on the West Highland Way, and in May 2016 I spent a week hiking with eleven strangers and a guide. We had brilliant blue skies nearly the entire time, and weather that was in the 70s. It was almost too warm to walk all day under that hot sun, and not quite what I expected for Scotland. And the hills…
The first day, twelve miles, was pretty easy, lulling me into a false sense of "this won't be so bad," but then came Conic Hill (of Doom), a few miles into the fourteen-mile Day Two. Going up was bad, and had my leg muscles screaming, but going down was hell on my knees. Day Three: another fourteen miles of undulating hills and scrambling over tree roots and boulders along Loch Lomond. Day Four: another twelve miles, though since I don't remember it too vividly, it probably wasn't that bad. Day Five: twenty miles over Rannoch Moor (thankfully not as hilly as the other days). And the next day, "only" eight miles, but that included the hill known as Devil's Staircase, and was one of the hardest for me. But with the support of my fellow hikers and our patient, encouraging guide, I finally made it through Day Seven's sixteen miles, bursting into tears when my group walked together over the "finish line."
I returned home with a feeling of accomplishment, blisters, and sore muscles—and the idea for a book.
The heroine would be a novice hiker who's doing a long-distance trek in Scotland. She butts heads with the guide, who doesn't think she belongs there. But she has to do this hike, because—well, you'll have to read it. 🙂
The West Highland Way, while difficult for me, isn't that bad if you're an experienced hiker, so I needed to set it somewhere else. Having been to the Isle of Skye, I knew how utterly spectacular it was, with its dramatic mountains, unearthly-looking rock formations, and stunning views of the sea. And the Skye Trail, eighty or so miles long, was notoriously challenging. What better place to set a book?
My editor loved the idea, and the story developed further. By the time I did my second long-distance hike in May 2017 (the eighty-six-mile East Highland Way, from Fort William to Aviemore), and spent a few days afterward exploring Skye, I was ready to start writing. I finished the first draft in about ten weeks.
I hope you love UNDER A STORM-SWEPT SKY. And if you've ever looked at photos of Scotland's majestic scenery and thought "OMG, I would love to hike there," then check out ThistleTreking.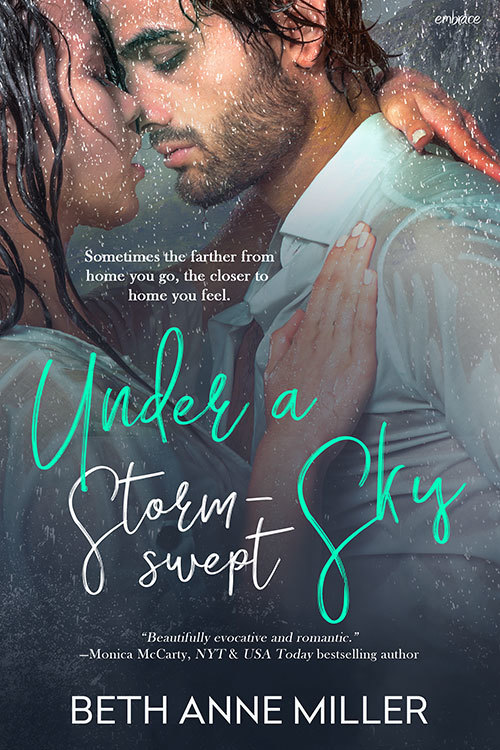 An eighty-mile trek across the rugged, stunning beauty of Scotland's Isle of Skye isn't something I imagined myself doing. Ever. This isn't a trail for beginners. And I'm not a hiker.
But I have to finish it, even if it kills me. I have no choice.
With the ever-changing weather and relentless terrain, I'm in over my head.
Rory Sutherland, my guide on this adventure, is not happy. We clash with every mile, but we recognize a shared pain. Not only is the journey a struggle, but the tension between us is taut with unsaid words. And hope.
He's broken. I'm damaged. Together, we're about to make the perfect storm.
Romance Contemporary [Entangled Embrace, On Sale: April 16, 2018, e-Book, ISBN: 9781640634862 / eISBN: 9781640634862]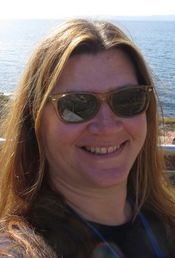 My first book, written in elementary school, was bound in pink fabric and was about—what else?—a girl and her horse. I soon began cheating on horses with the sea, becoming an open water scuba diver at age 14. That love of the sea led me to a college semester aboard a schooner. I returned with fond memories of the exhilaration of being on a ship under full sail, less fond memories of hurling over the leeward rail on a daily basis, and a sailing bug I couldn't quite shake.
In addition to horses and the sea, I have a fascination for all things Scottish (including, but not limited to, men in kilts). A native New Yorker, I work in the publishing industry and am always looking ahead to my next voyage, whether a short one on a dive boat or whale watch, or, with luck, a longer one on a tall ship.