By Susan Gorman
Samantha Chase is my favorite contemporary author. I love her Montgomery Brothers series featuring a matchmaking uncle and his sons, nephews and nieces. William Montgomery's charming personality and his schemes captivated me and I couldn't wait to see which couple would be featured in the next novel.
I was thrilled to have the opportunity to share breakfast with Samantha Chase when she visited The Boston area last weekend! Over orange juice and omelets, we talked about the Montgomery family…
Susan Gorman: I was surprised to learn that the Montgomery series was a trilogy—WAIT FOR ME, TRUST IN ME 
and STAY WITH ME featuring Lucas, Jason and Mac Montgomery— and that it was indie published!
It seems like a lifetime ago that I first released WAIT FOR ME! Oh my goodness, I had no idea what I was in for when I introduced the Montgomerys! This was the series that really was the breakout for me.
Susan Gorman: Can you tell us how the series developed into nine books, and about the journey from indie to traditional publishing?
Honestly, I never envisioned the series going beyond the original three. That was the plan – a trilogy. Readers were very vocal by the time the third book – STAY WITH ME – came out that they wanted more. I knew there weren't any more brothers so the natural progression was to introduce some cousins. I handled the transition with MORE OF ME which was a novella (and really, the first three were novella length as well) that introduced the next line of cousins.
And at that point -again – it was only going to be MORE OF ME and then another trilogy. At that point, I got signed by Sourcebooks and they were very excited to get the series. The only problem I had was that it was going to take a lot longer to release the next books. I was used to releasing the books every eight-to-twelve weeks. The next book in the series – RETURN TO YOU – wouldn't come out for a year!
Signing with a publisher was a dream come true for me, but there was a BIG learning curve. As an indie author, I was in total control of everything – the story, the cover, release dates, pricing, etc. With a publisher, most of that control was gone. We had to learn each other's styles and processes and I'd say RETURN TO YOU and MEANT FOR YOU were the hardest books for me because I had to learn how they did things.
Susan Gorman: Did you have to make any character or storyline changes when Sourcebooks reissued the series?
For the original trilogy, we did have to make some changes. Back then when I was purely indie publishing, I didn't do the level of editing that Sourcebooks does. So there was a lot of "cleaning up" that had to be done in each book. I've learned so much about words I overuse and I'm so thankful that we were able to go back and fix things like that!
We kept the overall storylines pretty much the same, but each story definitely got tweaked. Some more than others. In STAY WITH ME, there was a scene where the heroine, Gina, sort of has a mini breakdown. Her father is dying and she was fighting with her mother and she ends up home alone and drinks a bottle of wine and gets drunk. My editor did not like that at all. So we had to rewrite that scene so she had SOME wine, but didn't get drunk.
And to this day that change bothers me.
The rest of the changes – to me – only tightened the story and polished it.
Susan Gorman: I have a set of the original Sourcebook covers, which I adore. Do you have a favorite cover in the series?
To this day, I still remember visiting the Sourcebook office in Naperville and seeing all those covers for the first time. It was THRILLING! I was seriously giddy. The only cover we changed was on STAY WITH ME and that was because the cover couple didn't look anything like Mac and Gina. It took my cover artist – who is a genius! – les than five minutes to find the perfect couple! So as for a favorite cover, it would have to be a tie. I adore the cover of STAY WITH ME and the cover of MEANT FOR YOU. I think both of those really fit perfectly!
Susan Gorman: Care to share any fun facts about the Montgomery family? (Five fun facts/5 random facts)
Oh, my goodness! Fun facts!! Okay, here we go:
RETURN TO YOU was actually the first book I ever wrote. It wasn't meant to be part of a series and was stuffed in a binder for years. Oh, and it was only like 50 pages long! When I decided to expand the family, I found the book and fleshed it out and our hero James became a Montgomery!
STAY WITH ME is the first book I cried while writing. My husband walked in on me – I was writing on my laptop in the middle of our bed and I was hysterical crying. He freaked out and was like "What's wrong?" and I had to explain to him about Gina's dad (spoiler alert!) and he looked at me like I was completely crazy!
Summer Montgomery's dog is completely based on my own dog – my sassy pug Maylene! She appears in both MEANT FOR YOU and UNTIL THERE WAS US.
When we were editing I'LL BE THERE, my editor said that Zach had a bit of a Christian Grey vibe and I really liked that comparison! However, the cover of that book does not convey that at all! If there was one cover I'd go back and change, that would be it.
William Montgomery is the uncle I wish I had! Lol! I have some great relatives and some amazing uncles, and William is a combination of several of them. I love his enthusiasm and his mischievous ways. In my mind, William is just larger than life!!
Susan Gorman: The Montgomery series has a huge following and readers seem to connect with William and enjoy his matchmaking. What makes the Montgomery series so special? The characters? The stories?
I think the match-making angle really helps! Family sagas are a big draw and when you add in a family match-maker, it just gives the readers a connection and someone who they want to cheer for and who endears themselves to the readers. It's a fun give and take relationship, I think! For this new branch of the Montgomerys, it's Monica Montgomery who's testing out her matchmaking skills and I have to admit, so far, she's killing it!
Susan Gorman: Do you have a favorite character or couple?
That always feels like picking a favorite child! Lol! Every time I write a new book, that couple becomes my favorite couple. I know that's not the answer you're looking for, though. I'll give you my top three – it's the best I can do! Mac and Gina from STAY WITH ME, Zach and Gabriella from I'LL BE THERE and Megan and Alex from UNTIL THERE WAS US.
Now excuse me while I go and apologize to the rest of the family!
Susan Gorman: Summer Montgomery's book MEANT FOR YOU featured your pug, Maylene. Are you surprised how popular Maylene is?
If you met Maylene in person, you'd know the answer to that. This dog is like the mayor around here. Wherever we go, she draws a crowd. She's sassy with a fun personality and just a hint of craziness! I'd love to put her on a cover sometime. Although, I don't think the world is ready for the diva level that would go with that!
Susan Gorman: Why did you circle back to the Montgomery series after the popular Shaughnessy and Band on the Run series?
Honestly? There was unfinished business. I had mentioned Christian Montgomery as far back as MORE OF ME (I think – it could have been STAY WITH ME) and readers remembered that. So I always knew I'd write something for him eventually. Then when I wrote I'LL BE THERE and created the character of Alex Rebat, I KNEW I had to match him up with a Montgomery cousin. So really, there were just too many family members whose stories needed to be told!
I LOVE my Shaughnessys and my band guys and I know when those series are all said and done, I'll be sad. But I felt a sense of closure with them that I never had with the Montgomerys.
Susan Gorman: UNTIL THERE WAS US features Alex Rebat who played an important role in Zach and Gabriella's story I'LL BE THERE. Did you always have a story in mind for him? And was it hard to write a story that showed a negative side to the Montgomery work ethic?
At first I didn't. By the end of I'LL BE THERE, that's when I knew. I thought "This guy has hero written all over him!" And the thought of him meeting a Montgomery cousin at Zach and Gabriella's wedding just seemed way too perfect to resist! Plus, having him come back as a hero was the perfect excuse to revisit Zach and Gabriella, along with Summer and Ethan. And Maylene! Lol!
I think that we've been seeing some of the negative side to the Montgomery work ethic all along. In WAIT FOR ME, Lucas was totally against getting into the family business and in both of his brothers' stories, we saw how their being workaholics almost ruined their relationships. In RETURN TO YOU, James had actually left the family because of the pressure of the family business, and in MEANT FOR YOU poor Summer wasn't taken seriously because she didn't fit the family business mold. So I think all along we've seen hints of it so it was a little bit easier to show a Montgomery whose struggle was front and center.
As much as I love this family, it was important to show them – warts and all – and I think that's something the readers have appreciated all along.
Thank you so much for talking about my beloved Montgomerys with me! I hope everyone is up to date on the series and ready to read UNTIL THERE WAS US which is on a special preorder sale price right now – $2.00 off!! Don't miss it!
https://mailchi.mp/chasing-romance/until-there-was-us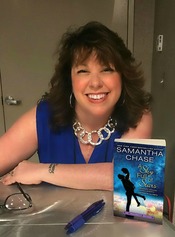 Join me for afternoon tea at BOAS & TIARAS on Saturday, June 9 in Allen, TX. Tickets now available!
New York Times and USA Today Bestseller/contemporary romance writer Samantha Chase released her debut novel, Jordan's Return, in November 2011. Although she waited until she was in her 40's to publish for the first time, writing has been a lifelong passion. Her motivation to take that step was her students: teaching creative writing to elementary age students all the way up through high school and encouraging those students to follow their writing dreams gave Samantha the confidence to take that step as well.
When she's not working on a new story, she spends her time reading contemporary romances, playing way too many games of Scrabble or Solitaire on Facebook and spending time with her husband of 25 years and their two sons in North Carolina.