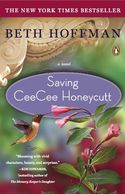 Where would we be without friendship? I've often pondered that question and my answer is this-a big fat nowhere!
One of the underlying themes in Saving CeeCee Honeycutt is the importance of cultivating and maintaining meaningful friendships in our lives. I think friends are the diamonds in life and I don't know where I'd be if it weren't for the uplifting friendships I've enjoyed. Along with the issues of mother/daughter relationships, loss, anger, and forgiveness, I wanted to explore friendship in my novel. But I wanted to do it in a surprising way.
CeeCee lives the first 12 years of her life trying to hide from the curious stares and snickers of neighbors and the hurtful teasing from her classmates. But with a psychotic mother who parades around town wearing a tattered old prom dress and a tiara, it's impossible. Early in life CeeCee develops a strong friendship with an elderly neighbor woman who is her only confidante. It is this one friendship that gives CeeCee ballast. But when tragedy strikes, CeeCee must leave her only friend when she is sent to live in Savannah with a distant relative she's never even met by the name of Tootie Caldwell.
As the story unfolds, CeeCee's wish of having a friend is illuminated. Her wish is simple and pure, and has no limitations. All she longs for is to hear her footsteps walk in rhythm with those of a friend. It is a yearning that she feels every day-a dark void that's always present. When Oletta Jones, a 55-year-old African-American cook arrives in CeeCee's life, not only does Oletta become CeeCee's friend, but she teaches CeeCee that friends can come in all ages and colors, and, can also be from different cultures. CeeCee becomes enormously important to Oletta as well, and their unusual friendship is as easy as breathing and yet profound in its depth and complexity.
Like CeeCee, I've enjoyed friendships with women from all walks of life, and one of the things that I know from experience is that the more diverse our friends are in age, race, and culture, the more enriched our lives become. One of my favorite classes in this great University of Life is that of friendship. I believe that through our friends we expand our values and strengths. I have girlfriends who are two decades older than me and two decades younger, and they all have opened my eyes and heart in immeasurable ways.
Where I am headed now that Saving CeeCee Honeycutt has launched? Well, I'm still on a major book tour, and I'm thrilled to share the news that my novel hit the bestseller lists of the New York Times, SIBA (Southern Independent Booksellers Alliance), Heartland Indie Midwest, Bookscan, and Ingram.
So I'll enjoy this wonderful ride, and when my tour is behind me, I'll plunk down at the computer and begin writing my next novel-but only after I have a great night out catching up on all the news with my friends!
You can visit me at www.BethHoffman.net and you can check out my fan page on Facebook
To comment on It's All About Friends please click here.