Does anyone else remember this childhood rhyme:
"Beth and Rob sitting in a tree, k-i-s-s-i-n-g . . ."
Those aren't exactly show-stopping musical lyrics, but odds are, we all sung them at one time, probably teasing a friend or a "frenemy."
And while I'm all for "k-i-s-s-i-n-g-ing," I've never understood the idea of sitting in a tree while kissing someone. Wouldn't balancing on branches while embracing get awkward – if not downright dangerous?
Which just goes to show you the importance of setting in a romance novel, right?
In my newest destination-wedding novel, ALMOST LIKE BEING IN LOVE, my heroine, Caron Hollister, must choose between two men who live in two very different locations. Alex Madison, Caron's soon-to-be fiancé, lives in Florida, while Kade Webster, her ex-boyfriend from two years ago, lives in Colorado.
A lot of different things factor into two people falling in love – and no, I'm not going to present you with graphs and statistics. But when we fall in love, we're influenced by another person's:
Personality
Appearance
Intelligence – or lack thereof
Career
Home – think city or country boy/gal or their state/country of birth
So let's get back to Caron's dilemma in ALMOST LIKE BEING IN LOVE. In the course of the story, she spends time in both Florida's Gulf Coast and Colorado's Rocky Mountains. My question for you is: Do you consider the beach or the mountains the more romantic locale?
There's something to be said about strolling along the beach, holding hands with a certain someone as the water washes up against your feet, and watching the colors of the sunset streak the sky with purple and orange and pink. Other people might think a summer day frolicking in the waves – maybe sharing a kiss or two – is both fun and romantic. Remember the movie Hitch? For his first date with Sara, Hitch took her jet skiing – granted, it was to Ellis Island, but we're still talking water sports! From Elvis in Blue Hawaii to Message in a Bottle and the more recent Aloha, movies often set love stories at the beach.
It also can't be denied that the mountains have their own allure. What's more romantic than spending time with your love interest in a rustic mountain cabin, with the snow falling outside while you're sitting in front of the warm glow of a fire in a stone fireplace, the conversation ceasing … because now you're kissing? Or what about a beautiful mountain hike complete with a thundering waterfall, one like Bridal Veil Falls in Telluride, California? And yes, movies with a central love story have been set against the backdrop of the mountains too. Think of the classic movie The Sound of Music, which opens with such a grand view of the mountains. Or what about Dirty Dancing, which took place in The Catskills? And then there's The Magic of Ordinary Days – and if you haven't seen this gem of a romance set in Colorado during World War II and produced by Hallmark, you need to!
For me, it's a toss-up whether the beach or the mountains are more romantic, and in ALMOST LIKE BEING IN LOVE, I didn't have to choose. An even more fun question is: Where have some of your most romantic moments taken place? At the beach? In the mountains? Or some place else?
Novelist Beth K. Vogt is a nonfiction author and editor who said she'd never write fiction. She's the wife of an Air Force physician (now in solo practice) who said she'd never marry a doctor — or anyone in the military. She's a mom of four who said she'd never have kids. She's discovered that God's best often waits behind the doors marked "Never." Beth writes inspirational contemporary romance because she believes there's more to the happily ever after than the fairy tales tell us. She lives in Colorado with her husband and their 10-year-old "caboose kiddo." She and her husband enjoy any time their adult children come by for game nights, BBQs or just to hang out.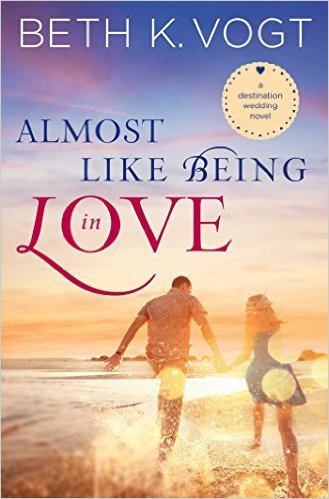 From the author of Somebody Like You, a RITA finalist, and one of Publishers Weekly's top ten books of 2014, comes the story of a woman who has everything for a perfect wedding—except the groom!
Winning an all-expenses paid Colorado destination wedding might seem like a dream come true for some people—but Caron Hollister and her boyfriend Alex Madison aren't even engaged. How is she supposed to tell him she's won their wedding and honeymoon when he hasn't asked her to marry him? Being "perfect for one another" seems like the absolute best reason to get married. But what if their supposedly faultless relationship is merely a safe place to protect his secrets and a way to keep their families happy? After quitting her job, Caron accepts her best friend's offer to visit Colorado. She needs to catch her breath. Who knows, maybe visiting the destination wedding site will make a future with Alex seem like a reality.
Kade Webster just landed the biggest deal of his life with his company, Webster Select Realty, participating in the Colorado Springs Tour of Homes. He never imagined he would run into the woman who broke his heart—Caron Hollister—right when his career is taking off. Seeing her again, Kade can't help but wonder why Caron walked away from him years ago, leaving him with no explanation. When Kade learns his home stager won't be able to help with the Tour of Homes, he vaults past all the reasons he should stay away from Caron, and offers her a temporary job helping him on the project. This time, their relationship is purely business.
Spending time with Kade has Caron questioning everything. The man intrigues her—at times infuriates her—and reminds her of what she lost. Has she been settling for what everyone expects of her? Just because others believe she and Alex are an ideal couple, does that mean they should get married? And how can Caron say "I do" to one man when she's wondering "what if?" about another?
Inspirational Romance | Romance Contemporary [Howard Books, On Sale: June 28, 2016, Paperback / e-Book, ISBN: 9781476789804 / eISBN: 9781476789811]