MURDER, HANDCRAFTED is the fifth novel in the Amish Quilt Shop Mystery Series, and in each book in the series, there has been a quirky twist. In book one, readers were introduced to my protagonist Angie Braddock and her Frenchie Oliver, who just so happens to be afraid of birds. In book two, they met Petunia the trouble-making goat. In book three, Nahum, the rogue Amish man first appears, and in book four, there is a runaway library bookmobile. After all of that, I knew that I needed something extra funny for the fifth book in the series, so naturally, I thought of Bigfoot.
Okay, I know what you're thinking… Bigfoot? Bigfoot in an Amish mystery? Those definitely don't go together. Sure, it might not be the logical choice, but after some thinking I knew Bigfoot would be the perfect addition to this quirky series for four important reasons.
First of all, Bigfoot's appearance gives me immediate conflict amongst my characters. Amish do not believe in the paranormal, so if I bunch of Bigfoot enthusiasts show up in Rolling Brook claiming Bigfoot is real, the two groups are immediately at odds.
Secondly, Bigfoot makes the murder investigation a little more hilarious as Angie tries to decide if he exists. It give her a complication that she doesn't need or want but one that leaves the reader laughing. Angie doesn't believe that Bigfoot is real, not really, but after multiple sightings, including one of her own, she starts to question it and question her own sanity too.
Thirdly if Bigfoot were real, Ohio's Amish Country with its forests and wide open fields would be the perfect place for him to hide out. There's plenty of food, water, and remote locations in Holmes County to sustain a Sasquatch.
Finally although Bigfoot makes an appearance in the story, he is definitely the secondary in the plot. The true purpose of Angie's investigation is to find out who killed unlikable electrician Griffin Bright, who unfortunately passed away in Angie's parents' backyard. Angie has all the usual suspects at her side to help her solve the crime: Sheriff Mitchell, the Amish ladies from the quilting circle, Oliver, Petunia, and her ornery cat Dodger. Only this time out, she has Bigfoot too.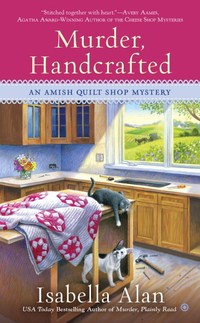 Amish quilt shop owner Angie Braddock crosses wires with a killer in the latest from the national bestselling author of Murder, Plainly Read…
Spring has arrived in Holmes County and Angie couldn't be happier. She's got great friends, a thriving business, and is in the perfect relationship with Sheriff James Mitchell. The only thing raining on her parade is her mother drafting her into a massive home renovation project—and using their sudden mother/daughter bonding time to comment on Angie's ticking biological clock.
The house's repairs and upgrades between the Amish craftsmen and their Englisch counterparts are proceeding well until a tremendous shock comes to the workers when the electrician is found dead on site. With the sheriff suspecting foul play, it falls to Angie to root a killer out of the woodwork. . . .
USA Today bestselling author Isabella Alan is the pen name for Agatha Award winning mystery author, Amanda Flower. Amanda started her writing career in elementary school when she read a story she wrote to her sixth grade class and had the class in stitches with her description of being stuck on the top of a Ferris wheel. She knew at that moment she'd found her calling of making people laugh with her words. Amanda is a librarian in Northeast Ohio. MURDER, HANDCRAFTED is her newest release.