Writing is a creative enterprise for sure, but there's also an element of pragmatism involved. While considering the setting for a new book series three or four years ago, I wanted to find a place that had some familiarity for me (theoretically cutting down on research time), but at the same time might spark curiosity in my audience.
What could be more fun than reading about the beginnings of a little Southern town that spawned one of the greatest rock 'n roll legends of all time? It just so happened that Tupelo, Mississippi, the birthplace of Elvis Presley, was incorporated in 1870—precisely in the middle of the Reconstruction Era, the tumultuous setting I'd chosen for the Daughtry House series.
Giving myself leeway to create whatever I needed to for the story (for example, there were no real plantations left in the area by the end of the Civil War; Ithaca/Daughtry House is based on Waverley Plantation, which is actually in nearby West Point, Mississippi), I tried as much as possible to ground the little town of Tupelo in life as it would have been back then. Boarding houses, saloons, mercantiles, and other businesses set in a grid not too far from the train station; governmental buildings forming a square in the center around the courthouse; a white residential area close enough for easy access, and the Black community, known as Shake Rag, on the outskirts near the Tupelo gum tree ponds for which the town was named.
Aside from the curiosity of having been the young Presley family's home from the time of Vernon and Gladys's marriage in 1933 until 1948, when Elvis was 13, what was so quirky and unusual about Tupelo, Mississippi, during the Reconstruction Era? Well, honestly, it was a lot like hundreds of other small towns recovering from the trauma of the War Between the States. Outsiders were treated with suspicion bordering on outright hostility. Northern schoolteachers and clergy, who promoted the education of newly freed slaves, received violent invitations to leave and never come back. Federal lawmen and judges who tried to enforce voting acts and to restrain rampaging organizations like the Ku Klux Klan were either ignored or attacked—in many cases, murdered. The 21st Century mind can hardly comprehend the resentment and fear of rural and agrarian survivors of such horrific political upheaval. The whole South was royally messed up, no question, and northeast Mississippi was no exception.
Still, as a writer, I set myself to trace the roots of a poor white family like the Presleys—a community where a lonely Depression Era kid could grow up in close proximity to a neighborhood like Shake Rag, wandering in and out of the local Assembly of God church, an elementary school where he was an indifferent music student, and a downtown hardware store from which he purchased his first guitar. Where a protective mother managed to feed and clothe and discipline a boy in the face of his father's imprisonment.
What I found was that, as I've always suspected, human beings don't really change throughout the decades. We all have the potential for genius. For corruption. For resentment and revenge. Duty, responsibility, and even heroism during a crisis. And all those traits are colorblind.
And isn't that a freeing realization? Life was hard and confusing in 1870. It was hard and confusing in 1940. It's hard and confusing now. In the year 2020, as I release a novel set in 1870 small-town Mississippi, I can interact with my fellow American citizens (yes, even on the Internet) and find in each one the possibility of friendship, warmth, and kindness. I challenge myself to be the writer and musician —the human being—that I want to encounter in others.
In the fine tradition established by her Southern grandmama, Aurora Daughtry has recently orchestrated the marriage of her eldest sister and facilitated her middle sister's engagement. She also rejoices in her part in transforming the family's dilapidated plantation manor into a luxurious and lucrative resort hotel. Just when it seems there is nothing left to absorb her considerable talent for managing people, in walks federal deputy marshal Zane Sager.
But Zane is not at Daughtry House for a vacation. He's tracking a killer and collecting two key witnesses to a federal judge's murder.
Aurora takes it upon herself to disabuse the cynical lawman of his conviction that the world–and God in particular–is out to get him. But just as she's on the verge of cracking Zane's defenses, the man he is after reminds him that no one he loves is safe. Ever.
Award-wining author Beth White closes out her Daughtry House series with this exciting and emotional tale of two strong-willed people who may have met their match.
Inspirational Mystery | Romance Suspense [Revell, On Sale: June 2, 2020, Paperback / e-Book, ISBN: 9780800726911 / eISBN: 9781493423064]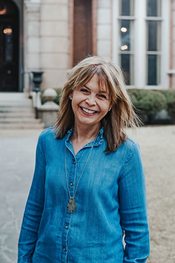 Beth White teaches music at an inner-city high school in historic Mobile, Alabama. Her hobbies include playing flute and pennywhistle and painting, but her real passion is writing historical romance with a Southern drawl.
A native Mississippian, she is a pastor's wife, mother of two, and grandmother of two–so far.
Also published as Elizabeth White, her novels have won the American Christian Fiction Writers Carol Award, the RT Book Club Reviewers Choice Award, and the Inspirational Reader's Choice Award.