Chapter Three
With the sun casting a glittery effect on the sand and surf, the image gave off a perfect depiction of tranquility and whispered a message that all was right. It was the same picture Josie worked diligently to showcase as well over the years to help hide the debilitating fears that were constantly threatening to overtake her. Through carefully placed smiles and keeping to the edges of every situation, she did a good job most of the time, but the unexpected visit from August Bradford had rattled her. She worried it would expose the shadows that continuously lurked just underneath her surface, at the ready to swallow up the light. It wasn't due to the man himself, but the aftermath he would leave in his wake once another wave of an opportunity picked him up and carried him far from the shore of Sunset Cove.
Opal and Sophia prattled in their lounge chairs on either side of Josie. She'd mostly tuned them out as Opal recapped her disastrous encounter with August Bradford at the diner.
"He left his number. How much more obvious could the man be about his interest?" Opal snickered, straightening the top of her crocheted swimsuit that, in Josie's opinion, resembled a doily. Who knew where she was even able to find such a suit.
Josie returned her attention to the shore, but the only thing she could see was a set of silvery-blue eyes. She didn't care to admit how much August's eyes and the mere sound of his familiar voice tied her up in knots.
Adjusting her oversize sun hat, Sophia giggled for the hundredth time that sunny afternoon. "I can't believe you clammed up, Josie. You should have strutted your pretty self around that counter and laid a welcome kiss on that man and told him it was about time he made his way home to you."
"Oh, my goodness! Wouldn't that have been a hoot! The Knitting Club probably would have all passed out!" Opal sighed. "Too bad our girl could hardly breathe. You would have thought Henry Cavill himself had sauntered into the diner," Opal said as she mimicked Josie's reaction, clutching her chest and widening her eyes. In a blink, her silliness fell away and was replaced with a thoughtful expression. "Come to think of it, August does favor Henry quite a bit, minus the cleft chin. Oh, and Henry's British."
Sophia waved Opal's last comment off with a flick of her prissy hand as a wayward Frisbee flew by her head. Someone shouted an apology, sending her prissy hand to wave that off, too. "That's not French, though."
"Close enough." Opal shrugged.
All three women agreed that August living abroad, spending a good bit of that time in France, was the most romantic thing. Josie often dreamed about being by his side, but she'd never admitted that out loud.
"I can't wait to see him without the blue hair and piercings." Sophia sounded a bit too excited for Josie's liking. "He was a looker even with all those trinkets and hair dye trying to camouflage it. Bet he's drop-dead gorgeous au naturel."
Back in high school, Josie thought his rebellious style was what made him so fascinating and mysterious, but seeing him with his natural black hair and no piercings in sight, she understood there was no truth to that theory. August Bradford carried himself in such a gracious and respectful manner, it automatically drew people to him. No matter the hair color.
"He still has tattoos," Josie mumbled, feeling defensive all of a sudden. Not many and no new ones that she saw, but still . . .
"Look! Our girl is turning all red again!" Opal pointed as the giggling picked back up.
Josie sucked her teeth. "Hush up, already. Two hours of y'all picking on me is more than enough."
"Honey, we're just trying to get you to lighten up a bit." Opal sat up and placed her hand on top of Josie's fisted one. "Ease up on yourself. It's okay that you like him."
"I don't even know if I'd call it that. In school, I always felt sick to my stomach when he was around. Six years have passed and I still feel sick." Exasperated with herself and mortified by the whole ordeal, Josie flung an arm over her face. She'd caught only a glance here or there of August since he'd moved away, and each time it had released a colony of butterflies in her stomach.
(C) T.I. Lowe, Tyndale, 2020. Reprinted with permission from the publisher
***
The Carolina Coast Series #2
From the bestselling author of Lulu's Cafe
Josie Slater has allowed the circumstances anchoring her in Sunset Cove to become a life sentence. Since her mother's death years before, she's spent most of her waking hours helping her dad run the Driftwood Diner. As her best friends, Opal and Sophia, make their dreams come true, Josie watches her own art school aspirations drift on by. But when a French-speaking Southern gentleman from her past moves back from Europe, Josie is launched into a tizzy of what-ifs and I-sure-do-hope-sos.
August Bradford left Sunset Cove six years ago to sow some life oats and conquer his ambitious career goals. Finally ready to lay down some roots, the successful artist is back in town and determined to win Josie's heart. When he enlists Josie's help in the preparations for a children's art camp, Josie finds herself unleashing her artistic side in a way she hasn't since before her mother's death. August hopes to convince Josie to paint a life with him, but the problem is convincing her to let go of her apprehensions and give him—and her dreams—a fair chance.
Romance Contemporary | Inspirational Romance [Tyndale House Publishers, On Sale: June 1, 2020, Mass Market Paperback / e-Book, ISBN: 9781496440457 / eISBN: 9781496440457]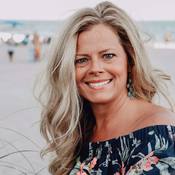 T. I. Lowe is a native of coastal South Carolina. She attended Coastal Carolina University and the University of Tennessee at Chattanooga, where she majored in psychology but excelled in creative writing. Go figure. Writing was always a dream, and she finally took a leap of faith in 2014 and independently published her first novel, Lulu's Café, which quickly became a bestseller. Now the author of ten published novels with hundreds of thousands of copies sold, she knows she's just getting started and has many more stories to tell. A wife and mother who's active in her church community, she resides near Myrtle Beach, South Carolina, with her family.