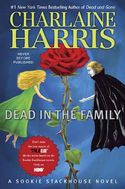 Candy's Inside Books
A look at books, authors and movie events
I don't know about you guys, but for some reason I read more in the summer. It's not that I have more time. I think it's more that there are so many great reads out there. First on my list re-reading Charlaine Harris' third Sookie book before "True Blood" returns on June 13. I haven't seen the first couple of episodes yet, but they have sent me clips. Once again executive producer Alan Ball is sticking pretty close to the books, but doing his own twist with them. I'm looking forward to the "wolves" this season. Those guys really know how to stir up some trouble.
There are lots of fun books to talk about for your TBR (to be read) pile, so let's get to it…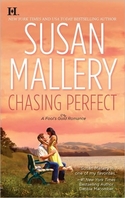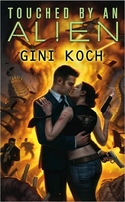 Susan Mallery says her new Fool's Gold series is something new for her. The first book is CHASING PERFECT. "Instead of setting out to write a three-book series or a four-book series, I'm creating a series with no defined ending," Mallery says. "One of the biggest challenges that faced me as an author is keeping all the details straight from book to book. Continuity errors can pull readers out of the story, so I want to do everything I can to make sure that Fool's Gold feels real to the readers who invest their hearts in my stories. In addtion to the character charts, I've created a map f the town to ensure that I'm consistent with the street names and locations of the local shops. I thought readers would enjoy the map, too, so I've provided it as a fun extra on the Fool's Gold website."
"I got the idea for TOUCHED BY AN ALIEN from a dream," says author Gini Koch. "I'd originally intended it to be a dark short story, and I had no idea if the main character was a man or a woman. Well, from the start the story insisted on being written its own way. The voice sounded in no way dark, and by page three my MC had asserted herself. Her name is Katherine "Kitty" Katt, and I swear I had to turn away from the computer and go, "Kitty Katt? Really?" To which she replied, "My parents have a sense of humor. Keep writing." When the male lead waltzed onto the page and shared his name with a twinkle in his eye, he charmed both me and Kitty, and the rest is history – or in this case, "TOUCHED BY AN ALIEN."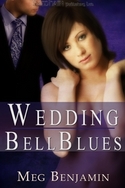 "I knew I wanted to write a sequel to my VENUS IN BLUE JEANS in which that book's hero and heroine got married, but I didn't really get going on it until my older son proposed to his girlfriend and the wedding planning swung into high gear," says Meg Benjamin about her new book WEDDING BELL BLUES. Their wedding took a year to put together and I was front and center with the preparations, learning about all the stress and drama that goes into getting a large wedding headed down the aisle. Fortunately, as the mother of the groom, all I had to plan was the rehearsal dinner, but I got weekly and monthly updates from both son and his bride-to-be. I would still probably have written WEDDING BELL BLUES even if my son hadn't gotten married when he did, but it sure made my job easier."
Sharon Sala has three books out this summer BLOWN AWAY, TORN APART (July) and SWEPT ASIDE (August). "Living my entire life in what's called 'tornado alley' by weathermen all over the nation," Sala says, "it followed that I might be inspired to us a tornado as the tie that connects the books in my new trilogy. While my books are set in Louisiana, and not my native Oklahoma – anyone who's lived through a tornado will tell you, it's not where it happens so much as where you are when it hits."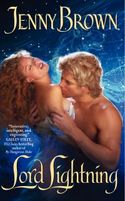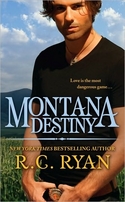 "The heroine of my upcoming Avon release, LORD LIGHTNING, is a Regency era astrologer," says Jenny Brown. "I gave her and the hero real astrological charts which matched their characters as closely as possible. The best part about using real charts is that when I get stuck plotting, the characters' charts can point me to the kinds of real life problems they might encounter. I came up with the event that drives the book's climax by looking at the heroine's Twelfth House–often called the House of Self-Undoing. It's the part of the chart that describes what it is about ourselves we are unaware of."
R.C. Ryan has a new one out in her Montana series. "The newest book MONTANA DESTINY moves forward with the McCord cousins' story and their search for their ancestor's fortune in gold nuggets," Ryan says. "The gold is believed to be buried somewhere on the vast Montana rangeland they own. Of course, being sexy cowboys, they manage to catch the eye of some lovely women who want to be part of their adventure. Unfortunately, hanging out with the McCord men may get you killed."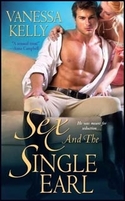 "I had just turned in my Regency-set historical manuscript to my editor," says Vanessa Kelly.  "The title at the time of submission was 'An Angel For The Earl,' which I loved.  My heroine, Sophie, is a sweet but strong-willed character, with a very kind heart.  In fact, she's a bit of a do-gooder, so the title seemed perfect to me.  But not to my editor!  'Not sexy enough,' was his response.  He definitely wanted sexy.  Muttering curses under my breath, I went to consult with my husband, who has a knack for these kinds of things.  As it was cocktail hour, we cracked open a bottle of wine and went to work.  An hour later, the muse had still not struck.  Finally, as a joke, my husband said, "what about SEX AND THE SINGLE EARL?"  After we stopped laughing, I sent it to my editor – as a joke!  He answered immediately, also laughing.  But then we both said, hey!  Wait a minute.  We kind of like it.  So we stuck with it and you know what?  People LOVE this title."
"I once spent several months working at a remote wilderness lodge and my romantic suspense novel RIBBON OF RAIN is a reflection of my time there," says Pam Champagne.  "The book is total fiction, but during those months my imagination ran away with me with the possibilities of what could happen there.  Kat, my kick butt heroine became as real to me as did my atypical hero, Jude Callahan.  Mix a woodswoman with a city man and sparks do fly.
Until next month…
---
Candace Havens is a columnist for FYI Television, an online news and media service, where she writes five weekly columns for an overall audience of 44 million readers. She is also an entertainment reporter for 96.3 KSCS in Fort Worth. She lives in Fort Worth, Texas. She is the author of the Charmed & Dangerous series including CHARMED & READY, CHARMED & DANGEROUS, CHARMED & DEADLY, and LIKE A CHARM as well as the Caruthers sisters: DRAGONS PREFER BLONDES and THE DEMON KING AND I. Her latest book, TAKE ME IF YOU DARE was in stores in February 2010 and still available on-line.
Her non-fiction prose includes JOSS WHEDON: THE GENIUS BEHIND BUFFY, and essays in ALIAS ASSUMED: SEX, LIES AND SD-6, and FIVE SEASONS OF ANGEL.