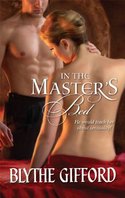 Back to school. Don't the very words evoke an emotion?
For me, the phrase summons crisp, new beginnings. This year, the feeling of anticipation is even more special. My September release, IN THE MASTER'S BED, is a medieval "back to school" story.
She's disguised as a man in a place where women are forbidden. Now, she's met a man who, for the first time, makes her want to be a woman. What will happen when he discovers her secret and she's discovered IN THE MASTER'S BED?
To tell a back to school story and have a chance to win a copy of IN THE MASTER'S BED click here.