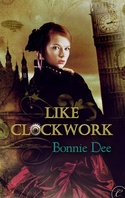 LIKE CLOCKWORK, a novel containing murder, mayhem, espionage, inventions, romance and steam.
The term steampunk is a wide umbrella these days that encompasses many types of stories. Some lean more toward the paranormal, others toward alternate history with gadgetry. The elements that seem to be essential to classifying a story as steampunk are a sense of Victorian style, make-believe inventions based on steam power and intricate gadgets with a lot of moving pieces. At least that's my interpretation. There are plenty of articles out there which are more in depth about what defines steampunk.
When I decided to try to tackle the genre, I wanted to focus on how an amazing new invention could wreak havoc on society by eliminating jobs and causing an even greater schism between the classes. I came up with the idea of mechanical clockwork people taking the place of the laboring class. One of my favorite romance themes is a couple overcoming social barriers. The idea of a radical extremist kidnapping a scientist to draw attention to his cause was born.
In order for this romance, which begins with a kidnapping, to be believable I knew Victoria Waters would have to be a very special woman. She's ahead of her time, a scientist with a social conscience who never intended her invention to eliminate so many jobs. She's already an outcast in society because of her eccentricity so she is able to do things, think things and feel things for an inappropriate man that no normal woman of her time would do.
But the social story behind LIKE CLOCKWORK is only part of it. I felt a story set in pseudo-Victorian times wouldn't be complete without a creepy serial killer ala Jack the Ripper. So I invented the Southwark Slasher. The real Ripper, btw, was also dubbed the Whitechapel Butcher by the press because his kills were found in that area of the city. Southwark, near Whitechapel, was a dangerous slum at the turn of the century.
Which brings us to my hero, Dash, a man from the dregs of society, born in Southwark, surviving on the streets by whatever means necessary. His life turned around when one kind man reached out to help and educate him instead of turning him in after catching him robbing his shop. Dash turned from crime to legitimate labor–until the advent of the automatons lost him his job.
There are plenty of chills, thrills and twists in LIKE CLOCKWORK, available in December from Carina Press.
A little about me: I began telling stories as a child. Whenever there was a sleepover, I was the designated ghost tale teller, guaranteed to frighten and thrill with macabre tales. I still have a story printed on yellow legal paper in second grade about a ghost, a witch and a talking cat. Writing childish stories for her my own pleasure led to majoring in English at college. Like most English majors, I dreamed of writing a novel but didn't have the necessary focus and follow through at that time in my life. It was only in 2000 that I began writing again. I enjoy reading stories about people damaged by life who find healing with a like-minded soul. When I couldn't find enough books to suit my taste, I began to write them. You can see my back list of titles at http://bonniedee.com, or join my Yahoo group for updates on new releases, http://groups.yahoo.com/group/bonniedee/ You can also find me on Facebook and Twitter.
Buy LIKE CLOCKWORK from Carina Press
To comment on Bonnie's blog please click here.