"What do you mean she's not coming?" Garth asked, speaking into his cell phone, while rubbing a frustrated hand down his face. He had arrived in Santa Cruz ex­pecting the woman selected by the dating service to be there already. She wasn't.
"I got a call from the dating service," Charm said. "Evidently there was some kind of mix-up in the dates. They regret their error and are hoping you will consider rescheduling."
Anger rose, heating Garth's face. A mix-up in the dates? He expected better from a company that prided itself on being the best in the business. "Since there's no reason to remain here, I'll let Regan know I'll be on the plane with her when she leaves two days from now."
"Why?"
Garth frowned. "Why what?"
"Why are you coming back home? Don't you think Cash can handle things while you're gone?"
Garth rolled his eyes. "Of course, I do. Had I thought he couldn't, I would not have left him in charge."
"Then let him do it. It will make him feel important to the company."
"He is important to the company, Charm. All of you are."
"Then take the time off you so rightly deserve. We've been worried about you. All those long hours you've been working over the past six months. Finalizing that Biggins deal wasn't easy, Garth. You did it and now you need some time off to enjoy yourself." She paused before adding, "I know it's disappointing not meeting your match, but look on the bright side. At least I rented a nice place for you."
Garth glanced around. Charm had made all the ar­rangements, and she was right. This was a nice place. It was a beautiful château in the mountains, overlooking the sea. It was spacious and the view was breathtak­ing. "What am I going to do here alone for two weeks?"
"Rest. Relax. Sleep. And who said you had to be alone? I booked several activities for you and your date to enjoy while in Santa Cruz. They were paid for in ad­vance. Just ask Regan to stay and join you."
"Regan?"
"Yes, Regan."
Garth drew in a deep breath. Ever since the night of the Westmorelands' last charity ball on New Year's Eve, when he'd asked Regan to go with him upon the Westmorelands' request, he hadn't been able to think of her in the same way. He blamed this change on the outfit she'd been wearing and the dance they'd shared. When he'd seen her and held her in his arms, desire—which he hadn't thought he was capable of feeling for any woman after Karen—had nearly driven him insane. He'd known Regan all her life and she'd been his pilot for almost five years. But on that night, he'd seen her in a whole new light.
A light he'd been trying to dim since.
"I can't invite Regan to join me at the château for two weeks, Charm."
"Why not?"
He locked his jaw for a minute, refusing to say any­thing that would give his sister a reason to speculate. She was the last person who needed to know of his at­traction to Regan. Nor did he want her to suspect his interest in finding a wife had been driven by his attempt to end his attraction to Regan.
"I think she would prefer leaving Spain, Charm. She even mentioned visiting her girlfriend in LA."
"Trust me, Garth. Any woman would love to spend two weeks in that château. When was the last time Regan took a real vacation that didn't include visiting her father in Florida? She's been your pilot for nearly five years now, and you haven't done anything really nice for her."
He rubbed his hand down his face. "Charm, I've al­ways done nice things for Regan."
"I mean really nice. She has decisions to make and…"
When Charm's voice trailed off, Garth raised a brow. "Decisions about what?"
She hesitated and he didn't like that.
"Decisions about what, Charm?" he repeated.
"I wasn't going to say anything because she told me in confidence, but maybe it's something you should know. Especially since he's offering her a lot."
Garth frowned. "What are you talking about? Who is he and what is he offering?"
When she didn't speak, he asked again, "Charm? What are you talking about?"
"You can't tell Regan I told you, but Harold Anders offered her a job as his personal pilot. The salary is good and the benefits are even better."
Garth didn't say anything as the full implications of what Charm said hit him hard. Harold Anders owned a huge computer software company in Fairbanks, with offices in Los Angeles, Dallas, Atlanta, Portland and several more cities, as well as international offices in London, Rome and Paris. He didn't have one private jet; he had several.
He also knew the man was a forty-one-year-old di­vorcé with a reputation for womanizing. Anders saw women as conquests and trophies, the younger the bet­ter. Garth had heard about the sex scandal involving him and his personal assistant a couple of years ago.
And he wanted Regan to be his pilot.
Anders was the last man Regan should consider working for. Besides, she worked for Garth. A Fair­child had worked for the Outlaws for over forty years. On occasion, when he traveled internationally, she was even his private chauffeur on the ground. For her to be thinking of leaving was ludicrous. He paid her a good salary and gave her generous bonuses. He wasn't com­plaining about the pay because he certainly felt she deserved every penny. She was valuable to him. Irre­placeable.
"I didn't say she was taking Harold Anders's offer, Garth. She has a month to decide."
"I don't like the thought that she's even consider­ing it."
He knew the ensuing silence meant Charm didn't like it, either, but she wasn't saying anything. Charm thought of Regan like an older sister. Charm had arrived in Alaska at fifteen, full of anger and ready to take a bite out of anyone. At least anyone but Regan. The two had bonded immediately.
(C) Brenda Jackson, Harlequin Publishing, 2020. Reprinted with permission from the publisher.
Westmoreland Legacy: The Outlaws
Will this billionaire bachelor say "I do" to love? Find out, only from New York Times bestselling author Brenda Jackson!
He desires her more than any other woman.
But falling in love isn't part of the plan.
The arrangement is simple: a two-week getaway, then a marriage of convenience. Until Garth Outlaw's potential bride is a no-show. Now family pilot Regan Fairchild is sharing his bed–and he can't get enough. . . even though he's vowed never to love again. Can Regan convince him the wife he needs and the woman he desires are one and the same?
From Harlequin Desire: Luxury, scandal, desire–welcome to the lives of the American elite.
Westmoreland Legacy: The Outlaws
Book 1: The Wife He Needs
Romance Contemporary | Romance Series | Multicultural African-American [Harlequin Desire, On Sale: December 15, 2020, Mass Market Paperback / e-Book, ISBN: 9781335209498 / eISBN: 9781488063282]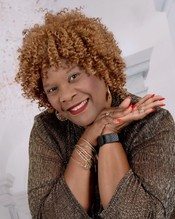 Brenda Jackson is a New York Times bestselling author of more than one hundred romance titles. Brenda lives in Jacksonville, Florida, and divides her time between family, writing and traveling.