I love a Brit hero and Rod in TEMPTING BEAT is especially charming. How does he rate compared to other heroes you've written? Which are your favorite heroes you've written & those written by other authors?
Rod was a blast to write. He's always been so laid back and sweet that I wanted him to find the perfect HEA. It was also interesting to find what demons were hidden behind his cheerful demeanor.
Favorite heroes I've written: Vincent in ONE BITE PER NIGHT, Razvan in IRONIC SACRIFICE, Radu in UNLEASHNG DESIRE and Klement in WITH VENGEANCE.
Favorites by other authors: Rhevenge in JR Ward's Black Dagger Brotherhood series, Zarek in Sherrilyn Kenyon's Dark Hunter novels, and Preacher in Beverly Jenkins's NIGHT HAWK.
What made you decide to write a story with an older heroine/younger hero?
I did it by reader request. Since I've always dated older men, the idea never occurred to me and when some readers asked me to, I thought I DEFINITELY should give older heroines some representation. And when one suggested I should have a nurse heroine, I was all, "Hell yes! I know so many amazing nurses."
Also, writing this book gave me a chance to tease my mom a little. She acted like it was the end of the world when she turned 30. I made my heroine 35, though.
Since this series is about a metal band, do you have a favorite band?
My ultimate favorite band is Megadeth. But I also love other classics like Slayer, Iron Maiden, Judas Priest, Black Sabbath, and Dio.
I'm also into a lot of classic rock and what I call, "pre-metal," like Led Zeppelin, Pink Floyd, and Rainbow.
As a cat lover myself, I like that this hero & heroine are both crazy about cats. Are you a cat person yourself? Cute cat story?
Oh yes, I've been a cat lover since I was a baby. I even get depressed if I go to long without having a cat around. I have so many cute cat stories.
I can tell about the time when Phantom, my boyfriend's grumpy old man cat told us about a litter of abandoned kittens in our back yard. Phantom MADE us take them in and adopt them. We did adopt out two to our friend and we kept two. Our friend named his Cheech and Chong and Kent and I named ours Chaos and Mayhem.
Phantom has been like a grandpa to them ever since. So I guess while in TEMPTING BEAT, Gwen is a crazy cat lady, in real life, Kent is a crazy cat man. 😀
The characters in TEMPTING BEAT get together to watch "bad movies." What makes a "bad movie," and what's a favorite for you?
There are so many things that make a bad movie. Sometimes it's just a dull plot and bad acting. The ones I prefer are cheesy with nonsensical things happening or over the top dated things, like 80's mullets and bad dancing.
My favorites are legion. Like HARD ROCK ZOMBIES, and NUDIST COLONY OF THE DEAD, which were featured in TEMPTING BEAT. I also love the "Night of the Demons" movies.
Did you have to do any research for this book?
I have to do research for every book. In this one, I talked to the nurses I know for details about Gwen's work life. I also had to research the recreational marijuana laws in Colorado, some immigration policies for Rod's status, and of course details about drumming.
Since you write in different romance subgenres, what do you most enjoy about writing contemporary romance?
Since there's no supernatural solutions to problems and technology prevents problems that occur in my historical romances, I like to focus my characters' conflicts more on their psychological issues. Getting deeper into their heads can be difficult, but it's rewarding. Also, it's nice to be able to write heroines that wear pants, have careers, and can swear.
What are you currently working on?
I'm working on the seventh Hearts of Metal book right now while also doing brainstorming for Brides of Prophecy book six.
As a comic fan I love crossovers. If was easy-peasy to do a crossover between any characters in one of your series and another author's which would they be?
A Brides of Prophecy and Black Dagger Brotherhood crossover would be fun. I'd love to see my vampires and JR Ward's vampires comparing their differing powers and cultures and kicking ass together. Also, Lassiter would fit in well with my luminites and my high-sorcerers would make some of Ward's characters very nervous.
What character in a book or film do you think is a hottie, but other people would be appalled or shocked?
Sandor Clegane, the Hound in George RR Martin's Song of Ice and Fire series (GAME OF THRONES). He's a well-layered anti-hero and his redemption arc is swoon-worthy and I'm REALLY down for the Beauty and the Beast dynamic going on between Sandor and Sansa Stark.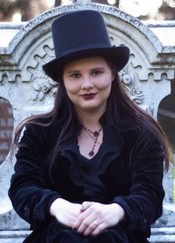 A lover of witty Regencies and dark paranormal romance, Brooklyn Ann combines the two in her new vampire series. The former mechanic turned author lives with her family in Coeur d' Alene, Idaho.