1–What is the title of your latest release?
In the Garden of Spite
2–What is it about?
It is a fictionalized account of the life and bloody deeds of Belle Gunness – one of America's first and most prolific female serial killers. Belle was Norwegian (like me) but left for the US in her early twenties, a few decades before she became notorious.
3–What do you love about the setting of your book? 
I love that the setting moves from Norway to the Midwest, so I could write about a place I knew very well, and one that was new to me. I also love the time period (1877 – 1908), and found it enormously interesting to explore the lives of Scandinavian immigrants at that time. 
4–How did your main character(s) surprise you? 
Belle was undoubtedly a sociopath, but she had a soft spot for children, and that was very surprising to me. She would arrange Christmas parties for the neighborhood kids and visit them with gifts when they were sick. She also spoiled her own quite a bit. 
5–Why will readers relate to your characters? 
Belle is one of those characters you don't want to not be able to relate to, since she did so many horrible things, but I still think a lot of people will. She was a wife and a mother, for one, and did what she did to achieve her own version of the American dream. She was also deeply damaged, and perhaps worthy of sympathy for that at least, even if she herself was incapable of any real empathy. 
6–What was one of your biggest challenges while writing this book (spoiler-free, of course!)? 
The hardest thing was to think like a sociopath, and I read a lot of books in preparation to try to get it right. On the other hand, sociopaths can be a little 'flat,' so I had to strike the right balance to make her an interesting character as well. 
7–Do you look forward to or do you dread the revision process? 
I like revisions – it's when the story really comes alive. 
8–What's your favorite snack to have on hand while writing? 
Bananas and hazelnuts. 
9–Where would you go for an ideal writer's retreat? 
A cottage by the rough North Sea, but one that is warm and has amazing Wi-Fi. 
10–What's the best piece of writing advice you've received? 
There are actually two who share first place: "write every day", and "keep your eyes on your own page". The first one, even if not practiced rigorously, helps with establishing rhythm and progress. The other one is more about emotional protection, as comparing oneself to other writers is just a slippery slope to self-doubt. 
11–Who is the fictional character you want to hang out with the most? (anyone in literature!)
Rebecca from Rebecca by Daphne du Maurier, so I could find out for myself what she was really like. 
12–What's one of your earliest book memories? 
I was all about fairy tales as a child, so my earliest memories are about them. I can vividly remember one time when my mother read me Snow White, and it suddenly struck me how the evil queen was a far more interesting character than the princess, probably due to her agency. I was about five at the time. 
13–If you had to write in a different genre, what would it be and why? 
I already write in two genres that I love: historical and speculative, but I would love to add domestic thriller to the list one day. 
14–What song will automatically put you in a good mood? 
I don't have a 'go-to' song that always works, but tend to return to the soundtrack from the Buffy musical episode, One More, With Feeling, whenever I'm feeling blue. 
15–What is your favorite way to practice self-care?
Enough sleep is key, but hard to achieve. It's a constant struggle. 
16–What can you eat and never get sick of? 
Cheese, in its many wondrous forms.  
17–Will you share a favorite, recent-ish book you recommend? 
I just finished Bunny by Mona Awad, and it was glorious. 
18–Do you have any hobbies? 
I do try my hand on various crafts, though the results are not always like the pictures in my head. 
19–Are you an early bird or a night owl?
Definitely a night owl! 
20–What can readers expect from you next? 
I'm working on a new historical murder book, and a new speculative thriller, none of which are announced yet, but stay tuned!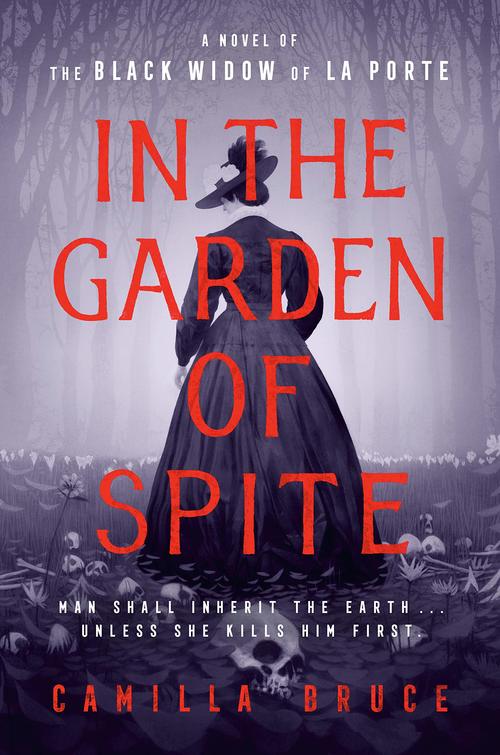 A Novel of the Black Widow of La Porte
They whisper about her in Chicago. Men come to her with their hopes, their dreams–their fortunes. But no one sees them leave. No one sees them at all after they come to call on the Widow of La Porte.
The good people of Indiana may have their suspicions, but if those fools knew what she'd given up, what was taken from her, how she'd suffered, surely they'd understand. Belle Gunness learned a long time ago that a woman has to make her own way in this world. That's all it is. A bloody means to an end. A glorious enterprise meant to raise her from the bleak, colorless drudgery of her childhood to the life she deserves. After all, vermin always survive.
Thriller Serial Killer | Historical [Berkley, On Sale: January 19, 2021, Paperback / e-Book, ISBN: 9780593102565 / eISBN: 9780593102589]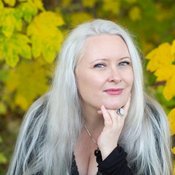 Camilla Bruce was born in central Norway and grew up in an old forest, next to an Iron Age burial mound. She has a master's degree in comparative literature and has co-run a small press that published dark fairy tales. Camilla currently lives in Trondheim with her son and cat.