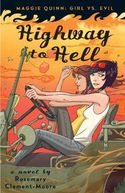 If you haven't had a chance to check out Rosemary Clement-Moore's books, you should. Yes, they are young adult novels, but they are fun for all ages. Highway to Hell, the third book in her Maggie Quinn: Girl versus Evil series. "Maggie and Lisa are away from parental supervisions when they head for Spring Break on the Texas Coast," says Clement Moore. "Oh, the college freshman days, when you think you know everything. They never make it to the beach. They wreck the Jeep when they hit a cow in the middle of the road, and get stranded in a one-horse town, where folks are convinced El Chupacabra is killing their livestock. After facing demons at the prom and sorcerous sorority sisters (say that three times fast!), Maggie and Lisa think they can take on this Mexican version of Bigfoot. But it's bigger and badder than they realize. "
Clement Moore says this book is personal. "It takes place where I was raised," she says. "I get to incorporate South Texas culture and legends, and I've thrown in a hot cowboy or two. Come on, and an El Chupacabra. What's not to love?"
Highway to Hell was named one of the 2010 Best Books for Young Adults by the American Library Association."
Theresa Meyers went a long way to research her novel A Vampire's Mistress, "I scoured the Capuchin catacombs underneath Palermo, Sicily, where four centuries of mummies and skeletons still reside in their burial finest on display for the public," she says. "While the practice of laying loved ones to rest in the catacombs was outlawed in 1881, the catacombs are still a huge tourist attraction today. One of the scenes in the story involves the characters racing through the catacombs to escape vampire hunters."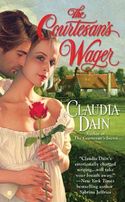 Claudia Dain says she's a pantser, which is a writer who sits down and writes by the seat of their pants. "But I'm an organized panster," she says. I know the characters and I know how they behave before I write one word. So imagine my shock – make that horror when the heroine for The Courtesan's Wager started paying attention to the wrong guy. This guy was not the hero! He was a disposable (sorry, Cranleigh) secondary character. Amelia starts fizzing every time he's in the room. He snarls. They spark. She totally ignores the hero. I try to ignore it. I mean, I'm an experienced author; I can ignore misbehaving characters, knowing I can pull them into line in the rewrites. And they kiss. And kiss. And start talking about their long back-story that I knew nothing about. I stopped writing for three weeks, afraid to go anywhere near my computer, now that I knew it was the portal to an alternate universe and all. Three weeks and one day after the Revolution, I opened up the file and continued writing, letting the characters have their way. Turns out he really was the right guy for her. Who knew?"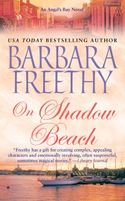 Barbara Freethy has two books out this month On Shadow Beach and In Shelter Cove. "I've set my fictional town along the California central coast," says Freethy. "Along with a new story involving an old murder, readers will get to learn more about the town, which was born from a Gold Rush shipwreck in the 1850s. For readers enjoy quilting themes, there's also a story quilt with twenty-four blocks, each telling the story of one of the survivors of the wreck and each square tied to the current day characters as well."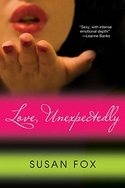 Susan Fox says most of the action on her new book Love, Unexpectedly, takes place on a cross-Canadian train journey. "On that train ride I wanted to give Nav and Kat something special to do that would increase intimacy and help them get to know each other, so I created a bored game called Nice 'n Naughty. One player rolls the die, lands on a square that's labeled with a heart, diamond, club or space, then draws a card from the corresponding deck and has to answer the question on it, or do what it says. I had fun making up what the cards say. …And had even more fun thinking up Nav and Kat's answers."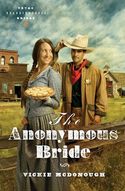 Vickie McDonough has her first trade paperback, The Anonymous Bride, out this month. It's the tale of a Texas town marshal who suddenly has three mail order brides arrive, each expecting to marry him. But he didn't order a bride. "People ask me how I got this idea," McDonough says. "It started with a 'what if' question. What if a mail-order bride arrived in a town to marry a man, but he never ordered a bride. Then I wondered what if the town hosted a contest to see which bride would make him the best wife? And what if instead of three entries, there were four and the last one was anonymous." Sounds like fun to me.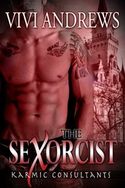 Vivi Andrews says her new book The Sexorcist is filled with demons and a smokin' hot exorcist, but the heroine really made the story sing for her. "Brittany sees silver linings everywhere, but it's more of an ingrained coping mechanism than blind Pollyanna optimism," says Andrews. "Born with a heart defect, her life was always limited by the constant risks to her health -but now, post-transplant, she is able to live, rather than just survive. In writing Brittany's happy, healthy ever after, I was influenced a lot by my memories of the way my aunt's life changed for the better following her heart surgery."
---
Candace Havens is a columnist for FYI Television, an online news and media service, where she writes five weekly columns for an overall audience of 44 million readers. She is also an entertainment reporter for 96.3 KSCS in Fort Worth. She lives in Fort Worth, Texas. She is the author of the Charmed & Dangerous series including CHARMED & READY, CHARMED & DANGEROUS, CHARMED & DEADLY, and LIKE A CHARM as well as the Caruthers sisters: DRAGONS PREFER BLONDES and THE DEMON KING AND I. Her latest book, TAKE ME IF YOU DARE is in stores in February 2010.
Her non-fiction prose includes JOSS WHEDON: THE GENIUS BEHIND BUFFY, and essays in ALIAS ASSUMED: SEX, LIES AND SD-6, and FIVE SEASONS OF ANGEL.