Hi and welcome to Fresh Thrills, a column for new releases in romantic suspense. Nail biting suspense, new romance, hot sex, great stories— what thrills you?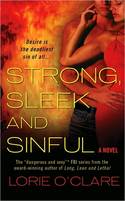 STRONG, SLEEK AND SINFUL
By Lorie O'Clare
St. Martin's Paperbacks, $7.99
The third book in O'Clare FBI series features Kylie Donovan who is a pro at catching online predators. When someone starts targeting teenage girls on the internet, she goes undercover as a college student. When she befriends the niece of Lieutenant Perry Flynn she must not only try to keep her cover a secret but also her lust for the sexy Lieutenant.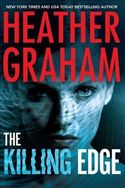 THE KILLING EDGE
by Heather Graham
Mira, $24.95
Chloe Marin was lucky. She was just a teenager when a party at a Florida beachside mansion turned into a savage killing spree, and she was one of the few to survive. Ten years later Chloe works as a psychologist specializing in art therapy to help traumatized victims, and on the side she finds release in her passion for the martial arts. Police who hire her as a consultant know she's a literal kick-ass advocate for victims who can't always speak for themselves. When a young swimsuit model disappears, Chloe suspects a killer is using the modeling agency to stalk his prey. So does Luke Cane, a British ex- cop-turned-P.I. investigating the disappearance of the model on behalf of her father. Chloe and Luke have trouble trusting each other, but they can't help their strong attraction for one another.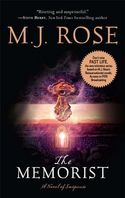 THE MEMORIST
by M. J. Rose
Mira, $7.99
Reprint
As a child, Meer Logan was haunted by memories of another time and place always accompanied by the faint strains of elusive music. Now the dreads are back. The past has reached out again in the form of a strange letter that sets her on a search to unlock the mystery of who she once was. With each step she comes closer to remembering the connections between a clandestine reincarnationist society, a lost flute linked to Ludwig van Beethoven and David Yalom, a journalist who understands all too well how the past affects the future. David knows loss firsthand – terrorism is a reality that cost him his family. He's seen every solution promised by security experts around the world – and he's seen every solution fail. Now in a concert hall in Vienna, he plans to force the word to understand the cost of those failures in a single violent act. Those who cannot remember the past are condemned to repeat it.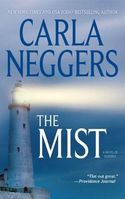 THE MIST
FBI
by Carla Neggers
Mira, $7.99
Reprint
Things looked bad when Lizzie Rush finally found hard evidence that her boss, thrill-seeking billionaire Norman Estabrook, heads an international criminal network. But when he escapes police custody after a deadly Boston bombing, the worst is yet to come. From nowhere arrives the mysterious Brit, Will Davenport. Lizzie isn't sure which side he's on, but his mercenary talents may help end the violence. Now, emerging from a year of secrets and lies as a double-agent straddling two worlds, Lizzie has little choice but to trust a man answering to no one. When the mist clears–and the frightening truth is revealed–who knows which side she herself will end up on.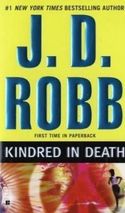 KINDRED IN DEATH
By: J. D. Robb
PRICE: $7.99
Reprint
In 2060, Lieutenant Eve Dallas searches the backstreets of New York City for a dastardly and despicable criminal. When the captain of the NYPSD and his wife return a day early from their vacation, they find their daughter brutally murdered in her bedroom. Deena's body showed signs of trauma that horrified even the toughest of cops; including our own Lieutenant Eve Dallas. When the evidence starts to pile up, Dallas and her team think they are about to arrest their perpetrator; little do they know yet that someone has gone to great lengths to tease and taunt them by using a variety of identities. Overconfidence can lead to careless mistakes. But for Dallas, one mistake might be all she needs to bring justice.
A KISS TO KILL
By Nina Bruhns
Berkley Sensation, $7.99
Eight months ago, Dr. Gina Cappozi and CIA black ops commando Captain Gregg van Halen were lovers…until Gregg committed the ultimate betrayal. When her need for vengeance leads Gina back into Gregg's bed, she discovers that the power of betrayal and revenge is nothing compared to the power of love.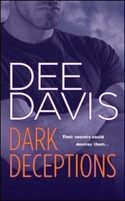 DARK DECEPTIONS
A-TAC
By Dee Davis
Forever, $6.99
Former CIA operative Annie Gallagher dropped off the grid several years ago without a word. Presumed dead, she's been hiding in the San Juan mountains and wanting nothing more than a quiet life for herself and her son. But when terrorists kidnap the boy, Annie has no choice but to carry out their demand….Led by long-time covert operative Nash Brennon, A-Tac members go undercover to try to thwart an assassination. But they are stopped in their tracks when they realize the assassin is an old ally—Nash's onetime lover Annie. Conflicted on more levels than he cares to admit, Nash and the team force Annie to admit the truth. Left with no choice, Annie must accept Nash's help and keep their passions at bay or risk losing her son.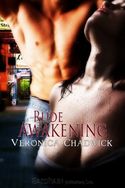 RUDE AWAKENING
By Veronica Chadwick
Samhain Publishing, $15.00
His training didn't cover how to win back a woman's trust…Jaimee Turner spent most of her life trying to be an unassuming pillar of virtue and submissive wife to a man who demanded nothing of her—especially physically. A year after his unexpected death, she's finally finding her own footing, only to find herself thrown completely off balance by Lucas, a man who awakens desires she never knew she had. FBI agent Lucas Grayson is relentless in his quest to bring down those who prey on the innocent. The Turner case is unlike anything he's dealt with before, and so is the widow Turner. Warning: Some mild violence, a very sarcastic best friend, sneaky massages, inappropriate use of caramel and some occasional back door lovin'.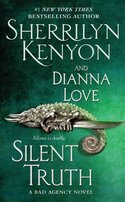 Silent Truth Sherrilyn Kenyon, Dianna Love, In the sizzling new adventure from New York Times bestselling authors Sherrilyn Kenyon and Dianna Love, a red-hot BAD boy teams up with a sexy television reporter on an explosive quest for revenge.
Tough-as-nails Bureau of American Defense agent Hunter Thornton-Payne is no stranger to uncomfortable top-secret missions, but tonight takes the cake. He just needs to stick out a stuffy charity fund-raiser long enough to find the ruthless assassin he's hunted for four years. It's a rogue operation, but Hunter's got nothing to lose—until a beautiful brunette unexpectedly pulls him into her own dangerous agenda. Abbie Blanton will do anything to cure her mother's mysterious illness. When a high-profile heiress is murdered as Abbie tries to blackmail her for clues, Abbie realizes she's stumbled into an unforgiving conspiracy—and she's the next target. Soon, she and Hunter discover an alarming connection and begin a treacherous battle against an evil enterprise that someone will go to terrifying lengths to keep hidden.
Multi-published author Sherrilyn Kenyon, AKA Kinley MacGregor, knows men. She lives outside Nashville, TN, with her husband, three sons, and assorted pets. Raised in the middle of eight boys, and currently outnumbered by the Y chromosome in her home, she realizes the most valuable asset a woman has for coping with men is a sense of humor (not to mention a large trash bag and a pair of tongs). An award-winning Web/Flash Developer by trade, Sherrilyn is often found online when not writing.
DIANNA LOVE is the New York Times bestselling coauthor of Phantom in the Night and Whispered Lies. She's a national speaker who started writing while working over a hundred feet in the air creating marketing projects for Fortune 500 companies. When not plotting out her latest romantic thriller, she travels the country on a motorcycle to research new locations. She lives near Atlanta, Georgia, with her wonderful husband and a tank of unruly saltwater fish named after celebrities.
Until next month… Maria Muñoz