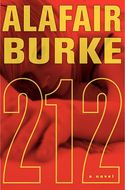 The Internet can be a valuable resource. Whether researching a topic for school or keeping abreast of the latest political news, we always seem to be connected in one way or another. It's hard to remember what our lives were like before its conception! Nowadays, we even have Face Book and Twitter. The advances in technology are truly amazing.
Just as we have embraced this new movement comes the alarming reality of the dangers associated with these networking sites, especially for our youth. The number of predators lurking in cyberspace is disheartening. From prostitution rings to drug trafficking, the Internet has become a very nefarious place.
This month's Jen's Jewels Alafair Burke tackles this very controversial topic in her latest release, 212. The third installment of her highly popular The Ellie Hatchet Series, Alafair takes us through the streets of New York in search of a cyber killer. Fast-paced and brutally honest, she exposes the secret lives of women caught up in the Internet sex industry.
As part of this interview, Harper, an imprint of Harper Collins Publishers, has generously donated five copies for you, my favorite readers, to try to win. So, don't forget to look for the trivia question at the end. And as always, thanks for making Jen's Jewels a part of your reading adventure.
Jen: Without a doubt, the headlines are the spark that ignites your suspenseful stories that keep your readers on the edge of their seats. So that we may have a better understanding of the woman behind the words, please share with us your educational and professional background.

Alafair: I'm a law professor at Hofstra Law School outside of New York City, where I teach criminal law and procedure. Prior to that, I was a prosecutor in Portland, Oregon and a law clerk to a federal appellate court judge. I graduated from Reed College and Stanford Law School.
Jen: I think it would be fair to say that your legal career gives you a leg up for writing in this genre since your experience lends credibility to your plot. At what juncture in your life did you decide that writing needed to be part of the equation? And, how do you manage to balance a law career with writing full-time?
Alafair: I came to writing as a reader. I'd always been an avid reader of the genre. After five years of working at the District Attorney's Office in Portland, I felt like I was ready to contribute. By then, I could imagine the kinds of settings, characters, and dialogue that would color a series set in the Portland prosecutor's office. I also had a plot, inspired by two actual cases that arose while I was in the office. That idea became my first novel, Judgment Calls.
As for the balance, I have to be diligent. I'm always working on something whether a book, or a law review article that no one will ever read, or teaching. It pretty much means I work a lot, but it's all stuff I love. I know I'm lucky.
Jen: Your latest release is the third book in your highly acclaimed The Ellie Hatcher Series. 212 is a riveting novel that delves into the clandestine world of the sex industry. For those readers unfamiliar with your books, please give us a brief overview of the series and its main characters.
Alafair: Ellie Hatcher is a detective in the NYPD, relatively new to homicide cases. Her father was a cop whose mysterious death plays a big part of her back story, but because she was raised in that atmosphere, she has good instincts about human motivations. She and her partner, JJ Rogan, are still finding their way, but they're a good team.
Ellie was raised in Wichita, but she's been in New York for over ten years after initially following her big brother, Jess, there. Jess is a terrific character, a struggling musician who crashes on her couch during frequent bouts of unemployment.
Jen: Ellie Hatcher is not your typical detective. Hard-nosed but sensitive, she runs the gamut with her emotions. Yet, with every step she takes, she inches closer to the killer. What is the driving force behind her desire to succeed?
Alafair: There's no question that Ellie is always looking for approval from her dead father. She also has an overriding desire for justice. She wants to do what's right, even when it puts her in peril.
Jen: Ellie's partner J.J. is a rough and tough kind of guy who definitely has a soft-spot for her. Like a protective older brother, he's got her back. What makes these two such formidable partners? And, are they truly equals in each other's eyes? Why or why not?
Alafair: JJ's got the experience, but he's careful not to use that against her. He started out partnering with her when other detectives were skeptical after Ellie's rapid movement in the department. I love the comfort they've managed to find in each other after a pretty short relationship. I've also been careful to steer clear of the usual romantic sparks. Their relationship is absolutely platonic.
Jen: The suspect in 212 is Sam Sparks. A Donald Trumpish kind of character who believes himself to be above the law, he irks Ellie from the get-go. If this character were Samantha Sparks, would Ellie have reacted in the same way? Why or why not?
Alafair: What a terrific question. It recognizes that women are often their harshest critics. In this case, however, I think Ellie would have reacted the same. Sparks gets under her skin not because he's a man, but because he's part of an extremely elite class that she knows does not accept her kind and that she'll never be a part of. I don't want to say too much, but Sparks turns out to be more than he appears.
Jen: Without giving too much away, the essence of the plot centers on some girls getting caught up in a prostitution ring via the Internet. I was shocked by my own sense of naiveté when it came to this topic. How are social networking sites such as MySpace, Facebook, and Craig's List a crucial part of the mainstreaming of the sex industry?
Alafair: What the book explores (in an entertaining way, I hope) is the mainstreaming of today's sex industry. Walking on corners has been replaced by ads in Craig's List, and ads on Craig's List don't seem so different to some young women from social networking sites. At the same time, the dating world has become courser, as many girls routinely "hook up" with free-spending guys on the assumption that there's no future, just an expensive night. As Eliot Spitzer's escort has since explained, she didn't see a big difference between hooking and what she and her friends had already been doing.
Jen: In terms of the storyline how does the role of technology help as well as hinder Ellie's investigation? With prepaid, disposable phones and unidentifiable IP addresses, how can today's law enforcement effectively protect our citizens? In your opinion, are they able to remain one step ahead of the criminals? Or, are they constantly just trying to keep up?
Alafair: Technology has become a part of the cat and mouse game between police and criminals. Johns no longer have to circle a high vice area in their car to pick up a prostitute; they can go online, making it much less likely they'll be stopped in advance. On the other hand, internet use leaves more of a fingerprint than people realize. If the trick goes wrong and police are looking for the person who hired the victim for the night, chances are they'll be able to track the person down through technology. That, in turn, causes more sophisticated criminals to hide their tracks, using public cyber cafes and downloading programs that block their identifying information. I find it all fascinating. So much has changed even since I was a prosecutor.
Jen: In 212, the character Katie Battle is a real estate agent who turns tricks at night to make ends meet. Nowadays, celebrity news magazines seem to glorify these types of women making their pursuits a desirable profession. How do you think this will affect future generations of young women? And, what can we do to stop it?
Alafair: Oh, if only I knew. As a writer, it's much easier to point out and fictionalize social ills than to fix them. I do think we have created a culture in which young women think it's normal to see Miley Cyrus and Britney Spears dance on stripper poles, for women to engage in girl-on-girl flirtations not because they want to but to titillate men, and even for them to sell their bodies for money if the price is right.
Jen: Of course, every leading lady must have a strong, sexy man to share her bed. Max Donovan is definitely hooked by Ellie's charms. Why then is she so reluctant to just let herself go and fall deep in love with this super guy?
Alafair: I try to leave that for the reader to figure out. It could be that Max just isn't the right guy. More likely, she's so used to being the one who has to take care of everyone that she's just not able to need another person. She's getting better, though. It's part of her journey.
Jen: What's next for Ellie now that she has closed this case? And, when can we expect to see it in bookstores? (I will be the first in line!)
Alafair: I'm working on a standalone right now, also set in New York City, but a little different for me. The main character's not in law enforcement. Then it's back to Ellie. I'm pretty much on a book-a-year schedule.
Jen: Let's switch gears and talk about your promotional plans. Will you be going on a book tour?
Alafair: I'm already on the road! I launched in NYC last week, then went to Pittsburgh over the weekend and Houston today. This week I'll be doing a joint event with Harlan Coben in Phoenix, and then I'm off to Seattle and Portland. The full schedule is at www.alafairburke.com/events
Jen: Please take us on a brief tour of your website. Do you e-mail notification of upcoming releases? Do you give away signed bookplates?
Alafair: I have a newsletter than people can subscribe to on the website. I also have a blog that I update regularly with videos, interviews, announcements, and, yes, giveaways.
Jen: Do you participate in author phone chats? And if so, how would my readers go about scheduling one?
Alafair: I have been experimenting with Ustream, which allows me to do live video chats. The first one was a great success. Sign up for my newsletter for notice of future chats.
Jen: Thank you so much for taking time out of your very busy schedule to stop by and chat with my readers. I absolutely loved 212. I look forward to seeing it at the top of the bestsellers lists! Best of luck!
Alafair: Thank you so much for including me in your interview series. I'm proud of 212, so really hope your readers will enjoy it.
I hope you have enjoyed my interview with Alafair. Please stop by your favorite bookstore or local library branch and pick up a copy today. Better yet, would you like to win one instead?
Click here and answer the following triva question and you could be one of five winners.
Name the lead character in 212.
Later this month, I will be bringing to you my interview with debut novelist Holly LeCraw. You won't want to miss it.
Until next time…
Jen