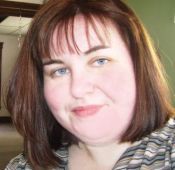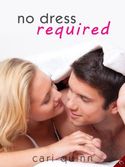 Thanks so much to Fresh Fiction for having me here today!
I admit it, I love connected books. There's just something about revisiting side characters and towns that I've known and loved before. Early on in my writing career, I didn't think I'd be one of those writers who liked to write connected stories. Nope, I would be the one-and-done kind of writer, I was sure of it!
Until I actually, you know, started writing and realized how much fun it is to spend more time in a world you've built, especially when that means you get to "check in" on characters you love! Which is something I'm enjoying right now, as a matter of fact!
The last few months have been crazy—and wonderful! My Entangled Publishing novella, NO DRESS REQUIRED, reached the top of the Barnes and Noble Romance list in February and in March, reached #131 on the USA Today bestseller list. It's been a huge thrill that people have enjoyed Noelle and Jake's story and I so appreciate everyone who has read or reviewed it.
I'm excited to say that I'm currently working on the next book in the Love Required series, NO FLOWERS REQUIRED, about Jake's sister, Alexa. Her floral shop is struggling and she's doing everything in her power to save it. Luckily her yummy hero Dalton has more to offer than just his handyman skills!
Just for fun, I thought I'd share a short, unedited snippet to whet your appetite for NO FLOWERS REQUIRED…and maybe to encourage you to give NO DRESS REQUIRED a try! While NDR is a 15K Flirt, NFR will be category length, so there will definitely be fun – and sexy times – galore!
NO FLOWERS REQUIRED short excerpt:
Abruptly Alexa stopped in front of an open apartment door and widened her eyes. Who was that?
A man wearing denim overalls and a tie-dyed T-shirt and matching bandanna knelt in the middle of an apartment with a floorplan just like hers, methodically ripping up strips of the laminate. His back was to her, which gave her the perfect opportunity to study the bunch and flex of muscles in his sinewy forearms. He wore some sort of copper cuff around one wrist and a tattoo crept up the inside of the other. She couldn't make out what it was, but one thing she could discern with no trouble at all.
Beefcake boy had one hell of an ass.
She knocked on the open door, then knocked again when he kept working. "Excuse me?"
"Yes?"
That he didn't turn to face her moderately grated, but hey, she still had his ass to observe. She didn't mind talking to his backsi—err, back. "I'm assuming you're the Rison's building handyman?"
His lengthy hesitation earned him a frown he didn't bother to shift around to see. "You need some service, ma'am?"
Thanks again for having me here today! I'll leave you with a question—do you like connected books or do you prefer standalone stories? Why or why not? One commenter will win NO DRESS REQUIRED
NO DRESS REQUIRED's page at Entangled Publishing
Visit Cari Quinn at www.cariquinn.com
To comment on Cari Quinn's blog please click here.